Can You Handle These Spicy Snacks | L'Orenta Nuts
Spicy foods offer numerous health benefits, including healthy blood pressure, prevention of certain types of cancer, heart health, and weight loss. In addition, spicy foods like ginger, chilies, wasabi, pepper, etc., can provide health benefits and flavor to your special and favorite snacks. Can you handle these spicy snacks?
The secret ingredient in these natural spices is chemical compounds called capsaicinoids, which are in control of overwhelming our taste buds with the hot sensation and flavor we crave. In addition, each natural spice has special chemical compounds that provide unique benefits and tastes. Also, you will drink lots of water to reduce the hot sensation, which helps you have a faster metabolism, stay hydrated, and reduce inflammation. 
Check out five of the spiciest snacks and decide if you can handle them.
Wasabi Soy Cashews
Wasabi, commonly known as Japanese horseradish, gives a hot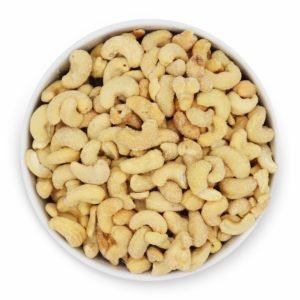 sensation like spicy brown mustard. The Wasabi soy cashew spicy snack features the tangy flavor of soy sauce combined with the unique burning sensation of wasabi. And the perfect mix of both wasabi and soy sauce will fire up your tastebuds immediately. 
The wasabi and soy sauce flavor works perfectly well with cashews. However, it's different from the familiar smoked flavored cashews. So, if you have never tried wasabi and want something different, start with this spicy snack. Get L'ORENTA's Wasabi soy cashew here. It also comes in various sizes. You will surely enjoy the spiciness and health benefits of this unique snack. 
Fiesta Mix
The different spicy flavors found in the fiesta mix will keep your palates reaching for more and on edge. It is a snack mix full of spicy and tangy snacks, including roasted salted almonds, wasabi peas, wasabi soy seasoned cashews, Cajun cheddar sticks, and redskin peanuts. This spicy snack mix is incredibly delicious, salty, and hearty. 
There is no doubt that your tastebuds will be craving more of them. This unique fiesta mix will completely satisfy your snacking needs. It will also give you protein compared to other fiesta mixes with no nutrients. Once you try this spicy fiesta mix, there is no coming back. Get the fiesta mix in different sizes now.
Fiery Four 
This snack packs a fiery mix for lovers of spice. It will also satisfy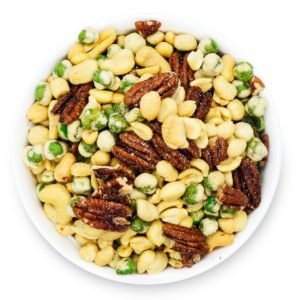 your salty cravings. The fiery four is a perfect blend of roasted and salted peanuts, wasabi peas, natural pecan halves, and wasabi peanuts. This snack is sure to offer your tastebuds a spicy, savory, and salty experience. The fiery four spicy snacks have it all: heat, flavor, crunch, and texture. It's difficult to stop eating this spicy snack even if your teeth are melting. And that is because the hot and tangy taste gives way to an enjoyable crunch. If you are looking for a snack with a little more than regular spice, the fiery four is an excellent choice. Click here to get the fiery four spicy snack and enjoy the savory experience yourself. 
Wasabi Peas
Wasabi peas are a type of condiment used in Japanese cuisines. You get fresh wasabi on your tongue when you eat them. Therefore, wasabi peas are excellent for a new favorite spicy snack. This spicy snack will excite your palates with every bite. 
The green peas have a covering of the Japanese horseradish, Wasabi. The wasabi in this spicy snack might make tears come to your eyes. However, the green peas have a boost of protein to ensure you feel full for a long time. This spicy snack has the perfect sugar, salt, wasabi, starch, and oil blend. 
Apart from the spicy and savory taste, wasabi peas are high fiber. And they offer several health benefits, including boosting the immune system and regulating blood sugar levels. Click here to get L'ORENTA's unique Wasabi peas in different sizes. 
Beanboozled Fiery Five
The Beanboozled fiery five is a new perfect blend of spicy jelly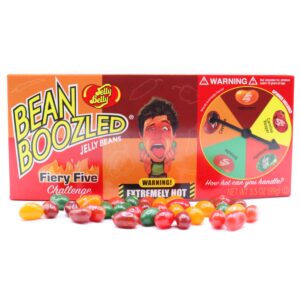 beans stretching from light. And it features the spiciest pepper worldwide. The Beanboozled fiery five comes in five flavors: sriracha, jalapeno, cayenne, habanero, and Carolina Reaper. 
The sriracha has 2,200 Scoville units, while the Carolina Reaper has 2.2 million Scoville units. So you have a wide range of spiciness to choose from. This spicy snack also has other addictive ingredients, including corn syrup, sugar, food starch, salt, etc. One unique feature of the Beanboozled fiery five is how accurate the five flavors are. Click here to get this spicy snack in different flavors and sizes. 
Final Thoughts 
What all these spicy snacks have in common are their above-average spiciness and rich flavor. But, how much spice can you handle? An excellent way to find out is to get the highlighted spicy snacks. Then, we hope you will enjoy eating them.