If you are a consumer and anything like us, you're probably on the lookout for ways to save money. Buying food products in bulk is one of the best strategies for that… Bulk purchasing is simply the purchase of larger quantities of products than your usual required quantities. The good news? You can save a ton of money, since you'll be getting a unit price that is lower than the usual purchase price. Not to mention you cut back on unnecessary packaging and single-use plastic. Read more below about bulk halloween candy.
We offer great deals on our bulk products, with the minimum purchase amount starting at 15 pound cases. When you buy in bulk, there are no individually wrapped bags, the product simply sits loose in the case. 
There's a huge variety of products you can purchase in bulk at our store. And before you ask: yes, candy too. Looking to get ahead of all the planning for Halloween? Have a look at our butter toffee cashews, gummy eyeballs, caramel candy corn, and our vanilla dr. Pepper jelly beans.
More for Less 
Purchasing your food in bulk has many great benefits for both you and the planet. It can help you become a more conscious shopper and adopt a more sustainable lifestyle. Furthermore, bulk shopping is a lot of fun! 
Save Money 
By buying in bulk the cost for each unit is greatly reduced. That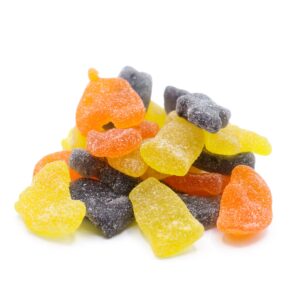 means you get more for your money. In the long run, you can save up a fair sum. Buying smaller quantities more frequently can end up being much more expensive. Besides, there's also the additional delivery costs on top of the product's price.
Reduce Waste
You will reduce both packaging and food waste. Buying in bulk gets rid of unnecessary packaging and single-use plastic, so you're only buying the food itself, and not the excess packaging. By making the switch to buying necessary items in bulk, you will make a drastic impact on your monthly household waste. Plus, it will encourage you to be more mindful about your choices as a consumer – call it a double victory for your pantry and the planet!
Save Time Doing Your Shopping Each Month
Having some of your most used products in stock is a great idea. It means that you don't have to worry about running out of those staples for a while. 
it's Perfect For Events 
If you're throwing a party or a big bash, say a birthday, wedding, or any large scale celebration, you know good planning is everything. With October just around the corner for example, buying Halloween candy in bulk could be a great idea. You will definitely have enough for trick-or-treaters… Plus, you can also use the candy to make cute goodie bags! 
What To Do With Leftover Halloween Candy 
No candy goes to waste here, that's our rule. Need ideas of what to do with all the bulk candy you purchased for Halloween? We've got you. 
Keep your favorites for yourself, you deserve it! If you want to be nice to your co-workers, take the rest to the office and leave it in the break room. Everyone loves extra snacks. 

Think ahead! If you don't end up using all your stock on Halloween, you can always freeze some until Christmastime.

Share the love! Like most good things in life, treats are better when shared. Put it out when you have friends over for games nights. It'll be a hit! 

Ready to bake? Any leftover chocolate can get smashed up for chocolate-chip cookies. Got a few bags of hard candy? These can easily become toppings for cupcakes or ice cream. Yum! 

And of course, if anyone's lucky enough to have a birthday right after Halloween, you can use the leftover candy in a piñata. It'll be the best party ever!