Are Peach Rings Gluten Free? | L'Orenta Nuts
Many people nowadays are going on a gluten free diet. If you're one of them, it's vital you know which treats suit you. A good example are peach rings. They're  bursting with incredible flavors but are they gluten free?
What is a Chamoy Peach Ring Candy? 
Do you want to turn snacking into a pleasurable gourmet experience? If yes, maybe it's time to pass up those too familiar chocolates and chips. It's time to grab something new and different, like some exquisite L'Orenta treats! If you're looking for unique and tasty treats that'll make your taste buds tingle with pleasure, L'Orenta has the answer. It's home to some of the best candies out there including its one-of-a-kind chamoy peach ring candy. 
Try out the gooey peach ring candy (aka Dulces Enchilados) by L'Orenta which looks so tantalizingly soft and fresh. It has a sticky glazed appearance which makes it irresistible no matter if you have a sweet tooth or not. Aside from these, the peach ring candy is also delicious with an authentic flavor combination of tajin, fruits, and chamoy. These flavor profiles may sound daring, but the taste surely is not overpowering to the taste buds.
Chamoy Peach Rings
Chamoy is one of the flavors that make these peach rings stand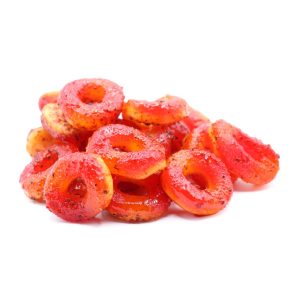 out. It's made from dried chilies, lime juice, and fruits such as apricot and plums. This sauce-like condiment became big in Mexico during the 90s. Food historians claim that it was brought to Mexico from China based on the Cantonese term for crack seed, seemuy. This was made possible by the trade connection and exchanges between the East and the Americas in the 16th century. All in all, chamoy is big in Mexican cuisine, and it deliciously combines sweet, sour, spicy, and salty tastes in one.
Tajin, which also comes from Mexico, is another key flavor which makes the peach ring candy mouthwatering. It's a signature spice in Mexican cuisine. It was invented in 1985 and is mainly composed of dehydrated lime, chili peppers, and sea salt. Just imagine the palatable explosions of sourness, saltiness, and a hot burst of peppers! This combination surely blends well and further highlights that of the chamoy.
Aside from these amazing flavors, the peach ring candy is made in small batches to ensure quality and great taste. It is also dairy-free and proudly made in the USA. What are you waiting for? Indulge yourself in these delicious candies that taste more than just the typical sweet and tangy peaches.
Are Peach Rings Vegan? 
Peach ring candies contain gelatin which is not vegan. Gelatin is a protein-rich product derived from the collagen of animals therefore it is an animal-derived product. It is also one of the best sources for the amino acid glycine. Meanwhile, collagen is basically a protein which is integral to both animal and human life. It can be extracted by boiling the bones, tendons, skin, and ligaments of animals. 
Vegans adhere to a lifestyle and philosophy which values animal life. They exclude all forms of animal exploitation and cruelty not just in their diet but in all life aspects. Gelatin is a no-no, but there are vegan substitutes like agar agar and carrageenan, products derived from seaweeds.
Are Peach Rings Gluten Free?
Gluten is a protein that is mainly found in grain products like wheat, rye, triticale, and barley. Peach ring candies do not have any ingredients with gluten listed in the ingredients list. However, they are processed and packaged in the same facility where wheat products are also processed. This is also stated in the product's allergy disclaimer. This is something to be considered by those with gluten intolerance or those following a gluten-free diet.
Must-Try Gluten Free Gummy Candies 
Aside from the chamoy peach rings, there are other L'Orenta treats that are worth trying. You may want to try the gummy peach rings which is one of the store's best-selling candy. It is soft, chewy, and easy to grab whenever you need a snack or two.
It is also a ready source of extra carbs whenever you need additional energy.  They'll fuel you to get through a stressful meeting or study session. The gummy peach rings are available in four different sizes.
If you miss the sweet taste of cherry, you can also grab some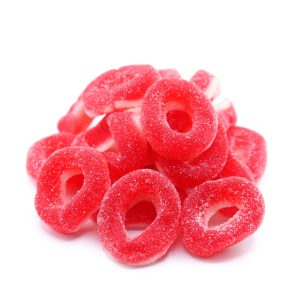 gummy cherry rings. Remember the gummy texture and chewiness of gummy bears when you were a kid? You can get it once again but with the addition of sweet cherry taste in these L'Orenta cherry rings. This is perfect to enjoy solo or with friends. Kids will also appreciate this flavorful, gummy candy as a gift or treat. The cherry rings are available in four different sizes too- 1, 5, 10, and 25 lbs!
Last but not the least, you can also get the gummy ring blue raspberry. The blue hue looks so delicious, reminiscent of the magical lapis lazuli seas and skies. This is perfect to eat whenever you crave sweetness or a little giddy magic into your life!