Are Gummy Bears Flavored by Color? | L'Orenta Nuts
Everyone knows that gummy bears are yummy! You could say they are a treat for all ages. If you ask your family or friends, they're sure to tell you which is their favorite by color or flavor. Of course, there may be a naysayer who declares that all gummy bear darlings are flavored the same. Humph! We're here to tell you that you are right that gummy bears are of varied flavors. That, of course, is the case when buying the best of gummy delights, like those that you'll L'Ove here at L'Orenta! 
Gummy Bear Myths and Tales
It's rather interesting how gummy bears have gained all kinds of notoriety. Some is certainly deserved, while some is not at all. For instance, what about the myth that all gummy bears are the same flavor? Or, perhaps worse yet, that green gummy bears are strawberry-flavored. 
Let it be known far and wide that this is not at all true for the gummy bears from L'Orenta! In fact, we have a few green gummy bears, each holding its own special flavor. Read on to learn about gummy bear flavors by color, along with catching up on their gummy history.
Gummy types of candy started out as Turkish delights and likely as well from Japanese rice candies. Then in 1922, a German fellow created soft, fruit-flavored, gelatin treats in the shape of dancing bears. During that same era gelatin-based chews were growing in popularity in Britain. Yet the dancing-bear darlings stole the show because of their pleasing texture.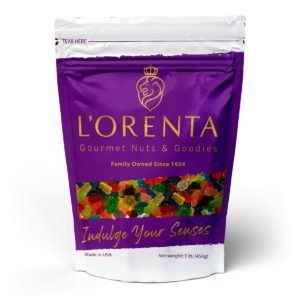 Gummy bears eventually came into popularity in the U.S. because of Disney's Adventures of the Gummi Bears, though the spelling quickly changed to 'gummy.' As gummy bear fame grew, they learned to speak many languages, along with inspiring the Gummy Bear Dance. Such a sweet deal…after a few minutes of these moves you can re-energize with your favorite gummy bear flavors!
Time to list our gummy bear flavors, as that's the feature you love. Well, that and their size and cuteness.
Gummy Bear Flavors by Color
Our L'Orenta gummy bears are in a lot of good company. As you know, any gummy worth its gelatin and sugar, loves to stick around with a bunch of fun and giggling pals. Even better is to have a bit of variety in the group. That's why a batch of ours comes in 12 different flavors. 
You read that right! 12! Why, that's enough for a soccer team and their coach. More about 12's later on. 
You can also buy L'Orenta bears in one-pound bags of 5 Natural Flavor Gummy Bears. Now it's time to tickle your taste buds with flavors while painting a palette of color! Be sure to be on the lookout for some that come in bulk…extra yum!
Different Colors, Different Flavors
What Flavor is the White Gummy Bear? White gummy bears have a following all their own. That's because of their pineapple flavor, as sweet treat any time of year, or when dreaming of being poolside on a sunny day.

What Flavor is the Green Gummy Bear? There's something about green! Besides being the color of tree and plant friends, it's the color of money. Here at L'Orenta that'll buy you not one, but three flavors of green gummy bears.

The light green bears are lime

The dark green ones are green apple

The clear green are watermelon

Obviously, green is the way to go!

What Flavor is the Clear Gummy Bear?

The very clear gummy bear is

pineapple

, just like a nice tropical breeze and easily as nice because you can buy ours in bulk…yum

L'Orenta's clear red gummy bear is strawberry flavor 

Our clear yellow gummy bear is lemon

Those sound like summer, don't they? You know, strawberry shortcake and lemonade. Only with these, you can put them in your pocket! 

Why is the green gummy bear strawberry? Hmmm, that's a good question! It has a lot to do with how many people like that flavor. We're still not sure how that relates to being green.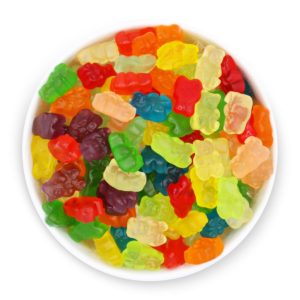 Yes, we gave the answer away! Now that we've shared some of the colors and their flavors, let's finish with the rest.
The purple gummy bears are grape flavored. It's no surprise the vivid flavor is topped off by the gorgeous color

Orange gummy bears

have a sweet and tangy citrus flavor that makes you spring into action

Pink gummy bears are so pretty, just like a tasty grapefruit on a winter day

Dark red gummy bears have a

cherry flavor

that's like a slice of rich, deep-dish pie

Dark blue gummy bears have a blue raspberry flavor that's oh so real, though the bears say those are only in the comics…

Dark yellow gummy bears are flavored like ripe, juicy

mangoes

that come in bulk packages 
What Sets L'Orenta's Gummy Bears Apart?
Oh my yummy goodness, the reasons that L'Orenta's gummy bears are so beary special begins with our L'Ove for gourmet goodies. We're delighted to share them far and wide with our devoted customers. Here's why our gummies are so popular.
L'Orenta's Candy-Making Process: How to Make Great Gummy Bears!
The suspicion there can be some corner-cutting in gummy production is sadly justified. That woeful occurrence is what has caused gummy bear myths. Happily, there are gummy bear tales with a happy ending. That's where we come in!
Our process and ingredients create gummies that are stably yummy. That means they have a consistent, quality chew with delicious flavor. We do so by using pectin from fruits. We add in a dash of leaf wax to prevent sticking. Added to all that, the 5 Flavor natural gummy bears colors are derived from fruits and veggies.  
L'Orenta Has An Array of Gummy Goodness!
Our gummy bears are one of a delectable selection of Gummy Candy. This means that you can have gummy bears and other gummy goodness in whatever flavors and forms you relish. Just think of being able to mix in some milk and white chocolate gummy bears with our 12 flavor cuties. Or, add in some white strawberry-banana gummy bears. Oh my!
Try Some Sugar-Free Gummy Bears!
Are you feeling sweet-treat deprived? Our sugar free gummy bears are just the ticket! Plus they're free of other ingredients you might be avoiding.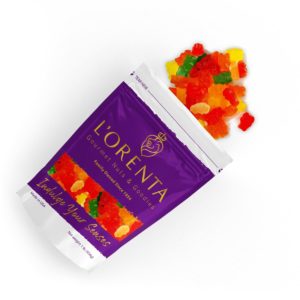 Now, when it comes to L'Orenta Gummy Bears we're ever so happy to serve you with 12 enticing flavors. That means that you and your family and friends get to have extra fun along with all those flavors. Why, if you like, it's fun to make gummy bear games. One is to name things that come in twelves, like months in the year. Another is to list countries associated with flavors, like where mangoes grow. Then you get to decide about a prize for the winner! Hmmm, perhaps their very own bag of gummy goodness. 
Get Your L'Orenta Gummy Bears Now!
L'Orenta's president Sam says, "Gummy bears are the perfect sweet treat. Not only are they gluten free and fat free, but the texture and flavor are just right for curbing your sweet cravings. Gummy bears are my favorite go-to candy out of all the hundreds of candies we supply, simply because sometimes one is just enough to keep me going." 
So now that you have an answer to the question are gummy bears flavored by color next time you eat them see if you remember what color is what flavor! Everyone here at L'Orenta is happy to promptly fill your order of Gummy Bears, or one of our other many gourmet goodies. Those little darlings will arrive right at your door and oh so carefully packaged and shipped from our San Antonio TX facility.