Add a Touch of white Snacks to Your Wedding Buffet | L'Orenta Nuts
White is the universal base color for most weddings; at least, it is what most people think of! The best part about the color white is how great it pairs with any other color you could possibly choose. That is exactly why adding a touch of white snacks to your wedding buffet will help tie it all together.
The easiest accent color available is white. Even if you have multiple colors selected for your wedding theme, white will blend in seamlessly. Let us help give some suggestions of white snacks that will not only be easy to eat, but will look great! (and don't worry, we will provide some fun color schemes along the way)
Yogurt Raisins
Having a healthy snack in your wedding bar is a bonus alone, but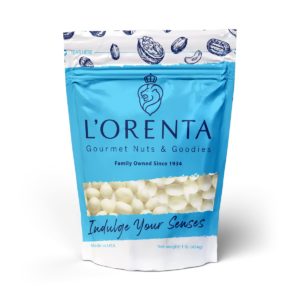 these Yogurt Raisins are perfect for any color scheme. A few lovely color ideas are:
Navy blue

Burgundy

Terracotta
They are easy to grab and snack on, without having to worry about any mess! Add these to your snack buffet, or even throw them into goodie bags to send home with your guests! Both adults and children will be found munching on these.
Yogurt Almonds
These Yogurt Almonds are a crunchy variation of the yogurt raisins, and just as tasty. These are sure to match any color paired with them, but a few suggestions would be:
Yellow ochre

Gold

Blush Pink
If you are in search of something sweet, but not overly candy-like, add these to the mix! They can be featured on their own, or mixed in with other goodies you plan on serving. Either way, these are a simple, tasty, way to add a touch of white into your wedding buffet.
White Chocolate Coconut Almonds
White Chocolate Coconut Almonds are a sweet and salty treat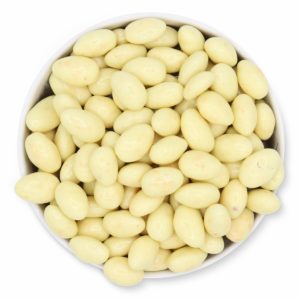 that will satisfy any sweet tooth. They are a great way to add a subtle flavor that isn't overpowering, but at the same time is pleasantly filling. Try grabbing some of these if your colors are:
You and your guests will love how easy this treat is to eat, and how well it pairs with any color you are showcasing on your special day!
White Chocolate Gummy Bears
Everyone loves gummies, even at a wedding! L'orenta's White Chocolate Gummy Bears are gluten-free pineapple gummies coated in sweet white chocolate. Add these to the buffet to match any color, but our thoughts are:
Pine green

Maroon

Cherry red
These look just as great as they taste, and everyone will be filled with excitement seeing these out to grab. Your special day is already guaranteed to be sweet, add just a bit more with a family-favorite snack.
White Chocolate Toffee Cashews
This treat is sure to bring forth a unique, but mesmerizing flavor. White Chocolate Toffee Cashews are sweet, nutty, and simply delightful. Not to mention, cashews are loaded with proteins and antioxidants that will keep your energy up all night on the dance floor!
Though these will seamlessly blend into your theme no matter what, we always have fun suggestions! Try pairing them with:
Black

Salmon pink

Dark brown
White Chocolate Sugar Cookies
Who doesn't love a sugar cookie? Furthermore a bite sized sugar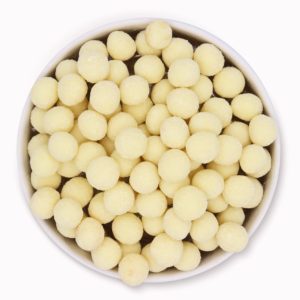 cookie? Snag some of these White Chocolate Sugar Cookies to make your wedding day even more heavenly! L'orenta takes the perfect base of sugar cookies, and coats them in white chocolate, only to then roll them in sugar. These may not last long, but they will be almost as memorable as the day itself.
Add these to a buffet of any colors and have no fear. If you are looking for some sweet suggestions here are a handful:
Peacock blue

Bronze

Merlot red
Any color combinations are sure to benefit with a touch of white. It will brighten up the palette, but stay neutral enough to not steal the show. Keep this in mind when planning your wedding buffet, and check out our suggestions above!