A Guide to Yogurt Pretzels | L'Orenta Nuts
Are you hosting a kid's party, fundraising event, or family get-together? Your event may be incomplete without a tasty snack of yogurt pretzel. With the preparations for the party drawing closer, you are probably wondering how to prepare this delicious and nutritional food. Well, what you need is a guide to yogurt pretzels!
Yogurt pretzels are perfect for all ages, and the recipes are effortless to follow. Fittingly, this article will teach you how to make them in various ways. So, read on!
How To Make Yogurt Covered Pretzels 
One of the best parts about DIY yogurt-covered pretzels is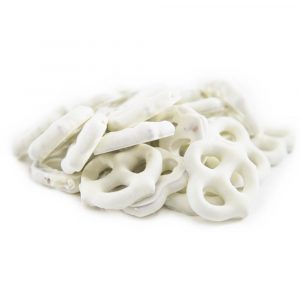 the ability to make them in any quantity of your choice. If you like chocolate flavor, incorporate some chocolate chips. Select a fruit variety for the yogurt if you want your pretzels to be coated in fruit frosting. Making a homemade yogurt-covered pretzel is an easy and affordable way to thrill your guests' taste buds. You only need to get the required ingredients and follow the recipe below carefully. 
Ingredients 
Two tablespoons of seedless preserves. You can choose whatever flavor you want. 
A bag of miniature pretzels. 

Five cups of confectioners sugar.

Melting chocolate. 
Two cups of yogurt in your preferred flavor. 
Procedure 
Step 1 
Begin by preheating your oven to 250 degrees Fahrenheit. 
Step 2 
Mix the confectioner sugar into a large mixing bowl. This has to be done one cup at a time using a hand-held mixer. 
Step 3
Dip the pretzels into the yogurt by using a tweezer or chopstick. Ensure that the pretzels are completely coated, then lay them on a wire cooling rack. 
Step 4
The oven should be turned off before placing the wire racks and baking sheets inside the range. The oven's heat will dry off the coating without getting the pretzels all soggy. Remember to leave the oven door open during this process. 
Step 5
Leave the now coated pretzel to dry. The drying time is about three to four hours. After the recommended duration, your yogurt-covered pretzel is ready to eat. 
How To Make Pink Yogurt Pretzels 
Pink yogurt pretzels are perfect for your girl child's birthday party. Below is a step-by-step guide on making a yummy pink yogurt pretzel. 
Ingredients 
Pink gel food coloring. 

A cup of white yogurt chips. It's okay to use

chocolate chips

if you don't have yogurt chips. 

Small shaped pretzels. 
Procedure 
Step 1 
Get a baking sheet and cover it with white parchment paper. 
Step 3
Take your yogurt chip or chocolate chip and place it in a bow.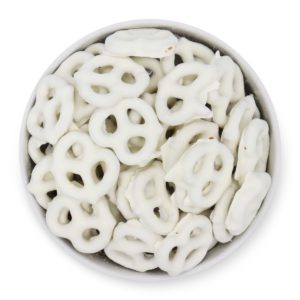 Ensure that the bowl is heat-proof. Then, melt the chocolate-covered or milk-covered pretzel in a high heat microwave. Stir the mixture after every 10 seconds till it is completely melted. 
Step 2
Do not add water to the pink food coloring. Proceed to add one drop of the pink coloring until you get the color intensity you want. 
Step 4
Take and dip one end into the yogurt you melted. Ensure that you shake off the excess melted yogurt. Then, place the pretzel on a tray covered with parchment. Keep an eye on the pretzel so that it doesn't set. Reheat it in the microwave for 10 seconds if it begins to set.
Step 5
While the melted yogurt is still hot, Sprinkle the pretzel with your colored sprinkles. 
Step 6
Allow the melted yogurt to set into the pretzel for about thirty minutes. If you wish to speed up the process,  place the pretzel in your fridge. 
What Are Yogurt Pretzels?
They are crunchy and simple snacks made by covering pretzels in a yogurt coating. They are a perfectly healthy alternative to candy and chocolate. You can make them using different flavors, from vanilla to strawberry and even peanut butter flavor. 
Yogurt offers a healthy dosage of nutrients. But, when you add pretzels to yogurt, the nutritional benefits go higher. Yogurt snacks covered in peanuts or yogurt-covered pretzels should be eaten in moderation to avoid obesity and diabetes. 
How Many Calories Are Yogurt Pretzel?
One cup contains about 400 calories which is more than the average candy in the United States. This means that a serving of may have more than 3000 calories. 
Even more concerning is the fat content, which is about 12 grams for each in a pack of ten. 
They have a significant amount of fat content. Pretzels have a high-fat content because of the other ingredients used in making the snack. A plain pretzel has little to no fat. Pre-packaged they contain sugar and unhealthy oil, which gives the appearance and taste of yogurt. Keeping all these in mind, you must eat yogurt pretzels in moderation and opt for plain pretzels instead. 
Conclusion 
They are tasty snacks made with everyday household ingredients. Their milky and bursting flavors leave many people coming back for more. Nevertheless, they should be eaten only as an occasional treat. When consumed excessively, the high fat and calories present in them can lead to health challenges.