A Guide To Wasabi Peas | L'Orenta Nuts
Wasabi peas are popular in Japan and recently gained popularity in the United States because they pair well with beer. Wasabi peas are made of marrowfat peas dried in the sun. After harvest, they get roasted and coated in starch, oil, and wasabi powder. They can be eaten with sake, soda, and even water. This article is a guide to wasabi peas!
Wasabi Peas: Where Did They Originate? 
The origins of wasabi peas can be traced back to Japan. They are also known as Japanese horseradish. They grow naturally in the mountain river valleys in Japan. Wasabi was used as a food date in the 8th century, and it gained popularity alongside sushi in English-speaking countries in the 1980s. 
Due to many issues, the prices and availability of wasabi plants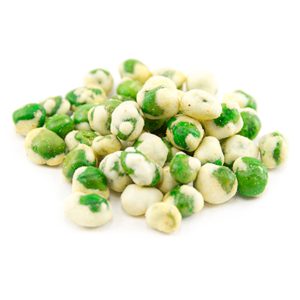 outside Japan have been affected. This has caused the price of wasabi to increase dramatically, especially in western countries. Real Wasabi is derived from grating the root-like stem of a perennial plant – The Wasabia Japonica. The Wasabia Japonica looks like a green-colored horseradish root. 
How Are Wasabi Peas Made? 
Let's highlight the step-by-step process that will get you started on your wasabi eating journey. First, here are some ingredients you will need. 
Ingredients 
Half a cup of well grated fresh wasabi 
Two tablespoons of rice vinegar 
One tablespoon of kosher salt 
Two tablespoons of dry mustard powder 
Two cups of freeze-dried peas 
Directions 
First Step
Start by preheating your oven to 225F. Keep the parchment paper close by as you heat the oven. 
Second step 
Whisk the vinegar, wasabi, mustard powder, and salt in a medium-sized bowl. 
Third Step 
The third is to add the frozen, dried peas and stir gently until all the peas are completely coated with the paste. Stir gently so that the peas aren't broken up. Proceed to arrange the coated peas on the baking sheet. Ensure that the peas aren't touching each other. 
Fourth Step
Place the peas in an oven and bake until dry. Allow them to cool completely before transferring them to a bowl and serving. 
Are Wasabi Peas a Healthy snack? 
100-gram wasabi peas contain about 430 grams of calories. So, if you eat just a small portion of wasabi, you'd be consuming a high level of calories. You have to be aware of your portion size to avoid weight gain. 
If you wonder if they have any health benefits, then a guide to wasabi peas is what you need. Below are some health benefits of these pea-sized snacks. 
1. High Fiber Content 
Wasabi peas aren't all bad. In one ounce, you'll consume over an ounce of fiber. Fibers keep digestion regular and prevent high cholesterol levels. In addition, it provides you with enough calories for your day. Wasabi peas provide a healthy dosage of protein. You'll get four grams of protein for every serving, which is above the recommended protein requirements for an adult. 
These fibers are excellent in helping you maintain a healthy weight and lower the risk of some cancers. Soluble fibers found in peas slow the intake of sugar during digestion; they also improve sugar levels for those with diabetes. 
2. High Protein Content
Adults need about 10 to 35% of their total calories from protein. It means that 2000 calories contain about 100 grams of protein. It is important to note that wasabi peas won't replace a regular protein-rich meal. However, they will keep you full when added with a balanced snack. You may pair them with dried nuts, and you'll have a plant-based snack that packs lots of nutrients. 
High protein foods move slowly through the digestive system, which will help you stay full for longer. The protein in snacks helps to keep blood sugar levels. You should purchase some wasabi soy cashews if you're looking for an excellent source of protein. 
Are Wasabi Peas Hot? 
You can't eat a lot of wasabi peas at a go because they are usually hot. Although the hotness is good for clearing blocked sinuses, you should regulate the amount you eat in one serving. If you don't mind a few spicy foods, these peas may be what you've been looking for. 
Are Wasabi Peas Whole30 Compliant? 
Most wasabi in the restaurants contains wheat which isn't whole30 compliant. The best way to ensure that your wasabi is compliant is by reading the ingredients information at the back of the package. 
Do Wasabi Peas Have Carbs? 
Wasabi peas have a considerable amount of carbs, so it is essential to eat them in moderate amounts. Each serving contains 16g of carbohydrates. A serving of these peas contains about 5 to 7% of your carb needs. 
Conclusion 
They offer a substantial amount of nutritional value while maintaining a hot and yummy taste. A guide to wasabi peas is all you will ever need in understanding these tasty snacks.