A Guide To Stroopwafels | L'Orenta Nuts
Stroopwafels are an extremely famous waffle snack in the Netherlands, Belgium, and South Africa, although they are becoming increasingly prevalent worldwide. They are widely available yet remain a little misunderstood. However, there's nothing like a hot, delicious stroopwafel to warm your soul on a cold day! A guide to stroopwafels will give you an inside look into this delightful treat, its history, and where to buy them online!
What is a stroopwafel?
In this world, there are a few things that are simple yet perfect at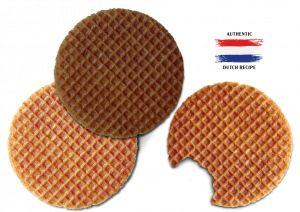 the same time. A crackling fire and a cold beer come to mind. But perhaps the most underrated example is the Stroopwafel.
Pronounced "strope-Vah-fell" or "strope-waffle" is a waffle sandwich cookie made from two thin layers of baked batter and filled with syrup. 
It's usually about 4 inches wide and about 1/4 inch thick. They should have a warm, caramel-like filling that's firm enough to hold its shape — but not too tight that it hurts your teeth as you bite into it. And, of course, the cookie itself should be perfectly soft and chewy without being rubbery or tough to chew through. Keep reading a guide to Stroopwafels to learn more!
History 
They are one of the Netherlands' most well-known exports. They've been a part of Dutch life for centuries, and they're now becoming a trendy snack in other countries.
The history is a long and storied one, but it all started in the 1800s in Gouda. The town is famous for its cheese, made by local farmers who used a lot of leftover grain. One enterprising baker named Gerard Kamphuisen decided to take that leftover grain and create something new: The Stroopwafel.
The original Stroopwafel was a flat, round cookie with a caramel
syrup center. This treat quickly gained popularity across the Netherlands and soon spread to the rest of Europe. By the late 1800s, they were being sold on the streets of Amsterdam at night markets. 
Today, they are enjoyed worldwide as a decadent snack or dessert. You can eat them alone, between two pieces of bread, or on top of your hot morning beverage to add a touch of sweetness.
Ways to eat a stroopwafel
Today, stroopwafels are widely available – some made from traditional recipes and others with modern twists, like chocolate chips or peppermint. The best stroopwafels are made from fresh ingredients in small batches to ensure quality. So whether you're enjoying them for breakfast or dessert (or as an afternoon snack!), here are ways to eat stroopwafels for the ultimate experience:
If you're in a hurry and have a sweet tooth, there's no better way to eat a stroopwafel than straight out of the bag. You don't need anything fancy to enjoy these caramelly waffles, just pop one open and take a bite.
    2. Topped With Ice Cream
The gooey center of the Stroopwafel is perfect for melting over a scoop of ice cream. Try this trick with other desserts like creme brulee and bread pudding too.
    3. Fresh Out Of The Toaster Oven
If you can't wait for your drink to heat up, toast the Stroopwafel! Within a few minutes, your Stroopwafel will be hot and oozy. Make sure not to leave it in too long, though—it might char and become bitter if you do!
    4. Warmed On Top Of A Cup Of Coffee Or Tea
You can soften up your Stroopwafel by placing it on top of your mug of coffee or tea for about 5 minutes, which will warm up the caramel center and make it gooier. This works with both hot and cold drinks, so you can enjoy it year-round.
    5. Crushed Over Cereal
Adding crushed stroopwafels to your cereal will give it a whole new level of flavor — crunchy, caramelized, and buttery all at once.
Where to buy stroopwafels
If you're ready to try these treats for yourself, L'Orenta Nuts is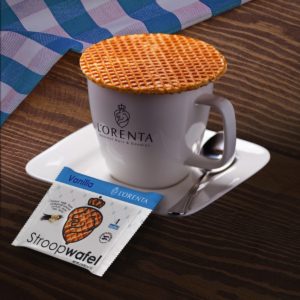 the best place to buy stroopwafels online:
At L'Orenta's, Stroopwafels come in four flavors: caramel (the original), vanilla, chocolate, and sea salt caramel (our mini stroopwafels). We sell them individually wrapped in a 16-pack and separate 8-packs. The sea salt caramel stroopwafels are small.
If you're new to stroopwafels, trying three of our best-selling varieties at once is a terrific way to get acquainted with this traditional dessert. L'Orenta's Stroopwafels Variety 8-Pack has three packages of eight: one vanilla, one chocolate, and one caramel.
Conclusion
We hope a guide to Stroopwafels has helped you learn more about this uniquely delicious cookie. They are a tasty treat that is well worth a try. Whether you love the sweet and chewy combination of flavors or just looking for a way to burn off some energy before heading out and conquering your day, there's no denying that this treat has rocked the fast-food world. So what are you waiting for? Give these sweet waffles a shot!