Raw almonds are commonly referred to as natural almonds because they are in their natural state. These almonds do not extra pass-through cooking to separate the nutmeat and the skin hence the reason they are called raw almonds. Here is a guide to natural almonds.
Where are Almonds Grown?
Almonds are seeds with trees indigenous to Iran and its surrounding countries. However, there are historical findings of its remains in the Levant area. The State of California is one of the largest producers of almonds. About 80% of almonds in the world is from California and it also produces about 100% of the commercial supply in the USA. The production of almonds for export is major in California.
Almonds are drupes with a hard shell, seed and an outer hull.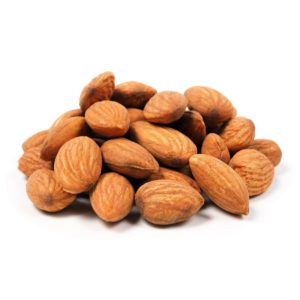 Removing the shell of almonds to get their seed is known as shelling. Regardless, they can be sold, whether shelled or unshelled.
Types of Almonds
There are several types of almonds and this is a list of them;
               

Nonpareil Almonds

               

Peerless Almonds

               

Sweet Almonds

               

Butte Almonds

               

Carmel Almonds

               

Bitter Almonds

               

Sonora Almonds
Health Benefits of Natural and Raw Almond
Almonds are highly nutritious hence their popularity. As you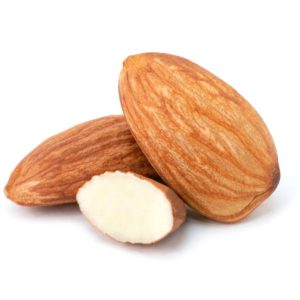 continue to read this article on 'A Guide to Natural Almonds,' you will get to know the benefits of almonds.
They are popular seeds with high and healthy monounsaturated fats, protein, fiber, etc.

Almonds are rich in antioxidants that help protect the human cells from oxidative damage – the primary cause of diseases and aging.

They are a good source of vitamin E

 

Almonds help control blood sugar because they contain rich magnesium. Consuming a lot of magnesium improves type two diabetes and metabolic syndrome.

Almonds reduce bad LDL cholesterol, reducing the chances of heart disease. This is as long as you eat at least one or two handfuls daily.

These seeds help avoid the dangerous oxidation of LDL cholesterol which is helpful for your heart. They do this by reducing the oxidized LDL.

 

They contain a high amount of protein and fiber. According to reports, taking almonds can cause fullness helping you consume lesser calories.

Almonds do not cause weight gain even though they have high calories. According to some reports, almonds enhance weight loss.
12 Fun Facts About Almonds
Almonds may seem like regular seeds, but they have some fun facts to surprise you. Here is a list;
Almonds are botanically known as a stone fruit from the same family as peaches – the prunus family. Cherries, peaches, the plum, and apricots make up the prunus family.

On average, the life span of an almond tree is 20-25 years, and in the first three to four years after planting, it does not produce fruit.

 

The tree grows up to 4–10 meters in height, and its trunk grows up to 30 cm in diameter. The length of the leaves is between 8-13 cm, has a serration margin, and its petiole is 2.5cm.

The length of the almond seed is about 3.5 to 6 cm. It has a thick outer covering, leathery, with a grey-green coat. The downy exterior is called the hull

They can be used to make milk. With the right and simple ingredients, this is easily achievable. Also, they can be used to make Yoghurt-Covered Almonds. You can make your order

here

.
More Facts raw almonds
Almonds last long. The whole unblanched ones can stay in

the fridge for two years without spoiling. They last long partly because they contain vitamin E. However, you can properly store them in a sealable bag and place them in a cool, dark place. L'Orenta's

Sliced Blanched Almonds

is a good example.

 

It has a high level of protein. They can also be added to smoothies and vegan diets. One of them is

Lemoncello Almonds

by L'Orenta.

 

They are a good choice for your heart as they contain monounsaturated fats, which promote health. They are the same fats in olive oil, known to reduce heart disease. L'Orenta's

Almond Coconut Macaroon

perfectly fits this description.

Almond flour is an excellent alternative to wheat flour as the former is gluten-free. They are also delicious, have low carbohydrates, and are fat-free, making them a great addition to puddings, cakes, pastries, etc. The

Whole Natural Almonds

by L'Orenta is an excellent example of a gluten-free almonds product.

They are a great source of energy. Their energy-boosting ability makes you feel energetic when feeling weak or keeps you agile when added to your smoothie when you wake up in the morning.

Almonds also serve as a better alternative to breadcrumbs because the former is healthier. They are several recipes to make this possible.

They are used to make yummy nut butter or added to sauces, smoothies, or pastries, yielding a positive result.
The Takeaway
This Guide to Natural Almonds' helps give you an understanding  about almonds. They are highly nutritious and can be pretty satisfying when you eat them. You can get them in different forms and sizes from L'Orenta.