A guide to honey toasted pecans is essential if you are yet to discover the wonders of this delicious snack. Honey toasted pecans are drupes (also called nuts) that contain honey. "Pecan" is an Algonquin word which means "a nut that requires a stone to crack". It has that name because of its hard shell. They became commercially grown in the 1880s but were still regarded by the colonists of that era as a foraged delicacy.
Spanish explorers found pecans in the 16th century, and they called them "nuez de larruga" meaning "wrinkle nut". They made pecan milk for infants and the elderly by Native Americans. These people also produced "powcohicora," a fermented intoxicating pecan beverage from pecan. 
You will earn adequate knowledge about a unique honey toasted pecan product from L'Orenta as you continue to read this article.
L'Orenta's Honey Toasted Pecans
This hearty snack is peanut-free and crunchy. It is a best seller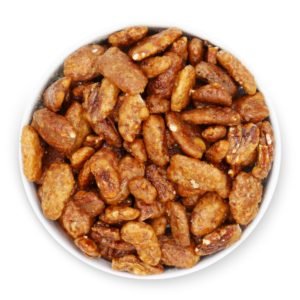 because of its rich and delightful taste. Before being perfectly fire-roasted, these nutty pecans are a good mix of quality honey with a bit of salt to get a beautiful flavor sensation to satisfy your salty and sweet desires.
Maintaining a healthy life is possible with these pecans because of the beneficial nutrients. These honey toasted pecans are in 1, 5, 10, and 30-pound sizes. Have a taste of at least one pack to assure you of its unique taste. Order here.
How are Honey Toasted Pecans Made
Honey toasted pecans have some of the finest ingredients. They include sugar, pecans, honey, butter, salt, and soy lecithin (pecans and soy). They contain nutritional benefits and a delightful taste that makes you enriched and yearning for more.
Health Benefits
Stating the benefits of this snack is necessary because they also act as a guide to honey toasted pecans. They contain sodium, magnesium, and potassium, which help reduce blood pressure. The fat in pecans is a healthy type which is monounsaturated fat. Eating this type of fat helps to lower levels of bad LDL cholesterol, unlike the impact of high saturated fats such as the one in potato chips. By maintaining a low LDL cholesterol, you limit the risk of having a stroke or heart attack.
Pecans also contain Vitamin A, Vitamin E, and zinc which boosts your immune system to fight off infections. These nuts have a large amount of fiber and are beneficial in promoting colon health and aiding regular bowel movements.
Another essential health benefit of these drupes is that they help with anti-inflammation. They also remove the toxins in the body that can lead to breakouts, dullness, and excess oil, thereby enhancing the appearance of your skin. 
Fun Facts About Honey Toasted Pecans
The drupes are related to nuts, and they are from a tree similar to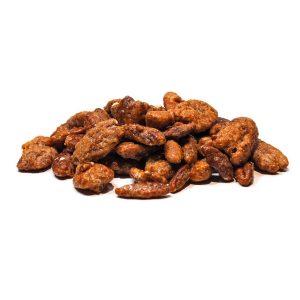 peaches and plums. The tree produces its fruits biannually, and there are over 1000 different varieties of the fruit. The tree is one of the varieties of hickory trees, and its fruits are related to walnuts.
A pecan tree attains maturity after about 12 years. This is the time it can begin producing its fruits. The trees sometimes grow to over 150 feet, with their trunks measuring over 3 feet in diameter. The trees can live for up to 300 years. Thoms Jefferson was one of the early owners of a pecan tree. He had a tree in his orchard and was sometimes gifted to the other founders of pecans.
In the state of Texas, the Pecan tree is the state tree. They originate from the United States of America, and over 90% of them grow there. April 14th is celebrated as National Pecan Day in the USA, while July 12th is for celebrating national pecan pie day yearly. During the Apollo space mission, Astronauts took pecans to the moon twice.
Before selling a shelled pecan, it is essential to clean, size, sterilize, crack, and shell. The wood from pecan trees was used in 1996 as the handles of the Olympic Torches. These torches were taken to a 15,000-mile relay until the flame became lit at the host city Atlanta, Georgia.
How to Store
To maintain the freshness of your honey roasted pecan, you must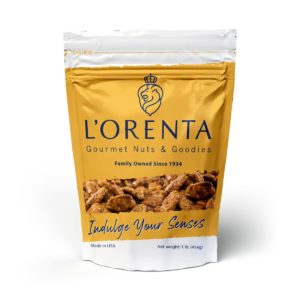 store them in an air-tight container because air is terrible for them when keeping. You can also store them in a refrigerator or freezer. Store the pecans in a place with room temperature or cook them up whenever you are ready to indulge in them as there is no need to thaw them.
Pecans last better when stored properly. You can store shelled pecans in a refrigerator for about nine months, and they can stay in the freezer for almost two years. The best way to store pecans in the freezer is to use a plastic bag with good sealing.
Avoid exposing them to direct artificial light or sunlight. In general, avoid direct heat because it can reduce shelf life. When storing the pecans in a freezer, you can put them in serving-size bags to take out only what you will use and extend the shelf life of your pecans.
Conclusion
Honey toasted pecans have nutritional and delightful benefits.  All the information in this article titled "a guide to honey toasted pecans" is crucial in helping you understand why you need to try honey toasted pecans if you havent already! Shop today!