A guide to Gummy Peach Rings | L'Orenta Nuts
Whether you love them or love to hate them, gummy peach rings are here to stay, with their popularity skyrocketing over the past few years. There's no doubt that demand for these delectable little snacks will continue to grow. To help you better understand the ins and outs of this tasty candy, we've put together this comprehensive guide to Gummy Peach Rings. 
Below, you'll find information on gummy peach rings, a brief history, along with the ingredients and some fun facts. 
What are Gummy Peach rings?
Gummy peach rings are one of the many fruit-flavored gummy candies that have been around for years.
Gummy peach rings are fruity candy that is sweet and chewy. Some people enjoy gummy peach rings because they taste like natural fruit. Others like to chew on sweet candies because they do not have to worry about the calorie count.
They are fat-free and only contain three grams of carbs for every serving.
What does a gummy peach ring consist of?
The main ingredient in gummy peach rings is corn syrup. Corn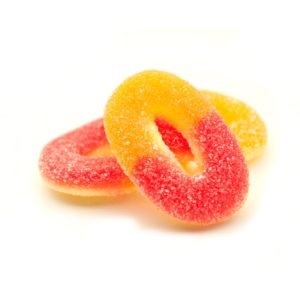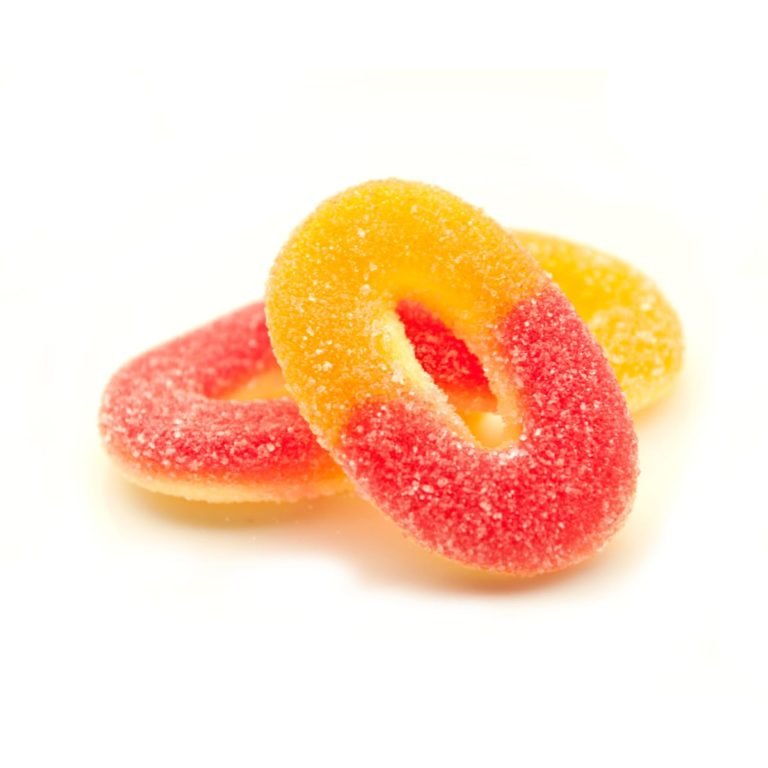 syrup is a sweetener made by breaking down cornstarch into simple sugars. In addition to giving gummy peach rings their flavor, corn syrup also helps prevent the candy from crystallizing and becoming grainy.
Another base ingredient is gelatin. Gelatin is a protein. Gelatin is what gives gummy candies their texture.
Most gummy peach rings contain natural and artificial flavors that give them their fruity flavor. They also typically contain citric acid, which provides them with their tartness and helps preserve them. In addition, gummy peach rings often have artificial colors; red 40, yellow 5, and yellow 5 are common colorants used in this candy product.
Storing Gummy Peach Rings
 The best environment for storing gummy candies is a dry, relaxed environment, less than 75 degrees Fahrenheit, and away from direct sunlight. Storing gummies in an airtight container will also keep them fresh for a few months.
 It's also possible to store them in a closed pantry that's not too hot or humid. If you want to keep your gummy candy for a long time, freezing or refrigerating it is an excellent alternative.
Health Benefits of Gummy Peach Rings
Gummy peach rings are a tasty treat for kids of all ages. However, you can also enjoy some health benefits when eating them in moderation.
Gummy Peach Rings Boost the Immune System
Peach rings contain vitamin C, which helps to support a healthy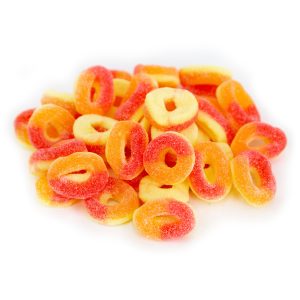 immune system. It is necessary to produce collagen that keeps the skin's connective tissue. The antioxidant properties help protect cells against free radicals, which can cause cell damage in the body. 
Vitamin E promotes a healthy immune system by preventing harmful substances from entering your body and attacking cells in your organs. The naturally-occurring phenolic compounds in peach rings are also beneficial in protecting cells from damage and redeveloping new, healthy cells.
Gummy Peach Rings Maintain Healthy Skin
The antioxidant properties of peach rings protect against skin damage caused by free radicals during exposure to UV light. Free radicals can cause inflammation and premature aging due to breaking down skin cells. Antioxidants help prevent this process by fighting off free radicals before they can enter the body.
Gummy Peach Rings Improve Heart Health
Peaches contain potassium, a mineral that helps regulate blood pressure and heart rate. Potassium is an electrolyte that helps control nerve impulses and muscle contractions.
History of Gummy Peach Rings
The history of Gummy Peach Rings dates back to the late 1920s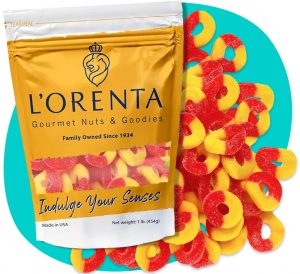 in Germany. At this time, a candy maker named Hans Riegel opened a small candy shop in Bonn, Germany. He called his company Haribo, an acronym for Hans Riegel Bonn. During the 1920s, Riegel invented the Gummy Bear and subsequently got Haribo to mass-produce the product. The company multiplied and, by the late 60s, had expanded into other countries, including France and England.
Gummy Peach Rings followed shortly after that.
The Gummy Peach Ring resembles a ring with a hole (hence its name). It has a peach flavor, one of the most popular flavors for gummy candies. Haribo Peach rings contain natural colors and flavors. However, many other companies make gummies now that use artificial colors and flavors.
Gummy Peach Rings are trendy because they are inexpensive and have a long shelf life when appropriately packaged. Worldwide, they are available at convenience stores, supermarkets, and online.
Fun Facts about Gummy Peach Rings
A guide to Gummy Peach Ring would be incomplete without discussing some fascinating facts about Gummy Peach Rings.
The average gummy peach ring contains about 100 calories and 22 grams of sugar. Gummy peach rings are also fat-free, gluten-free, and dairy-free.

Gummy Peach Rings are vegetarian friendly since they do not contain animal products. But as gelatin is an animal product, it is not vegan.

The Gummy Peach Ring is a tasty treat that contains no fat or preservatives.

The United States sold an estimated $20 million worth of peach rings in 2013.

The peach rings have a long shelf life because they do not include dairy products.
Conclusion
So there you have it, A guide to Gummy Peach rings. They have become somewhat of a phenomenon over the past few decades, and with good reason. Despite their origin, they can now be found during all four seasons, as they were initially intended to be eaten at specific times of the year. 
Nowadays, peach rings come in numerous flavors—all delicious and fun to munch on. So the next time you are craving something sweet, don't just pick up gummy candy or an old-fashioned candy bar; try scarfing down a bag of gummy peach rings!