A Guide to Corn Nuts | L'Orenta Nuts
Albert Holloway first introduced corn nuts to the United States in 1936. He used to sell them to tavern owners to give to customers for free. Today, corn nuts are fast becoming famous. Why? They are delicious, crunchy, and also healthy. Here is a guide to corn nuts!
What Are Corn Nuts?
Corn nuts are snacks made of deep-fried or roasted corn kernels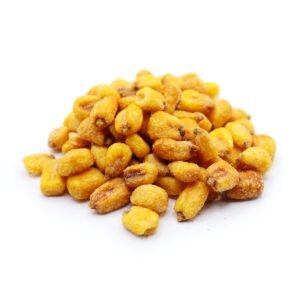 at their core. The corn kernels also have a robust and delicious flavor after processing. Corn kernels also become extraordinarily crunchy. They are also known as Quico, toasted corn, and crackers. In Peru, people refer to it as Cancha, and in Ecuador, Chlupi. Corn nuts got their name from their nutty look and crunchy texture. Moreover, corn nuts are not in the same category as cashew, almond, and walnut. 
If you want something crunchy and delicious, Corn nuts are ideal snacks. You can munch them to satisfy your cravings. Want to savor the taste now? Get our Toasted Corn here. 
How Are Corn Nuts Made?
You can either bake or fry your corn kernels. The result will be a salty, delicious, crunchy, and addictive snack. Also, Corn nuts have another distinct feature: you can combine different flavors to achieve various delicious tastes.
The following steps will outline how you can bake your corn kernels.
Soak your kernels for at least 12 hours. This process is called rehydration. 

Then, line a baking sheet with a silicone mat or parchment paper. After that, preheat your oven to 400°F. 

Mix your corn kernels with oil. You can use two to three tablespoons of coconut oil or any other great oil. 

Add one tablespoon of sea salt and one tablespoon of salt. 

Bake for 25 to 40 minutes. Stir the corn kernels every 10 minutes until they turn golden brown and burst occasionally. 
Are Corn Nuts Healthy?
A guide to corn nuts is not complete without outlining their health benefits. They are healthy snacks. They contain some beneficial nutrients and vitamins. Some of these nutrients include:
Fats
Corn nuts are a rich source of healthy fats. 42g of corn nuts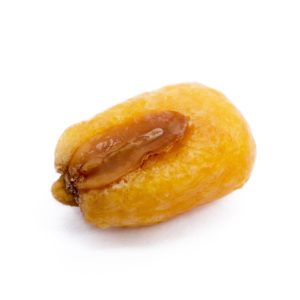 contains 8g of fat. This is about 12% of our daily needs. Out of this 8g of fat, only 1g is saturated fat. The remaining 7g are unsaturated fats. This makes it a healthy snack. Unsaturated fats can also significantly reduce the levels of bad LDL cholesterol. 
Carbohydrates 
They are incredibly rich in carbohydrates. Every 48g contains 34g of carbohydrates. Also, numerous processed snacks are usually high in simple sugars once they have high carbohydrates. This can cause an increase in blood glucose levels. They can also put you at risk of heart disease. This is not the case with corn nuts. They are very low in simple sugars, making them a healthier option. 
Fibers
Although they are not particularly rich in fibers, they can still help you increase your fiber intake. A one-third serving will add 1g of fiber to your diet. This is around 4% of the recommended daily fiber intake. Fiber intake will significantly reduce the risks of several health conditions, including cancer, type 2 diabetes, and cardiovascular diseases. 
Sodium 
They are a rich source of sodium. A one-third serving will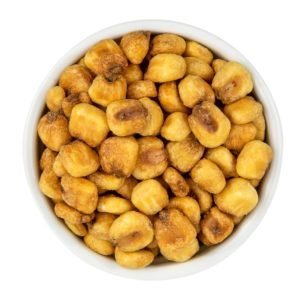 give at least 160 milligrams of sodium, almost 7% of your daily sodium intake. This can help regulate blood fluids and avoid low blood pressure. Sodium is also needed for liver, heart, and kidneys' health.
With the highlighted nutrients and minerals, adding them to your diet is safe. If you want a healthy snack including corn nuts packed with flavors and numerous health benefits, consider our Saloon Mix. This tasty mix will satisfy your sweet cravings and offer you multiple health benefits. 
Final Thoughts 
With a guide to corn nuts, you know what they are, how they are made, and their health benefits. Undoubtedly, they are delicious and crunchy. They also offer numerous health benefits that are crucial to your health. You can eat them alone or with friends to satisfy your cravings. People also use it as a garnish for various dishes, including salad and mixes. 
Our South Texas heat is a great example. These perfect spicy, salty, and sweet snacks will tickle your tastebuds. Click here to get this fantastic mix.