A Guide To Cherry Sour Candy | L'Orenta Nuts
Are you a fan of sour candy? Cherry sours are one of those sweet treats everyone enjoyed at some point in their childhood. Here is a guide to cherry sour candy! Learn about the history, where they come from and more! While immensely popular in the United States, cherry sours are rare in other countries. Find out who created these delicately delicious treats, where precisely they come from, and some fun facts about the candy itself!
History of cherry sours
Cherry Sours are a hard candy where a sour powder is mixed with boiled sugar syrup, then poured into molds to solidify. 
Judson Atkinson Candies first made them in 1899 in Texas. The candy has since become one of the most popular varieties of sour candy.  Since they first hit the market, Cherry Sours has always had a complete makeover of their packaging, making them very attractive to consumers.
Where do cherry sours candy come from?
Cherries have been a popular candy flavor for decades, and while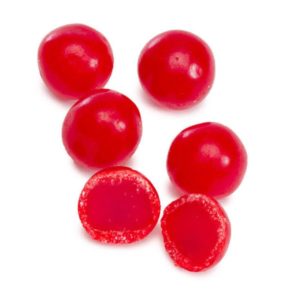 they're found in a wide range of treats, they're perhaps best known for their tart or sour taste. 
Cherry sours are part of the sour candies family that includes grapefruit sours, apple sours, and other fruit flavors.
The cherry flavor comes from real cherry juice mixed with citric acid to create a sour taste. The rest of the ingredients in cherry sours include corn syrup and sugar. Some varieties also contain gelatin, gum, or food coloring to enhance their appearance.
Cherry sours add color and flavor to baked goods such as cakes or cupcakes. In addition, you can use them in savory dishes. Cherries are naturally high in vitamin C and are often recommended to people with sore throats or coughs.
Different varieties of sour cherry candy
Sour cherry candies are beloved for their intense fruity flavor and often eye-popping bright colors. Here's a brief guide to some of the most popular varieties:
Cherry balls, sour balls, and Jordan almonds 
All three are hard candies with a cherry flavor — typically sour. Hops are known for their bright red color, while Jordan almonds have a white coating mixed with red (or another color).
Cherry drops. 
These are the small, individually wrapped cherry sours that you'll often find in bulk bags. They're hard candies, too, but they aren't shaped like balls or coated with sugar. Instead, it's all sour cherry flavor!
Cherry sours gummies.
 These are soft, chewy candies that pack a severe sour punch — and sometimes a sweet point from sugar crystals on the outside. Some brands offer gummy worms and fruits instead of just basic gummies.
Cherry sour candy canes.
 You don't find these every holiday season, but when you see them in stores, you should stock up on some for next Christmas or Valentine's Day!
 Did you know these fun facts about cherry sour candy?
To make cherry sours, real cherries must be harvested at the

peak of ripeness. By doing so, they become naturally delicious and flavorful.

Cherry sours contain 0 grams of fat per serving. That's right — 0 grams! This makes them a great choice when craving something sweet but want to stick with your diet plan.

The sour powder on each cherry sour is colored to match the fruit jelly, so you can tell which flavor you're getting before putting it in your mouth.

Traditionally, cherry sours come in two flavors: red cherry and yellow lemon. But nowadays, you can find them in so many more fun flavors like green apple, orange, and strawberry!

 Tartaric acid coats the outside layer of the candy, giving it that extra sour punch!

Keep cherry sours in a cool, dry place to ensure they stay fresh and delicious. Be sure to store the candy in an airtight container to prevent moisture from getting in and affecting the flavor.
Final Thoughts
Cherry Sours stand out from the crowd because of their acidic, hard flavor. It lacks the distinctive flavor of some other iconic hard candies, yet it is known to delight those who prefer sweet and sour flavors.
If you've never had one of these chewy beauties, I recommend picking up a bag of L'Orenta's cherry sours along with some Pink Grapefruit Sours and Watermelon Slices the next time. I'm confident you won't go wrong for doing so for the sake of variety. These delicacies have been a favorite for over a century, and you will find it difficult to stop eating them!