Ah, candy corn. The celebrated Halloween confection has become part of American culture. Let's be honest, whether it's your favorite candy or your last pick, candy corn is simply iconic. If you've ever wondered how it became so popular, or how it's made, and even why it tastes so… candy corn-like – you've come to the right place. 
First of all: What is candy corn?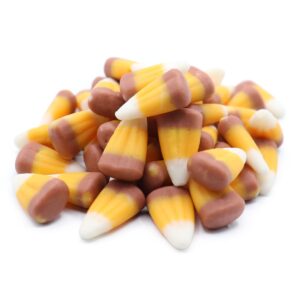 Candy corn is a tiny, pyramid-shaped candy meant to resemble dried corn kernels. It's typically divided into three sections of different colors, and they all represent mean too: The yellow represents the color of butter. Orange is for pumpkins or Indian corn. Finally, the white end is supposed to evoke the color of corn silk.
How is Candy Corn Made? 
The ingredients used to make candy corn haven't changed much since the late 1800s, but the way it's made has certainly been updated since then. Back in the day, workers had to mix ingredients in large kettles. They would then add fondant and marshmallow for smoothness. The next step was pouring the 
mixture into kernel-shaped molds in cornstarch trays, which they had to do three times: one for each color. The work was so laborious, candy corn was only available from August to November! 
These days, thankfully, we have machines to do the work. Most manufacturers use the "cornstarch molding process" to create the particular design. A machine fills a tray of kernel-shaped indentures with cornstarch to hold the candy corn in shape. Each space gets partially filled with the white syrup mixture first. Next follows the orange syrup, and lastly, the yellow syrup. Then the mold cools and sit for about 24 hours until it hardens. A machine empties the trays, and any excess cornstarch shaked loose. The final step is to glaze the candy corn to make it shine.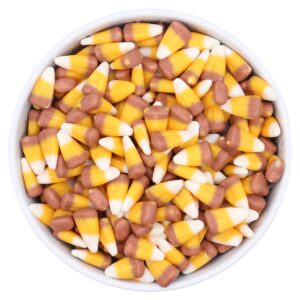 And before you ask – no. There's no corn in candy corn. Well, unless you found corn syrup. The original recipe is mostly sugar, corn syrup, confectioner's glaze, gelatin, and flavorings. 
Nutrition Facts for Candy Corn
Calories: 6.3, There is less to no amount of Total Fat, Saturated Fat, Polyunsaturated Fat, Monounsaturated Fat, Cholesterol, Potassium, Dietary Fiber, and Protein, Total Carbohydrate: 0.052 oz (1.5 g), Sodium: 0.00016 oz (4.6 mg), Sugars: 0.049 oz (1.4 g).
Candy Corn History 
Candy corn has existed for over a century, that much we know. While history may be hazy, it is said to have been invented in the 1880s by a man called George Renninger, a candymaker at the Wunderlee Candy Company in Philadelphia. The company, now called Jelly Belly Candy Co., started making the candy around the turn of the century. To this day, they still use the original recipe. 
Since farming was such an integral part of living back then, when the tri-color, corn-shaped confection first rolled out, it was considered positively revolutionary! Since the process was entirely handmade and incredibly time consuming, most factories only had the capacity to produce it seasonally, which is why we associate the treat with Fall season. 
What Does Candy Corn Taste Like? 
Describing the taste of candy corn to someone who's never tried it before is not an easy task. The flavor of this classic candy is so familiar to most people, they may not even know it actually does have an "assigned flavor". News flash: candy corn is supposed to taste like "creamy vanilla". 
So even though the sweet treat is modeled after corn in shape, it's not supposed to taste like it! The actual flavor of traditional candy corn is a lovely blend of creamy fondant, rich marshmallow and warm vanilla notes. Combined, these three flavors create the distinctive candy corn flavor we all know and love. 
Texture wise, candy corn should be creamy and smooth, not coarse! Not too chewy, just slightly crumbly, but still holding their shape enough to give a good bite. 
There's a variety of candy corn out there!  
Everyone knows the traditional candy corn with three stripes – yellow at the bottom, orange at the center and white at the top. What you may not be aware of, is there they also come in a variety of other colors and flavors depending on the holiday:
Brown, orange and white Indian corn (the brown section is chocolate-flavored) for Thanksgiving
Green, white and red reindeer corn for Christmas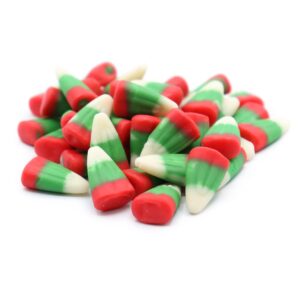 Pink, red and white cupid corn for Valentine's Day
Red, white, and blue freedom corn for the 4th of July
Pastel-colored bunny corn for Easter
While the original variety remains the most popular for Halloween and the Fall season, it's certainly fun to have options! Although they all look different, they taste exactly like the traditional. 
10 Fun Facts about Candy Corn 
According to the National Confectioners Association, more than 9 billion kernels of candy corn are sold each year.

In one eight-hour shift, Jelly Belly reportedly makes 28,000 pounds of candy corn.

October 30th is marked National Candy Corn Day. Yep. It has its own holiday! 

Candy corn may be mostly sugar, and it's certainly not "diet food". But did you know the confection is 100% fat free? Each piece of candy has only seven calories.

Love it or hate it, candy corn is perhaps the most popular Halloween candies of all time. It takes second place only to chocolate. Candy corn is the number one favorite in Oregon, Texas, Tennessee and South Carolina. In fact, liking it or not, The National Retail Federation estimated that, last year, 95% of holiday shoppers stocked up on the tri-color treat. 

Candy corn was once called "Chicken Feed"! The boxes even had a rooster on it, and the copy that read: "Something worth crowing for."

In 1950, a pound of candy corn cost only 25 cents! 

Unopened, a bag of candy corn will last up to 9 months!

One cup of candy corn has about the same calories as one cup of raisins.

In recent years, several additional flavors of candy corn have emerged, including peppermint, pumpkin spice, red velvet cake and fruit punch. Strangely, some very unusual flavors have also debuted, such as hot dog, hamburger, green beans, roasted turkey and stuffing to name a few. Would you try these? 
Creative Ways to Enjoy Candy Corn
1. Candy Corn Popcorn
Combining Candy Corn and Popcorn creates one perfectly sweet and salty treat. This one is equally popular with kids and adults. Perfect to serve at your Halloween party.
Step 1
You'll need about 8 cups of freshly popped popcorn. Remember to salt it liberally: the contrast between sweet and savory is what makes this so good! 
Step 2
Using a medium pan, melt together 2 tablespoons of butter and 2 cups of mini marshmallows. Keep stirring until all the marshmallows are melted. 
Step 3
Gently fold the marshmallow mixture in with the popcorn, a little at a time, until coated. Pour the popcorn onto a cookie sheet lined with parchment paper. 
Step 4
Add the candy corn! And don't wait too long – the marshmallow mixture needs to still be warm so the candy will stick to it. Sprinkle the candy and any other add-ins onto the popcorn. Allow it to cool, then break apart into chunks and enjoy.
Candy Corn Snack Mix 
Making a snack mix is fun, easy, and effective! It's also a great activity to get the kids involved. Perfect for a spooky movie night or to serve at get-togethers. 
Step 1
Set aside some butterscotch chips, candy corn, roasted peanuts, and chocolate covered mini pretzels.
Step 2
Mix it all together and you'll have the perfect sweet and salty snack mix! Store in a covered bowl at room temperature.
3. Candy Corn Martini
A treat for the grownups! This Candy Corn Vodka Martini will make your Halloween party unforgettable! Your guests will absolutely love it.
Step 1
This martini starts with infusing vodka with candy corn. For 2 cocktails: start by adding 1/3 cup Candy Corn to 1 cup of vodka and let infuse for 6 hours or overnight. 
Step 2
Make it fun with a sweet candy rim! Dip the rim of a martini glass in a shallow dish of corn syrup, then dip into a shallow dish of decorating sugar, sprinkles, or popping candy. Let dry for 2 minutes.
Step 3
Strain the vodka and add it to a cocktail shaker filled with ice. Add in 1/3 cup pineapple juice and 1/3 cup pomegranate juice. Shake well and strain into martini glasses.