A Guide To Candy Corn | L'Orenta Nuts
Candy corn is a delicious fall treat. Are you familiar with this delightful American treat? Candy corn is one of the most popular Halloween candies. It's fun, yummy, and brings out the kid in all of us. This article will look at candy corn, its creation, and a little history behind the sweet treats. Enjoy this guide to candy corn. 
Fun Facts About Candy Corn
Corn candy is a special kind of candy manufactured by heating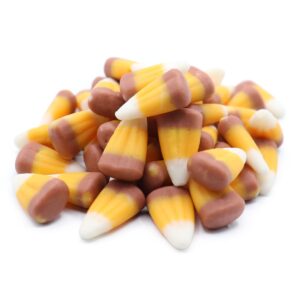 corn syrup and sugar and adding other ingredients to create a chewy candy that can be eaten or used in salads and desserts. Most corn candy is made with some form of gelatin, making it more flexible and facilitating the manufacturing process. However, corn syrup is derived from cornstarch, and some people may have an allergy to corn or corn products, which can appear as an allergy to corn candy. Here is a guide to candy corn. 
The three colors of candy corn were originally representational:
Yellow represented the color of butter.

Orange represented the color of pumpkins or Indian corn.

White described the color of corn silk.
The traditional method for making the colored centers was to arrange them by hand.
When was candy corn invented?
The invention of candy corn is credited to George Renninger, an employee of the Wunderle Candy Company in Philadelphia. In 1898 he came up with a way to make a yellow candy at one end and white at the other. It resembled a small ear of Indian corn, with a tip dyed orange and the rest white.
In 1900 the Goelitz Confectionery Company (now known as Jelly Belly) adopted the recipe for candy corn and began producing it, which it still does today. During World War II, rationing caused production to be scaled back, but it resumed making popular Halloween treats afterward.
What is candy corn made of?
Candy corn is considered one of those treats that are either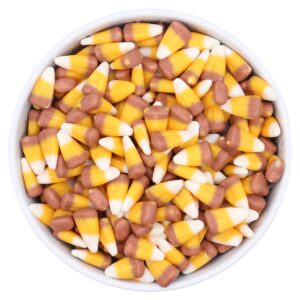 incredibly loved or incredibly loathed, which is because it's made with a few key ingredients: sugar, fondant, marshmallows, butter, egg whites, and flavoring. The mixture is pressed and formed into the tri-colored candy when all combined.
The candy base is made from sugar and fondant mixed and heated until it becomes a liquid, which forms the white center on the tip of the candy corn. Next, the middle orange section gets its flavor by combining powdered sugar, corn syrup, and marshmallow creme. Lastly, the yellow portion on the bottom gets its color from food dye and lemon extract.
Candy corn is the staple of Halloween candy
Candy corn is the foundation of Halloween. Without it, there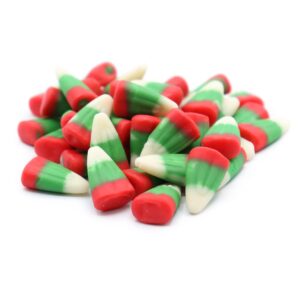 would be no trick-or-treating and no costume parties, or at least not as many fun ones.
Candy corn is the essence of Halloween: orange, black and white, the three Halloween colors. Its taste and texture are also perfect for Halloween, warm and soft and chewy without being sticky.
Nothing says Halloween like candy corn, except maybe pumpkins. And if you put a candle in a pumpkin, you get November 1st. So really, nothing says Halloween like candy corn.
But how to enjoy it? Which is not as apparent as you might think; it's easy to get it wrong. Of course, you could eat it by itself straight from the bag, but that would be missing some possibilities. So here are some tips on how to enjoy your candy corn this Halloween:
 Mixing it with peanuts makes a great treat called "mellow creme pumpkins" or "Indian corn," depending on who made them.

Candy corn may be delicious, but baked into a cake or batch of cookies, it becomes even more scrumptious. This recipe for Candy Corn Cookies is just one example of how you can incorporate candy corn into your favorite sweet treats.
Some fun facts about candy corn
Treat corn is the most popular Halloween candy, and per the National Confectioners Association.

Candy corn's original name was "Chicken Feed." The name was changed to "candy corn" because it sounded nicer

The kernel shape of individual pieces of candy corn has changed over time —initially, they were shaped like a kernel of corn with rounded tips, but today they are more spherical.
Conclusion
Candy corn is here to stay, and we're just going to accept that. Hopefully, this guide has provided a little insight into why we should love the stuff if you've yet to embrace it. If you want to sample these delicious sweets, check our ultimate package of caramel candy corn and reindeer candy corn.