A Guide To Candy Cane Almonds | L'Orenta Nuts
We love to create unique recipes and offer you seasonal treats to enjoy. Eating holiday foods and snacks is a tradition and what makes us jump with anticipation. As part of our Christmas gift guide, we present a guide to Candy Cane Almonds, one of our best sellers. 
What is Candy Cane? 
The two main ingredients to create Candy Cane are sugar and corn syrup. In order for the Candy Cane to have the right texture and structure, the sugar used has to be of high quality. Once heated, the sugar melts, mixed with corn syrup and it turns into a syrup that can be more easily manipulated. When corn syrup mixes with regular sugar, it stops the sugar from crystallizing. If the sugar was allowed to crystalize naturally, it would make the candy cane brittle and grainy. Additionally, corn syrup also makes the candy cane more opaque; without it, the candy would be transparent. To finalize the results, it is necessary to add processing ingredients, sweeteners, and coloring. 
L'Orenta made something extra special with its recipe of Candy Cane Almonds! We roasted almonds and then covered them with a thick layer of white chocolate mixed with crushed peppermint. Not only they are delicious, but they also look amazing!
Where does Candy Cane come from? 
Invented 350 years ago it became a symbol and tradition for the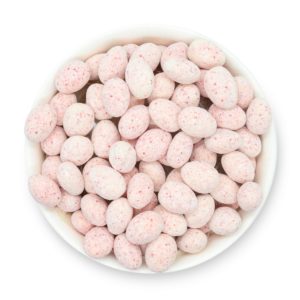 Christmas holiday, used as a decoration on Christmas trees. In the beginning, candy canes were not shaped like canes. They were only white, straight, and filled with sugar.
In 1670, the cane-shaped candy became historical when Cologne Cathedral choirmaster turned sugar-sticks into shepherd's hooks by bending them into canes. During the ceremonies, white candy canes were distributed to children. The practice became popular and eventually was used during church ceremonies all over Europe and America.
In 1847, August Imgard, a German-Swedish immigrant from Wooster, Ohio, decorated his Christmas tree with candy canes and paper ornaments.
In the early 1900s, Christmas cards featured solid white sugar canes. At the turn of the 19th century, red and white striped candy canes were made for the first time. As candy makers added the peppermint flavor, the first striped candy canes appeared.
During the 1920s, Bob McCormack, from Atlanta, was the first person to use candy canes for special Christmas treats for his friends and family. Originally, the red and white candy canes were made by hand and were labor-intensive. Greg Keller (Bob's brother-in-law) invented the machine for the automation of candy cane production in the 1950s, thus eliminating the laborious process of making candy canes. Bob's Candies has been in business for over eighty years and was the first company to mass-produce and distribute candy canes worldwide.
What are the health benefits of almonds?
Almonds are one of the best foods to snack on and are awarded a qualified health claim in the US. They contain healthy fats, fiber, protein, magnesium, and vitamin E.
They can be advantageous for the health of the body in many ways such as lowering blood sugar levels, lowering blood pressure, and reducing cholesterol levels. These can be beneficial for the weight loss process as well. Enjoy them, especially on February 16th, National Almonds Day.
When to eat Candy Cane Almonds? 
These treats are just perfect for the Christmas season! They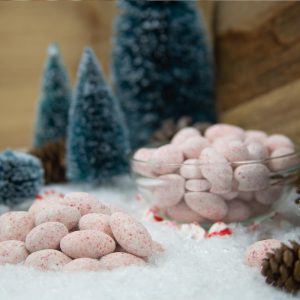 match these holiday colors for your garden, house, and tree decorations! You can also place them at the center of your dinner table for a delicate touch for Christmas Eve.
Many people believe that the shape and form of the candy cane have religious significance. The red stripes could represent the blood of Christ and the white stripes its purity. The three fine stripes are believed to represent the Holy Trinity and the "j" shape the name of Jesus. 
Either way, the candy cane is now a traditional symbol of the Christmas holiday. Today, candy canes are available in different shapes, colors, and flavors, but the red and white peppermint candy cane still remains the classic favorite among candy canes.
We are proud to create our Candy Cane Almonds in the USA but in limited batches: this is a seasonal product. This best-seller sells out very fast so we recommend you to order your batch as soon as they are available. 
How to store candy cane almonds? 
As white chocolate contains a high-fat content, it absorbs other odors. For this reason, it is recommended that you store it in a dark and cool place – preferably in the fridge. Avoid storing it near products that have strong aromas or it will taste like the other products. It should not be exposed to direct sunlight.
No wonder this delicious and seasonal treat is a favorite among staff members! We encourage you not to miss this opportunity and to order your batch as soon as they become available. Your Candy Cane Almonds will be a must-have for your decoration and to share with your loved ones.