9 Black Candies For Your Next Event | L'Orenta Nuts
We are thrilled to inform you of our new feature at LorentaNuts.com! Because we desire to serve our customers better, we have developed a unique candy by color feature. This feature has made it easy for our customers to search for candies using colors. It also offers other benefits, especially for event planners. In this article, we will be discussing the black color. So, read about the best 9 black candies for your next events!
Events to Add Black Candies 
You will love the extra effect, visual treat, fun, and colors of our delicious 9 black candies for your next event. These candies will also make your events exciting, and your guests will always want more of them. The following are some of the events where you can add these delightful black candies. 
Halloween 
Halloween is a worldwide holiday celebration that happens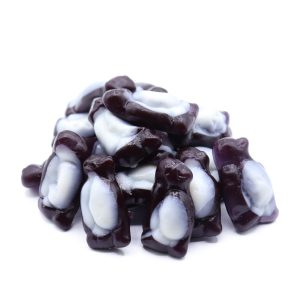 annually. One exciting activity that makes Halloween unique is the trick or treat. Our candies are excellent for trick or treating. They also come in different exciting shapes and flavors, making your trick or treating a memorable experience. You can also add our black candies to your Halloween-themed parties. They will also add their extra effect to your event. We recommend our:
Bar Mitzvah 
Bar mitzvah is the celebration of the 13th birthday party of a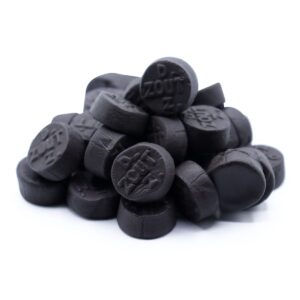 Jewish boy on the Hebrew calendar. The ceremony also marks the boy's elevation to adult status in Judaism. Black is part of the color code for a bar mitzvah. So, are you a Jew and want delicious black candies for your kids' bar mitzvah? Consider our Double Salt Licorice, dark chocolate pretzel bites, and Blueberry Licorice Jelly Beans.
Weddings And Birthday Parties
Candy buffets are becoming a trend at weddings and birthday parties. And it's not surprising. Candies have a way of making events more exciting and colorful, weddings and birthday parties included. So if you are adding candy buffets to your wedding or next birthday party, our delicious licorice jelly beans collection is an excellent choice. They have the Licorice Jelly Beans, Cinnamon Licorice Jelly Beans, and Green Apple Licorice Jelly Beans. Your guests will fall in love with them at first bite. 
Health Benefits of Black Candies
Black candies come with numerous health benefits because of their unique ingredients. Some of the health benefits include:
Lowers the Risk of Heart Attack And Stroke

: Dark chocolate candies are a rich source of an antioxidant known as flavonoids. A regular intake of dark chocolate will significantly reduce your risk of heart attack and stroke. 
Slows Cancer Growth

: Cocoa beans, a crucial ingredient in making black candies, contain a chemical known as GECGC. This chemical can help your body significantly slow down the fastest growing cancer types, including colon, cervical, and leukemia. It will slow down their growth and also fasten their destruction. 
Helps You Live Longer

: Black candies can help you live longer if you eat them regularly. This is because of a particular chocolate ingredient called cacao and an antioxidant known as phenol. Phenols can help to absorb free radicals. If not neglected or not properly checked, free radicals can cause severe damage to your body. Cacao improves your immune function. It also helps lower the amount of low-density lipoprotein that the body oxidizes. Lipoproteins are good cholesterol. 
Why You Should Consider Adding Black Candies to Your Next Event
Apart from the numerous health benefits, black candies are the perfect go-to candies for any event. The following are some reasons you should add them to your subsequent events. 
Black candies promote seasons And holidays.

You can add black candies to your holidays' celebrations and events. 

Black candies make planning easier for event planners.

You can't go wrong with black. They are also a safe color for your events because they will perfectly match whatever theme event planners are planning. 

They are great for color-coordinated events.

It doesn't matter what color-themed event you have; you can add black to get a unique and beautiful color mix that adds extra effect to your events. 

Black candies are perfect for candy bars, tables, and buffets.

If you want your candy bars, tables, and buffets to stand out at your next events, add black candies to the mix. You will fall in love with the results you will get. 
Final Thoughts 
You don't need to worry about choosing candies anymore; add these 9 black candies for your next event! They will make your event colorful and memorable. Also, click here to access more of the black candies in our new candy by color feature. You will find various delicious options you can use for your event.