8 Shark Week Gummy Candies | L'Orenta Nuts
One of the most exciting television programs in America today is Shark week. The program is aired on the Discovery channel, and over the years, it has become a historical trend. Shark week is a 6-night thrilling shark documentary of sharks' incredible and brutal aspects. This program, although famous, hasn't changed the fact that sharks are bloodthirsty creatures. So why does this program deserve 8 shark week gummy candies? Why is Shark week this popular? Keep reading to learn more!
Why Is Shark Week Popular?
Shark week has been running for decades. It's one of the most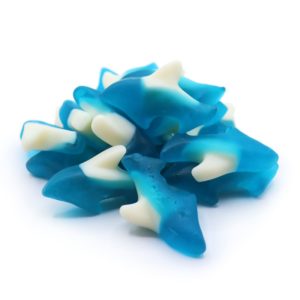 extended tv programs since its kick-off on July 17th, 1988. This show has been around for over thirty years and waxing stronger than ever. It has now become an annual event anticipated by millions of people worldwide. Since 1995 this show has amassed a massive view of up to 20 million yearly.  
The program might be scary, but scary is now a preference worldwide. The program has looked into everything about sharks, even their attacks. It's popular because people love to spend time watching something sensational and real at the same time. Shark Week is an educational week where people from all walks of life are hooked to this entertaining and educational show. 
Preparing For Shark Week
Shark week is one of the most popular and anticipated annual shows. Nearly everyone anticipates it. People are stocking their refrigerators with premium beer to enjoy the show. It's one week of horror, excitement, and brutality; you might as well treat yourself with 8 shark week gummy candies to enjoy the show. 
Here is good news: You can shop for these shark week gummy candies at L'Orenta Gourmet Nuts and Goodies. The list of the 8 shark week gummy candies we have in stock are: 
Final Thoughts
Watching a thrilling show like shark week would be fascinating with the 8 shark week gummy candies. It will curb your snack cravings while you'll undoubtedly have a lot to learn from this year's shark week. But be sure to bring along your gummy candies to make it a wonderful experience.