7 New Trail Mixes |  L'Orenta Nuts
Whether you're entertaining, packing a lunch box, or wanting a hearty work snack, L'Orenta Nuts has the perfect Trail Mix for you! We have now added seven new trail mix varieties! These seven new trail mixes include four new chocolate, nut and dried fruit combos, as well as three new varieties of dried fruit only mixes.
Our new chocolate and dried fruit trail mix options are as nutritious as they are delicious. That's because chocolate, nuts and dried fruits add vitamins and minerals plus fiber to your diet. Plus, these mixes give you energy that's lasting. This makes them as good for a hike, round of golf, or day at the beach as they are for lifting late afternoon low energy.
The permutations and combinations of our new chocolate, nut and dried fruit mixes prove that variety is the spice of life!
As you view our new trail mix options, you'll have the delightful challenge of picking your favorite, and others that belong on your pantry shelf. Here is a brief summary each, with some interesting facts as well:
The Chocolate Trail Mixes
Simply Delicious Trail Mix
This irresistible chocolate and nut mix combines our fan favorite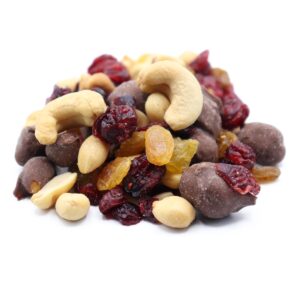 double chocolate dipped peanuts, roasted and salted XL cashews, cranberries, golden raisins and roasted and salted peanuts.  This is perfect for satisfying that desire for sweet and salty, crunchy and chewy!
Extreme Trail Mix
Firstly, the dried cranberries, seedless raisins, golden raisins, roasted almonds, diced pineapples, and L'Orenta's famous Chocolate Gems to give you a sweet snack that's great for your body and mind.. Secondly, the almonds provide an excellent source of antioxidants and probiotics while the pineapple and raisins offer a wide range of vitamins and minerals. This mix will satisfy any craving for a snack at any time of the day.
Chocolate Monkey Trail Mix
This mix contains a sweet blend of banana chips, milk chocolate banana chips, butter toffee cashews and cranberries. We've also added roasted and salted peanuts for a delicious savory twist which is sure to keep you coming back for more! This unique blend of banana, chocolate, butter toffee and roasted peanuts will satisfy any sweet tooth, and provide an extra boost of potassium as well.
San Antonio Trail Mix
A real taste of San Antonio!  This trail mix is for those who want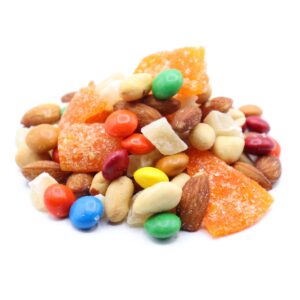 to add a little spice to their lives. We've combined chili mango, roasted and salted almonds, chocolate gems, peanuts and pineapple. The chili mango flavor is balanced by the other ingredients. This spicy trail mix will take your tastebuds to the next level! Very unique as there aren't any trail mixes with chili mango! 
The Dried Fruit Mixes
Vitamin Fruit Mix
This delightful selection of dried fruits including golden raisins, dark raisins, cranberries, chopped dates, diced apples and whole apricots not only makes a tasty and satisfying snack, but it's also a snack packed with nutrients. 
Dried fruits in general are a good source of fiber and antioxidants like polyphenols which are associated with better digestive health. Dried dates are packed with iron, calcium, sodium, phosphorus, zinc, magnesium, and other essential minerals. The dried apricots contain nutrients that help in blood clotting, building muscles, controlling high blood pressure, asthma relief, fever reduction, improved digestion, and managing fluid levels.  
The other dried fruits including raisins, chopped apples, and cranberries each contribute nutritional benefits as well.
Superfood Fruit Mix
This dried fruit mix includes goji berry,  kiwi, papaya, apricots and ginger. It is full of flavor and bursting with vitamins.  This wonderful dried fruit and spice  mix provides a wonderfully satisfying and refreshing snack for any occasion. Each of its individual components provides unique benefits as well.
Papaya, known as the fruit of angels, provides nutrients beneficial for your health, skin, eyes, and hair. Ginger is one of the healthiest and tastiest spices on earth. It is chock full of bioactive compounds and nutrients. It has been used to fight digestive troubles, nausea, and even the common cold and flu. Ginger is truly a superfood.  
Kiwis are high in Vitamin C and dietary fiber and provide a variety of health benefits. This tart fruit can support heart health, digestive health, and immunity.
Super Antioxidants Fruit Mix
Firstly, this dried fruit mix includes goji berries, chopped dates,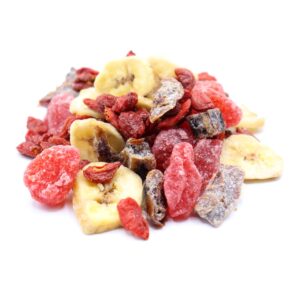 strawberries and sweetened banana chips. Secondly, bursting full of flavor and vitamins, this mix is colorful, vibrant and tastes as delicious as it looks. In conclusion this go-anywhere trail mix also provides powerful health benefits derived from each of its fruits.  
The dried strawberries offer numerous medical advantages, from lessening the danger of coronary illness, diabetes, and cancer, they are a magnificent source of vitamin C and manganese folate (vitamin B9) and potassium. 
Now is the time to sample these new delights!
These 7 new trail mixes offered by L'Orenta are not only delicious but go well with salads and as desserts.  In conclusion, they are a go anywhere, anytime, always healthy part of your diet.  You never know when you'll need one to appease your hunger with exceptional flavor.