6 Staff Favorite Jelly Belly Jelly Beans | L'Orenta Nuts
Who doesn't love a handful of their favorite Jelly Belly jelly bean flavor? Here at L'Orenta, we are just as obsessed with Jelly Belly jelly beans as the people who consume 15 billion of them each year. While there are dozens of flavors to choose from, we have curated a list of our 6 Staff Favorite Jelly Belly Jelly Beans | L'Orenta Nuts. 
What is the history of Jelly Belly jelly beans?
Did you know that Jelly Belly jelly beans were invented because David Klein wanted jelly beans made from fruit purees? Previous jelly beans were made using mellowcreme similar to candy corn. In 1976, Klein created and coined Jelly Belly jelly beans using the trademark yellow and red design by musician Lead Belly. 
At the time, the only flavors available were cherry, tangerine, lemon, green apple, grape, licorice, root beer, and cream soda. Today, there are fifty official flavors and hundreds of unique flavors created through brand collaborations.
How do I properly store jelly beans?
Jelly beans don't technically have an expiration date, but they do have a best before date. If you eat them after that date, they can taste a little off. If stored correctly, though, they can be consumed for more than two months after the best before date!
To keep your jelly beans fresh, keep them in a sealed bag or an air-tight container. It also doesn't hurt to keep them in a cold, clean area. The fridge and freezer might not be the best choice because of moisture, so consider a cool pantry or cabinet instead.
Are Jelly Belly jelly beans gluten-free and vegan?
Good news: Jelly Belly jelly beans are completely gluten free! However, as with many other candies, there is a risk of cross-contamination. If you are super-sensitive to gluten, you may want to enjoy jelly beans with caution.
Unfortunately, we can't promise a safe eating experience for vegans! Jelly Belly jelly beans use both a confectioner's glaze and beeswax, which is not vegan friendly. However, there are other products in our line-up that can comfortably fit vegan needs.
What are your staff favorites?
Jelly Belly Blueberry
These blueberry Jelly Bellys taste as much like real blueberries as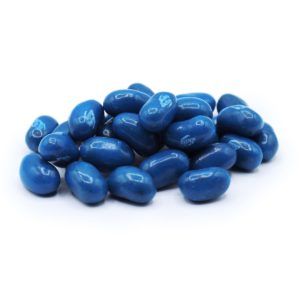 they look like them! Our Jelly Belly Blueberry beans are a rich dark blue color. These are made from real blueberry puree so you can expect a delicious burst of fresh fruit flavor each and every time. Our staff likes to use these as vase fillers at ocean themed parties. Top them with little toy ships for an extra artistic touch!
Jelly Belly Brown Cow Root Beer
Did you know that our root beer Jelly Belly's aren't filled with only root beer flavor? They are actually a mixture of Jelly Belly A&W Rootbeer and French Vanilla to create a brown cow and root beer mix! The Jelly Belly Brown Cow Root Beer is a firm staff favorite with its sweet, nostalgic flavor. These jelly beans are a fantastic addition to flashback and 50s parties!
Jelly Belly Bubble Gum
Sometimes you want all of the flavor of bubble gum without all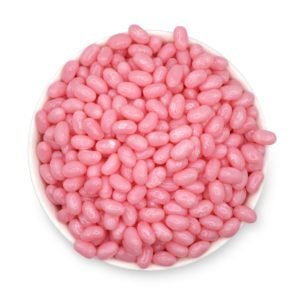 the sticky mess. If that's the case, then these Jelly Belly Bubble Gum beans are the perfect chewing gum replacement. These beautiful bubblegum pink beans are very sweet and reminiscent of the sweet gumballs found in candy machines. Pairing our bubble gum jelly beans with a package of chocolate pudding ones make a striking black and pink for 80s parties!
Jelly Belly Cinnamon Popcorn
While it may sound like a strange combination, our staff is totally obsessed with our Jelly Belly Cinnamon Popcorn mix. Created through a blend of creamy Buttered Popcorn and spicy Sizzling Cinnamon, this colorful mix is show stopper. We don't necessarily suggest throwing a handful of the mix into your mouth all at once though! Try using the cinnamon Jelly Bellys to cut the rich flavor of the popcorn jelly beans!
Jelly Belly Green Apple Bubble Gum
Were you a fan of the green apple bubble gum as a kid? We definitely were! Our Jelly Belly Green Apple Bubble Gum mix hopes to recreate that iconic tart yet sweet flavor. This mix includes Green Apple and Bubble Gum jelly beans. You can eat them one by one or by the handful (we won't judge). With a little bit of heat, you can arrange these jelly beans into pretty flowers for spring. If you're feeling a little ambitious, make it a project to build an entire jellybean garden!
Jelly Belly Green Apple
When it comes to iconic flavors, what is more memorable than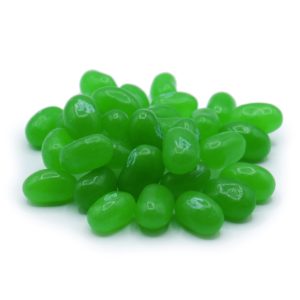 green apple? It's a flavor that you either love or hate, and our staff absolutely adores it. Our Jelly Belly Green Apple jelly beans are a vibrant green color and are flavored just as strongly. They're practically bursting with green apple flavor! These green candies are perfect for St.Patrick's Day parties but are just as delicious any other day of the year.
With 300 jelly beans available to gnosh on per pound, what isn't to love about the iconic Jelly Belly jelly bean? While our staff picked out their personal favorites in 6 Staff Favorite Jelly Belly Jelly Beans | L'Orenta Nuts, there is still a lot more to taste and love. From iconic soda flavors like Dr.Pepper to the iconic Snapple Mix, we have everything you need to make any event (or evening at home!) one to remember.