6 Sour Candies That will Make You Pucker Up | L'Orenta Nuts
Who doesn't love sour candy, right? Anyone who has tried sour candies would know the tingly, puckering feeling that only a sour taste can provide. Here are 6 sour candies that will make you pucker up
There are many different tastes to offer, most of them seem to be replicas trying to compete with their siblings. Some even have cola added to satisfy those with a sweet tooth. 
Sour Wild Strawberries
Sour Wild Strawberries are a delicious candy that won't give you the sugar crash and taste so good. They're the perfect sweet snack for any day and can be enjoyed by both kids and adults. They come in an assortment of colors, including green, red and blue.
Gummy, Sour Pineapples
Sour Gummy Pineapples,These bite-size pieces of fruit candy are chewy with a sweet taste of juicy pineapple covered with a sour sugar coating. Sugar jelly molded into the shape of a pineapple piece of fruit is sour. 
They are perfect for any luau or beach party. These gummy treats come in green, yellow, and orange flavors. These candies are especially great as an add-on to other candy products or as part of a gift assortment.
Sour Flowers 
Sour candies are not for everyone. If you're unsure whether you'll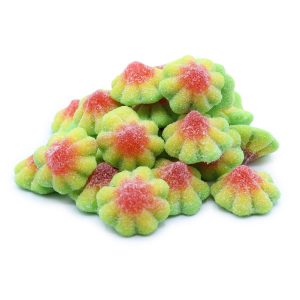 like them, start with something mild, like these Sour Flowers. At first, these colorful candies are sweet, then pleasantly tart in the middle. They're made with natural fruit flavors and feature a variety of flower shapes that make them just too cute to resist! They do make you pucker up!
These flower gummies are sugared on the outside and molded in a conical shape. They are in lush red, yellow, and green colors, are vibrant, and taste like Tutti Frutti flavor. These sour gummy flowers are gluten and fat-free. Great for a red, green, or yellow-themed party.
Sour Green Apples
A generous coating of sugar crystals enrobes these sour gummy candies. Granny Smith apple has a taste, but the sour green layer is the real standout here. Green apple candy, a classic candy made even better with sour goodness, is a beautiful addition to St. Patrick's Day or any other green party.
Gummy, Sour Mix
When it comes to candy mixes and variety, there is no better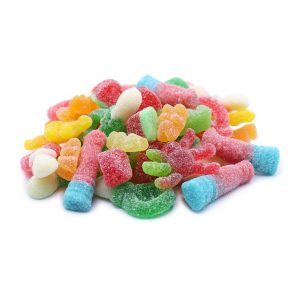 choice than these gummy mix, which include a blend of sour candy and sweet candy. This sour gummy mix has a combination of the best sour gummy candies mixed into this mix. 
This mix includes sour pacifiers, watermelon slices, sour spooky spiders, sour gummy bears, and sour soda pop bottles. This sour gummy mix is full of flavor and colors, and these would be perfect for kids' parties or any party that has kids attending. Any kid or even adult would love this sweet and sour candy.
Sour Triple Bears
Sour candies lure you in with their colorful packaging and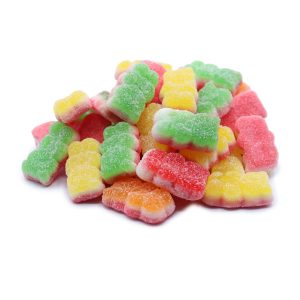 promises of sweetness, only to attack your mouth with a sour punch that leaves you gasping for water.
If you want to get your hands on some of the best sour gummy bears around without shelling out too much cash, you should try L'Orenta's Sour Triple Bears
This Sour Triple Layer bears chewy bears that start sour and then become sweet. They are a brightly colored delicacy ideal for any candy buffet, party gifts, or simply to satisfy your sour tooth! Each sour triple bear has a round head and round ears, four paws, and a large round head .
Each bite-size bear has several layers with its unique flavor and color. Orange (orange), red (strawberry), yellow (lemon), green (apple), and white are some of the colors and tastes available (strawberry).
Final Thoughts
Above are 6 sour candies that will make you pucker up. Of course, they aren't all created equally, but each offers its unique and memorable taste. So whether you're a sour candy fanatic or someone who simply wants to experience something new, we have something for everyone!