October is one of the most exciting months of the year; harboring Halloween and perfect fall weather. Though, there are even more things that make October so exciting! We are going to discuss 6 October occasions to celebrate by snacking! 
Eat Better, Eat Healthier Month
October 1st is the start to the Eat Better, Eat Healthier (together) month! It is a whole month that encourages you to make better food choices, and enjoy sharing snacks and meals with those who are close to you! Snacks like walnuts or cranberries are perfect for easy snacking! Grab a handful, share with someone you love, and enjoy the benefits of healthy eating together!
Eating with the people who are important to you can benefit you in more ways than one! For example it can:
Promote better and healthier eating habits

Improve social skills

Increase the health of you and your family

Reduce stress
Start off October in a new way this year; a healthier and better way!
Breast Cancer Awareness Month
October is also the beginning of Breast Cancer Awareness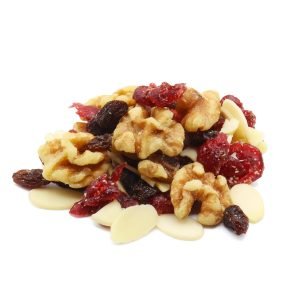 Month! Annually an estimated 255,000 women and men get diagnosed with breast cancer; and of that, around 42,000 of them die from the disease. You can show your support by doing a number of things!
Donate!

Get involved, or help spread awareness

Participate in healthy snacking to help prevent it within you and your family!
Changing small things in your eating habits can help your body do its best to prevent developing breast cancer. Though foods won't eliminate the threat, they can greatly decrease the chances and help your body fight off diseases better! This October try some healthy options like:
Citrus fruits, such as oranges, lemons, limes, and grapefruits!

Berries! Blueberries mostly, but

strawberries

too!

Peaches, apples, and

pears

.

Beans and herbs and spices!
You don't have to change your entire diet to be healthier! Add small things, or replace the unhealthier foods with better versions, and do what you can to help your body be at its best!
Vegetarian Awareness Month
The first day of October welcomes the start to Vegetarian Awareness month! Vegetarianism doesn't work for everybody, but those that do go vegetarian can face many benefits! Vegetarian diets are higher in:
Vitamin A, B2, C, E and Calcium
These vitamins alone can help lower blood pressure and cholesterol. Vegetarian diets have been linked to reducing heart disease and type 2 diabetes as well! Meatless meals and snacks can be just as fulfilling as those that do contain meat, and here are some good snacking options to help prove it!
This mix contains walnuts, almonds, pecans, pumpkin seeds, and apples! This natural blend will help fill you up without any added sugars.
Made up of macadamia nuts, hazelnuts, brazil nuts, and walnuts, this tropical blend is loaded with vitamins and minerals your body needs!
This October give vegetarianism a try, or maybe even just Meatless Monday! Save some money and time, and increase your intake of nutrients. 
Children's Health Month
Children are a lot more vulnerable than adults are, leaving their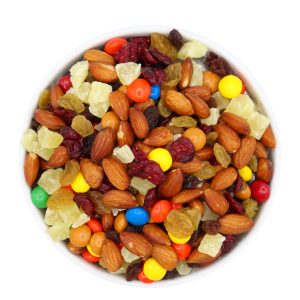 immune systems to be built up. An easy way to help keep your child healthy is by picking healthy snacking options! This can build up their immunity and give them the vitamins that are essential to proper growth. Since kids can be a little picky, snack mixes are a good option since they contain a little bit of everything. 
Extreme Trail Mix is full of good munchies that will leave your child feeling energized and satisfied! This mix contains:
Chocolate gems

Dried cranberries

Raisins

Golden raisins

Roasted and salted almonds

Diced pineapples
Not only is this blend balanced, but it is loaded with calcium, vitamin D, and iron. So this October branch out and encourage your children to try some new, and healthy, snacks! They'll thank you later!
Liver Awareness Month
Another great October occasion to celebrate by snacking is Liver Awareness Month! Start early and try some healthier snacks this October that can help prevent liver disease! The best vitamins you can consume for your liver are:
Vitamin A

Vitamin D

Iron

Vitamin E

Vitamin B12
These can easily be found in healthy snacks, making it simple to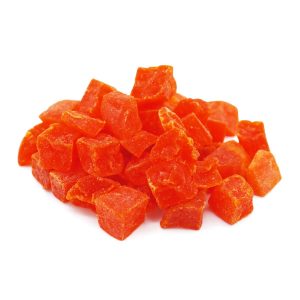 supplement a healthy liver without drastic diet changes! Papaya chunks and goji berries are a great start as both of these are packed full of nutrients. With your liver constantly working it's hardest to filter out toxins from your body, it deserves some healthy treats!
Healthy Lung Month
We discussed livers, now let's turn to lungs! October features Healthy Lung Awareness month, helping spread how important it is to take care of your lungs so they can take care of you! Adding some healthy snacks to your daily diet can protect your lungs and help prevent diseases. Things like:
These snacks are packed full of selenium, antioxidants, and magnesium. All of those deeply benefit lung health, steering you from COPD and lung cancer. They also boost lung function in general, keeping your breathing nice and healthy. Make sure to take care of your lungs!
Although October is already memorable, try taking advantage of these 6 October occasions and celebrate with some healthy snacking! Your body will thank you, and function better over all, making your quality of life go up!