Getting to play dress-up and spending time with friends, the coziness of the season, the decorations, the candy: all reasons why Halloween might truly be the best holiday!  Here are 6 halloween snack ideas from L'Orenta.
Most of all, Halloween is a ritual that keeps us together. It's the one night of the year where it's ok to be someone else. If you have kids (and even if you don't) trick-or-treating is also a great way to get to know the neighbors. 
Treats for all 
But of course, there would be no fun without candy… There's even medical evidence to support that an ounce of dark chocolate every day can reduce your risk of cardiovascular disease. Chocolate has also been shown to boost endorphins and serotonin in the brain. Meaning: it literally makes you happy! 
The truth is the first thing that pops into our heads when we think of Halloween is candy. We love the idea of having a big bowl full of your favorite sweeties to offer to guests and friends… But there are also savory snacks to consider, and healthier options too for those wishing to balance out the sugar rush. 
Whether you're planning a small get-together with friends and family or you're going all out with a big bash, we've got just the thing for you… Just make sure to pick out a bunch of these treats so everyone can have something they like! Ready for some Halloween snack ideas? 
Halloween Party Snacks 
Salty, crunchy and delicious, Lola's Crunch Mix is everything you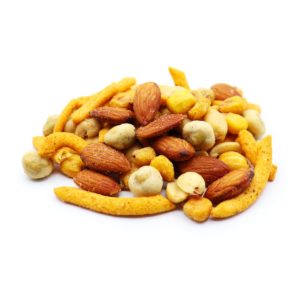 need in a snack. Roasted salted almonds with crunchy peanuts and toasted corn nuts, plus fiery wasabi peas and cajun sticks to give this selection its unmistakable spicy punch! Your guests will go nuts for this one… 
One of our signature mixes, L'Orenta Crunch is the perfect snack for a scary movie night. It  brings forth a lot of classic Halloween flavors: we have miniature rye toast that's blended with mustard pretzels, toasted corn, peanuts, and pumpkin seeds. Always a crowd favorite. 
For a hint of heat, try our Fiesta Mix! A party in your mouth with savory wasabi soy seasoned cashews, wasabi peas, roasted salted almonds, redskin peanuts and Cajun cheddar sticks. Hearty, salty, slightly spicy and utterly delicious, it's no wonder this is our most popular nut mix. 
Another one for the spice team: our simple but incredibly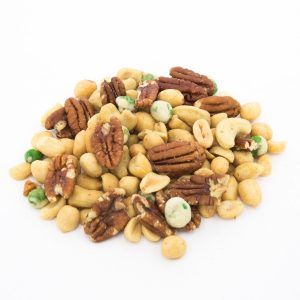 satisfying Fiery Four Mix is a staff favorite… A delicious blend of natural pecan halves, roasted and salted peanuts and wasabi soy cashews is topped off with the delightful crunch of wasabi peas for a salty, savoury experience which is sure to have your taste buds crying out for more. 
A touch of sweetness 
A hint of spice goes a long way… Our Sweet Heat Mix will be the talk of the party at any gathering. It's a melody of flavors: the sweetness of our Butter Toffee Peanuts and Honey Roasted Peanuts. The spicy kick of nacho peanuts, roasted pecans, hot and spicy sesame sticks, and Cajun corn sticks. The heat from Cajun blackening seasoning… An absolutely perfect combination to spice up your Halloween night. 
Another fantastic snack for fans of the sweet and savory combo: our Southern Sweet Mix. A delightful mix of roasted and salted almonds, salted peanuts and roasted almonds, and mouthwatering butter toffee cashews and butter toffee almonds. Sweet and crunchy banana chips add a hint of fruitiness to the mix and compliment the nuttiness of the snack mix. A southern delight for all. 
Get creative
The above 6 halloween snack ideas are a great way to celebrate Halloween! These are truly winning snacks on its own, perfect for a fun night in or even left out on the porch. But that's not all you can do with them. Try using our nut mixes to jazz up your favorite festive recipes. They would make a wonderful crunchy topping for sweet potato casserole, for example! You can also choose an assortment of nut mixes and arrange them on a platter with other fun treats for the ultimate Halloween snack board.