6 Fun Games to Play with Jelly Belly | L'Orenta Nuts
Hearing the words 'Jelly Belly' is enough to make some people chuckle! Well then, what could be better than combining Jelly Belly jelly beans with party games? Seriously, not much! Here are 6 fun games to play with Jelly Belly.
What we have in store for you here is more than a handful of games and events that match well with Jelly Belly jelly beans. We'll show you ways to mix and match flavors with fun. That's whether you're having a party, other celebration, or some spontaneous laughter with friends. After all, Jelly Belly spells F-U-N for everyone! 
Jelly Belly That'll Make You Party Hearty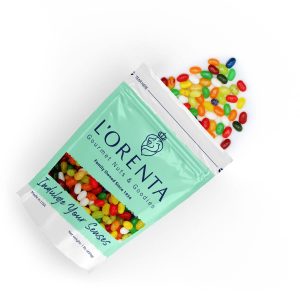 Okay, we know that quip is really 'party hardy' and we have that covered in another article for the 21+ crowd only. Right now, we're getting to the heart of the matter, that being fun for kids. First up is the 'Guess How Many' game. 
How Many Jelly Bellys are in the Jar?
This is a rather traditional game that's fun for young and older. You can do the counting, along with swearing some counting companions to secrecy! 
Goodies, Supplies, & Instructions
Select a good-sized clear glass jar that's at least a quart. It can be lightly colored too–as long as the Jelly Belly jelly beans are visible. Use disposable food-handling gloves for counting the beans. No nibbling allowed!! Sure… 

Pick out jelly bean flavors. One yummy option is the

49 Jelly Belly jelly bean

assortment that's full of flavors for the winner. Best to buy five pounds so there's plenty for party favors. 

When it's party time, give each child a

slip of paper

that matches one of the jelly bean colors. Have them write their name and the number of beans they think are in the jar.

The winner is whoever guesses the number closest to the jelly beans in the big jar.
Even though this game is planned for elementary school age children, it's fun for older kids too! 
Jelly Bean Tropical Beach Party Game
Let your guests take over the counting job for this tropically themed party game!
Goodies, Supplies, & Instructions
Buy five or more pounds of L'Orenta's

Tropical Jelly Belly jelly beans

. 

Fill small paper cups evenly to the top with bunches of tropical jelly beans.

Give each guest a large paper plate for counting out their jelly beans. Tell them they're going to sort their beans by color. 

Then they pick the color with the most beans and count how many.

Set a timer and ready, go as the kids pour their beans from the cups onto the plates.

The guest with the most beans in one color wins. Watch out! There may be a two or three-way tie.

The winner(s) get a bag of Tropical Beans to take home. 
Even though this is a game for children ages 7 to 10 years, it's silly fun for older kids too.
Jelly Bean Holiday Events & Games
Valentine's Jelly Bean Hearts: Sweet Gift-Giving Fun!
This is a game in which everyone wins! Your guests will L'Ove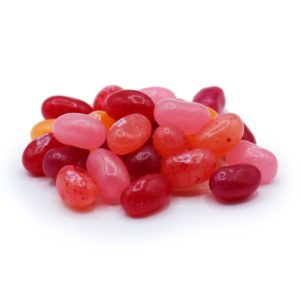 that as they'll be taking home some Jelly Belly jelly beans from L'Orenta. They get to give a little gift box they put together to a sweetheart. Or maybe sweethearts who like to share!
Goodies, Supplies, & Instructions
Order some

Jelly Belly Snapple Mix

and

Very Cherry

jelly beans as they're red-licious.  

Purchase small heart-shaped containers for the jelly beans. You can also get a bunch of disposable gloves for the kids to wear as they pop beans into the containers.

Use the free-for-all approach, letting chatter and laughter be front and center along with a bunch of yummy jelly beans.
This is a fun 'game' for all ages and stages! In fact, it's dandy as part of a multi-generational gathering.
Earth Day Treasure Hunt
This game is one jelly bean delicious way to welcome Spring! Whether you choose to do this during your community's Earth Day events on April 22, or on another day, the point is the same. This game combines an activity done to benefit the Earth with searching for bags of jelly beans.
Goodies, Supplies, & Instructions
Buy a box of small ziplock bags for the jelly beans, filling each with yummy flavors. Our pick is

Jelly Belly Fruit Bowl

as a reminder to eat fruit and plant fruit and other trees.

Gather whatever materials your Earth Day volunteers will need for a safe, productive cleanup and treasure hunt.

The goal is for kids and adults to have fun together caring for their neighborhood, local park or beach, or schoolyard while keeping an eye out for stealthfully-hidden jelly bean bags.

Everyone's a winner with this game! 
This is the most fun when people of all ages do it together!
Fourth of July Goody Stand
Independence Day is a good day for celebrating foods and flavors
along with our country's history. Your kids can create their own enterprise with a goody stand right around the 4th! They can whip up lemonade and other treats that match well with Jelly Belly jelly bean flavors. This is one of those games/events that you give the kids a few ideas and let them run with it. Think of all they'll learn and how fun it will be for them to set up their own stand that features jelly beans!
Goodies, Supplies, & Instructions
Pick the day, time, and place ahead of time if they want. Some kids will want to advertise, others will want to be spontaneous.

Select the Jelly Belly jelly beans that will go well with their venture. The children might want to search out their favorites to have on hand. There's

Jelly Belly Snapple Mix

, plus

Dr. Pepper

,

Cherry Cola

, and others.

Your young entrepreneurs can sell what they've baked, popped, and mixed together for customers. 

Be sure to save aside some of their favorite Jelly Belly jelly beans for favors!
This activity is suitable for kids of various ages. It's their interest that matters the most!
Thanksgiving Jelly Bean Turkey Time
This is a twist on the trace-your-hand turkeys kids make in the days before Thanksgiving. Instead of using crayons to color each turkey, invite your artists to use jelly beans! They may want to make several turkeys, as long as they have enough jelly beans to bring home.
Goodies, Supplies, & Instructions
Buy a stack of sturdy paper plates, some bottles of paper glue, pencils, and q-tips for applying the glue.

Better have some wet wipes handy for the goop that comes with using glue.

Select jelly beans for the turkeys. We like

Root Beer

,

Sunkist Tangerine

, and

Candy Apple

. 

Have each child trace their hand, giving some help if need be.

Let each kid select the beans they want to use and show them how to place them on their design.

The next step is to carefully glue each jelly bean in place using the q-tips. 

While the Jelly Bean Turkeys are drying, your guests can have lunch or a hearty snack followed by dessert. Yes, that will involve jelly beans too!
This game is for young children, though we're pretty sure even those in 3rd or 4th grade would like to do this. After all, jelly beans involved! Now that you know about 6 fun games to play with Jelly Belly, order some and enjoy!