6 Candies to Celebrate National Chamoy Day | L'Orenta Nuts
If one taste could encapsulate Mexico in a bite, it would be Chamoy. It can come as a dried fruit, candy, and sauce.  "Anything that has all the flavors at once, sweet, sour, salty, spicy, and a (pickled sour fruit), that's where Mexico loves to live" says chef Barbara Sibley of New York City's La Palapa. Here are 6 candies to celebrate national Chamoy Day!
From a Chinese snack that arrived in Mexico through immigration, to a present day universal condiment of Mexican street food. Now to an even newer force in the restaurant kitchens of Mexico City and Manhattan. Chamoy has come a long way. 
Chefs across the U.S. and Mexico continue to redefine how chamoy can be used in the kitchen. Familiarizing it for the American palate, and making it easier for Americans to enjoy this taste of Mexican tradition. And now we have National Chamoy Day on June 13th!  This is your opportunity to celebrate.
In the 1970s, Mexican candy companies started mass-producing Chamoy candy and sauce. By the 1990s, its use became so common that its Asian origins had been lost to Mexican culture.
Chamoy Reimagined
Today, Mexican children enjoy eating Chamoy-flavored candies,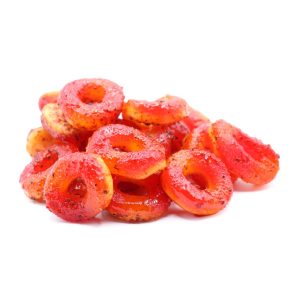 including fruit-flavored lollipops rolled in or filled with Chamoy, candy powder, liquid candy drizzled on top of spicy tortilla chips, and Chamoy gummies. 
It can be found drizzled over slices of mango and cucumber, mixed into cups of esquites (a creamy mix of corn, crema, cotija cheese, mayonnaise, lime, butter, and chile powder). Or lining a glass of mangonada (a spicy drink made with mango sorbet or mango shaved ice, fresh mango, lime juice, and chile powder).
Chamoy Benefits Your Health too
Chamoy is a healthy addition to your diet as well. It's high in Vitamin C and contains antioxidants that can help boost your immune system. Plus, the chili peppers in Chamoy provide the nutritional boost of Capsaicin,shown to have anti-inflammatory properties.
Chamoy Candies
Chamoy candy takes bold and intense Mexican flavors and turns them into tasty, bite-sized treats. Sweet, salty, spicy, tangy, and umani fruity flavors will give your taste buds a thrill. Do you think you can handle it?! If so, you've come to the right place!
National Chamoy Day is June 13  and L'Orenta's ready to help you celebrate with a fantastic selection of Chamoy candies!
We begin with  Chamoy Nerd Gummy Clusters. These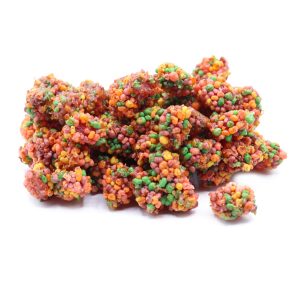 crunchy, tangy nerd gummy clusters are a mouth watering experience. Sweet and gummy inside, and popping with flavor. These are soft, mouthwatering and fresh. 
Our next selection is Chamoy Watermelon Slices. A mouthwatering sour and sweet candy that we are positive you won't want to share with anyone, but you definitely should!  Chamoy watermelon slices are a fan favorite!. These are soft, mouthwatering and fresh.
You shouldn't overlook our Chamoy Rainbow Belts. These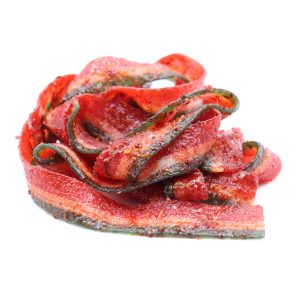 delicious candies will tempt the taste buds but watch out because they definitely bite back! Covered with sugar, spices and tangy Chamoy. 
We can hardly wait to introduce you to our Chamoy Peach Rings.  L'Orenta soft Chamoy peach rings are made by coating premium golden gummy peach rings with our own mix of Tajin, spices and tangy Chamoy. 
These Chamoy Gummy Strawberries are also a can't miss!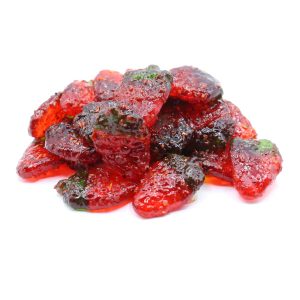 Chamoy gummy strawberries create a mouthwatering sweet and sour candy! 
So much color! So much flavor! Chamoy Jolly Rancher Gummies include a mix of 5 different flavors. Flavors include blue raspberry, green apple, cherry, grape and watermelon. We coat soft Jolly Rancher gummies with our delicious mixture of Chamoy, Tajin and other spices to create the most delicious sweet and sour Mexican candy.