6 Candies to Celebrate National Chamoy Day |  L'Orenta's Nuts
An intrinsic part of the Mexican street food scene is Chamoy. A condiment that provides a sweet, sour, spicy, salty, and tangy taste all rolled into one. Here are 6 candies to celebrate national chamoy day.   
Made from pickled fruit including ume (sour plums or apricots), sour green mangoes, or tamarind pods. Also added dried chilies, lime juice and salt. It is available in both liquid and powder form, as well as a sweet and tart candy treat.
The popularity of Chamoy has skyrocketed since the 1980's, especially in the latinx communities of the U.S. to the point that we now celebrate National Chamoy Day, on June 13th.   L'Orenta's has a grand selection of chamoy candies and other treats to help you celebrate this festive occasion.
Chamoy is most often used as a saucy condiment added to perk up fruits, vegetables, meat, tortilla chips, nuts, and even sweet treats such as ice cream and other desserts. There is also a powdery variety used for coating gummy candies, lollipops, and other sweets.
In Mexico it is also commonly used as a seasoning for tacos, burritos, and the street food "tostilocos".
A Little History of Chamoy
Despite the popularity of chamoy in Mexican cuisine, the concept of using pickled fruit brine originated in Asia; and Asians have been migrating to Mexico since the 1560s in Spanish ships that traded Chinese silk and spices for silver.
In China, pickled fruit snacks have been enjoyed for centuries. Japan later adopted its own version (umeboshi), which is made from a type of tart plum or apricot (known as ume).
This condiment then likely came to Mexico with the large influx of Asian immigrants. Along with other ingredients like green mangoes and tamarind pods, pickled plums eventually formed an integral part of Mexican cuisine.
6 Candies to Celebrate National Chamoy Day, the L'Orenta Way!
A great way to celebrate National Chamoy Day is with L'Orenta's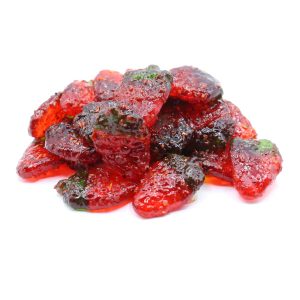 Chamoy Gummy Strawberries.  These delicious fruit treats are made by coating premium gummy strawberry candy with our own delicious coating of spices and tangy Chamoy. These are soft, mouthwatering and fresh. They are made in small batch quantities to ensure high quality, taste, softness and a perfect flavor and consistency.
Want to try another chamoy fruit? We have sweet, spicy and tangy Chamoy Cherry Sours.  These cherry bombs are covered with a proprietary blend of Tajin, Chamoy and spices. This creates the most delicious Mexican candy. These are soft, mouthwatering and fresh.
More Chamoy Candies From L'Orenta
Still in the mood for another chamoy fruit candy?  We are really proud of our Chamoy Watermelon Slices, a mouthwatering sour and sweet candy that will evoke memories of summertime fun.
For a rainbow of chamoy coated candy flavors, try our 5 flavor Chamoy Jolly Rancher Gummies.   These include blue raspberry, green apple, red cherry, purple grape and pink watermelon.  These Jolly Rancher gummies are coated with our delicious mixture of Chamoy, Tajin and other spices to create the most delicious chewy sweet and sour Mexican candy.
L'Orenta's is also proud to introduce our new Chamoy Starburst Airs. These soft fluffy chamoy gummies add a lighter note to the Dulce Enchilados Mexican candy scene, bursting with cherry, orange, lemon and strawberry flavors.
Another new goodie to sample for National Chamoy Day is our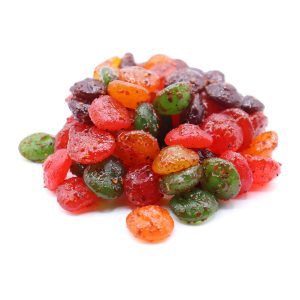 Chamoy Skittle Gummies. This fruity mix of strawberry, orange, grape, lemon and green apple is full of flavors that pop! . We cover these soft Skittle gummies with our delicious blend of Chamoy and spices to create the best Mexican candy on this side of the border.