6 Bulk Dried Fruit Mixes For Your Next Event | L'Orenta Nuts
Are you looking for a standout addition to any event? Dried fruit in  bulk sizes are the perfect fit for birthdays, weddings, and many other occasions. Also, It's just a lot more affordable if you can buy it in bulk sizes. So continue to read to find out 6 bulk dried fruit mixes perfect for your next event, meeting, or party, and Secure your bulk dried fruit today!
What is bulk? 
Bulk is large quantities of a product or item. Buying bulk items are often cheaper than buying individually packaged items, making this an excellent option for businesses offering the best prices. 
When it comes to weddings and parties, you'll often find that buying in bulk will save you time and money, and  they also make great to resell for a store.
Bulk sizing
Are you looking for a beautiful and colorful way to decorate for your next event? Our bulk dried fruit mixes are a great way to bring a splash of color to any venue. Perfect for parties, weddings, or even just snacking around the house, our bulk dried fruit mixes are a great choice.
Buying in bulk is a great way to save money, especially if you have multiple events. When buying our bulk dried fruits, you can choose between 10 pound or 25-pound sizes depending on how much you need. 
These sizes are perfect for any special occasion you have coming up. Our bulk-sized dried fruits come in their box and are not bagged when shipped.
Six Dried Fruit Mixes in Bulk for Your Next Event
Below are listed 6 Bulk Dried Fruit Mixes for Your Next Event.
Strawberry Date – Bulk
Our Strawberry Date Blend is exactly what it says on the tin: dried pieces of delicious strawberries and sumptuous dates that, when savored together, create exquisite layers of sweet and decadent tastes.
These are a perfect addition to any party or event and make excellent snack boxes for business meetings. So healthy and delicious, they're a sweet treat everyone will love! You can even use these as party favors in little cellophane bags tied up with ribbon if you want something fun but affordable.
Sweet Treat – Bulk
Sweet Treat is another delicious and healthy mix of dried fruits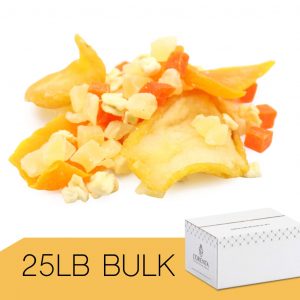 that goes well with almost all events such as weddings, parties, etc. This blend contains delicious dried pineapple, apple, mango, pear, and papaya for a tropical fusion guaranteed to thrill your senses and satisfy your sweet craving.
Order today for an extraordinary snacking experience! Bulk quantities of 10 lbs and 25 lbs are available.
The Aloha – Bulk
Perfect for summer gatherings, the Aloha keto-friendly nut mix transports your guests to paradise by including only raw and natural nuts to deliver a healthy and hearty energy boost. This simple yet tasty combination includes natural macadamia nuts, hazelnut filberts, brazil nuts, walnut halves, and pieces for a crunchy snacking experience that delights tastes while providing a healthy dose of antioxidants and vitamins. 
There's nothing not to like about the Aloha mix, which is ideal for individuals on the keto diet or for any guests seeking a great savory snack. Available in a bulk 25 lb case. Order today.
Tropical Fruit Salad – Bulk
Our tropical fruit salad mix is a good choice if you want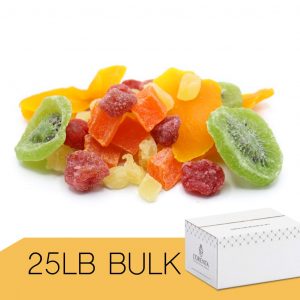 something that will be sweet and enjoyable for everyone. It consists of papaya chunks, diced pineapple, dried kiwi with sliced mango, and whole dried strawberries. Kiwi is high in vitamin C, which supports immune health, and high in dietary fiber. It's also served as an appetizer before dinner or as an afternoon snack during cocktail hour. Available in bulk 10 lb and 25 lb sizes.
Tropical Smoothie – Bulk
This delicious mix of tropical flavors will have your guests feeling like they are on vacation! The Tropical Smoothie Mix includes pineapple, apricots, and kiwi. These sweet flavors pair well with any Hawaiian or summer-themed party. Use them as an ingredient in a tropical smoothie or serve them as a refreshing snack by themselves. Order this bulk dried fruit mix today for a beautiful snacking experience! 
The weights are available in 10 lb and 25 lb sizes.
Very Berry Mix – Bulk
The Very berry mix combination includes seedless raisins, dried cranberries, golden raisins, whole dried strawberries, and whole natural almonds for crunch. It's great for a small party with friends or a snack for your kid's lunchbox.
Conclusion
We hope you've enjoyed our list of 6 bulk dried fruit mixes perfect for your next event. There are just a few suggestions on using these bulk dried fruit mixes at your next event. Whether you're planning a simple baby shower or a more detailed formal sit-down dinner, these mixes will come in handy for infusing a little bit of natural fruit flavor into the beverage you're serving. So give it a try; your guests will surely love it!