5 Mouthwatering Watermelon Candy Treats  | L'Orenta Nuts
Watermelon is a summertime essential- making it a huge bummer when it goes out of season. That's where watermelon candy comes in. Saving the day, watermelon flavored treats help keep that fresh taste in your mouth year round. So we have rounded up some of the most mouth watering watermelon candies. Whether you consider yourself a gummy fan, or a bubble gum fanatic, watermelon comes in all forms; making it impossible to leave anybody out.
Starting off on this delicious feast of sugar, we have watermelon slices. These are a classic, and taste just like you are biting into an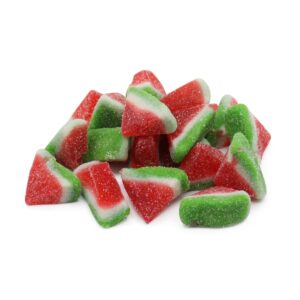 actual (extremely soft) watermelon! Taking a moment to look at the nutritional facts, these are guilt free! Per serving, there is only 120 calories, 5mg of sodium, and even 1 gram of protein!
These are perfect for any celebration as well. Here are a few ideas to help get you started:
Baby showers

Barbeques

Birthday parties
You can bring a splash of summer with you anywhere.
Next in the line up we are taking a look at (and this one's for you bubblegum flavor lovers) Jelly Belly Watermelon Bubblegum. This mouthwatering watermelon candy have a whopping 27 pieces per serving, and only 110 calories per serving, these are an easy and sweet snack for anyone to enjoy!
If you are considering serving these to guests, we have a few ideas up our sleeves to help give you some ideas! Try throwing a handful of these into:
Party favors

Sparkling water

A big punch bowl

Directly into your mouth (don't worry, we won't tell)
Jelly beans are easy to snack on, and the bright colors make them appealing to all ages!
We are swinging back into some gummies with Light Blue Watermelon Gummy Bears. These are fat-free, and come in a resealable bag, so they can be enjoyed at any time! 32 whole grams per serving, and only 100 calories is hard to believe, but knowing that makes snacking on these even better.
While gummy bears are perfect on their own, they are also incredibly fun to throw into other things too! Next time you have a pack to yourself, try adding them to:
Homemade popsicles

Trail mix

Jello
The fun blue color of these bears brings just as much of that summer feel as the sweet watermelon taste!
Finishing off this delicious list, we present you: gummy watermelon rings. When thinking of ring shaped candies, peach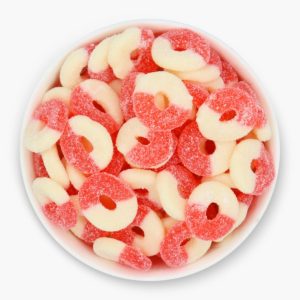 is usually the first flavor that comes to mind; we intend to change that! These fat-free, chewy, treats are so packed full of watermelon flavor that you will feel like you are pool-side when snacking on them. 40g stands at only 120 calories, with an added 2g of protein!
A few more ideas of watermelon themed events to help bring a little summer into everyone's lives:
Birthday party

Family gatherings

Picnics
Now that we have shown you 5 mouthwatering watermelon candy treats we are sure your mouth is watering. Enjoy these summer favorite treats year round.