5 More Goodies to Celebrate Peanut Lovers' Day | L'Orenta Nuts
National Peanut Month is on March 15th. It's no surprise there's a holiday for peanut lovers since two-thirds of all snack nuts eaten in the US are peanuts. Here are 5 more goodies to celebrate peanut lover's day!
National Peanut Day is on September 13th, but National Peanut Lover's Day is a celebration of you, the peanut connoisseur. We're offering you a no-fuss selection of classic peanut recipes over the last century for you to consider incorporating into your Peanut Lover's Day celebration.
The top 5 goodies to celebrate Peanut Lover's Day are:
Boston Baked Beans
Double Dipped Peanuts
French Burnt Peanuts
Roasted and Salted Peanuts without Skin
Roasted and Salted Peanuts with Skin
Boston Baked Beans
Boston baked beans are an old-school staple, and they're made of dry roasted peanuts. First, peanuts are coated in a flavored red shell and then polished to look like a dry bean. It was also invented in America after French burnt peanuts were introduced, making them a solidly American choice for Peanut Lover's Day.
These peanuts are coated in a shell that's crunchy and sweet, which plays against the creaminess and saltiness of the roasted peanut in a divine way. They're hard, so the shell won't melt while you're on the go. While these peanuts used to be in every convenience store or gas station, they're rare to find now, so we're proud we're able to offer this 1800's American staple to our customers.
Double Dipped Peanuts
These salty and sweet chocolate peanuts are dipped twice in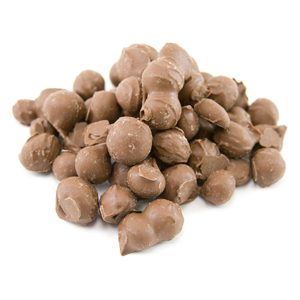 chocolate to ensure their decadence. The chocolate coating melts away in the mouth as the crunchy peanut in the center offers texture and flavor. The pairing of chocolate with peanuts was a major stroke of genius, and we know ours is one of the best because we took the time to carefully craft our recipe to deliver the best peanut jewel we could.
At some point in the 19th century, people began dipping nuts in chocolate on a widespread basis. By the early 20th century, there was such a demand for this treat that manufacturers started creating this snack. We're excited to continue that tradition by offering you our Double Dipped Peanuts.
Just bake the cookies as you normally would but instead of adding chocolate chips, reach for these instead! It'll liven up any cookie recipe in need of a kickstart.
French Burnt Peanuts
More famously known as candy peanuts, these Spanish peanuts come wrapped in a candy shell. This is the original candy that inspired the Boston baked bean which is why they're somewhat similar in taste.
Roasted and Salted Peanuts without Skin
These peanuts would make a great nut for a peanut butter recipe.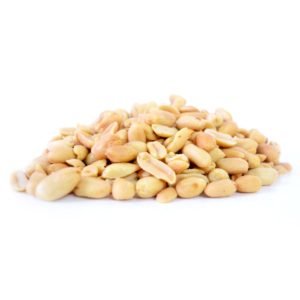 If you're just into the peanut with no extras for National Peanut Lover's Day, then go with this famous classic. If you're not a fan of the skin on peanuts out of the shell, then these are perfectly polished for your peanut-loving heart.
Peanuts are known as goobers, which comes from the Congolese word nguba. These peanuts are just the nut itself without any frill and just a little bit of salt for the perfect flavor contrast.
Roasted and Salted Peanuts with Skin
These roasted peanuts have a red skin on them, and these peanuts have an ancient history in a huge swath of the Americas.
Peanut skins are somewhat crispy and offer a deep flavor. They offer an extra texture sensation. Outside of shelling your own nuts, they are the purest form of peanut that we offer.
One Final Note
An average American eats up to six pounds of peanuts in a year. Our 5 goodies to celebrate Peanut Lover's Day are the perfect way to kick off the peanut year right.