5 Healthy Snack Ideas | L'Orenta Nuts
5 Healthy Snack Ideas. Snacking is one of the best ways to satisfy hunger and cravings without having to create a whole meal. Or perhaps, even tide hunger over between meals, or on the go! No matter how you do your snacking, choosing healthy options is the best way to treat your body. Afterall, food is our body's fuel, so we always want to ensure we are using only premium fuel!
This is exactly why we are here to share 5 healthy snack ideas. That way, next time you need a little something in your stomach, you can load it up with essential nutrients. This will leave your body feeling refreshed and energized, whilst also helping you avoid long term illnesses and ailments!
So let's dive right in!
Royal Cranberry Trail Mix
Trail mix is the poster child for healthy snacking. However, we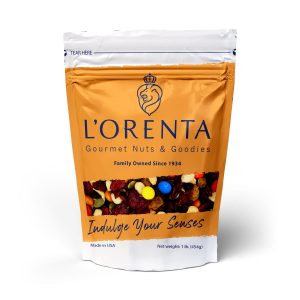 decided to take a fun twist and make it even more enjoyable than before. This Royal Cranberry Trail Mix will satisfy your sweet tooth, all while nourishing your body with antioxidants and fiber. 
In this mix is:
Chocolate gems

Seedless raisins

Dried cranberries

Roasted and salted pumpkin seeds

Golden raisins

Roasted and salted peanuts
The fantastic vitamins and minerals in this mix will boost your immune system, and help your body fight off diseases and infections. Along with that, the superfoods mixed in will reduce your risk of cardiovascular disease, and even benefit your oral health! Say goodbye to gum disease after this tasty mix.
Supreme Trail Mix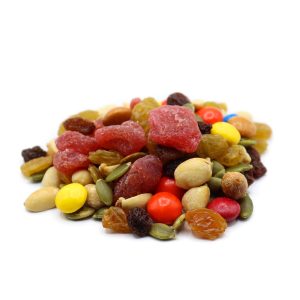 Another great trail mix option is our Supreme Trail Mix. This blend is the perfect combination of sweet and salty, hitting every craving your body might be asking for.
This mix contains:
Roasted and salted pumpkin seeds

Golden raisins

Roasted and salted peanuts

Chocolate gems

Seedless raisins

Dried strawberries
The nutrients found within this trail mix will lower blood pressure, reduce inflammation, regulate blood sugar, and help prevent cancer. That is only a number of the fantastic benefits that come along with this healthy snack.
Dried Strawberries
If you are a fruit lover, these Dried Strawberries are the perfect healthy snacking option for you! They are sweet, chewy, and a great treat. Although they are a good snack by themselves, toss a handful into your:
Strawberries are a great addition to any diet, as they come with dozens of health benefits you can gain from. The high vitamin C content found in strawberries will boost your immunity quickly, as well as improving the condition of your hair, skin, and nails. You will receive an incredible collagen boost that will ward off any wrinkles!
If you are looking for a healthy snack that will help with weight loss or management, these are a fantastic choice. Strawberries are fat free, low in calories, and will keep you feeling full.
Walnuts
Nuts are one of the easiest snacks to add into your diet without having to make any huge adjustments or changes. Walnuts in particular, are an excellent choice. These tree nuts come packed with healthy fats, vitamins, minerals, and fiber. All of the above are necessary for your body, and can leave you with many benefits from getting enough of those nutrients.
One of the biggest benefits that come from walnuts are the healthy gut you will receive after eating them. Walnuts will aid your gut in producing healthy bacteria, which in turn will reduce the risk of intestinal diseases, and keep your gut working at top speed.
Those who struggle with type 2 diabetes will also greatly benefit from the addition of walnuts in their diet. Walnuts help naturally control blood sugar, and aid in keeping it at a consistent level.
Brazil Nuts
Brazil Nuts are the perfect healthy snack choice. They are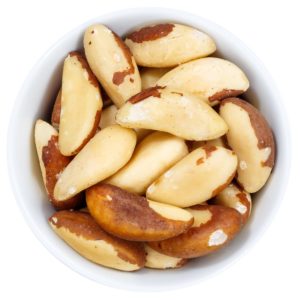 considered one of the most flavorful nuts, as well as one of the most nutritious. Brazil nuts have a smooth and creamy texture, as well as a naturally sweet taste. 
Use these to make your own:
Nut butter

Nut milk

Salad vinaigrettes

Energy bars
Now it is time to jump into the best part: all of the health benefits!
The selenium found in brazil nuts is the main source of all benefits that the nut can provide. Selenium supports thyroid and immune function, while helping battle infertility, infections, mood disorders, and heart disease. That is definitely not all though! 
Eating brazil nuts will load your body with healthy fatty acids, antioxidants, and fibers. All of those nutrients are insanely good for your heart. They will reduce bad cholesterol, while simultaneously increasing the good cholesterol within your body. All of this improves heart function.
Snacking can easily be healthy, and we hope we showed you that with these 5 healthy snack ideas. Give them a try and see just how much your body will thank you afterwards.