Mark your calendars for March 15th, because it is National Peanut Lovers' Day. Though those of us that love peanuts celebrate that love daily, having an official day makes it even better! If you eat peanuts often, use this holiday to try some new forms of peanut treats. You could also use it as an excuse to enjoy even more peanuts than usual! Either way, we have 5 Goodies to Celebrate National Peanut Lover's Day with right here! 
Where do delicious peanuts come from? A brief history lesson can answer that question!
The Origin of Peanuts
Peanuts have been around far too long for us to know the true origin, but we have a lot of educated guesses. The biggest speculation is that peanuts originated in South America (mainly in Peru or Brazil), and were popularized when Spanish explorers began taking them around the world. Traders spread them from nation to nation, giving the joy of peanuts to everyone.
Peanut farms began popping up in the U.S around the 1700s, which led to the demand rising quickly. They soon became a staple in most households, becoming an everyday food item.
Now that we know a bit about where they came from, let's jump into the fun part: the snacks!
Boston Baked Beans
Boston Baked Beans are just as sure to bring you nostalgia as they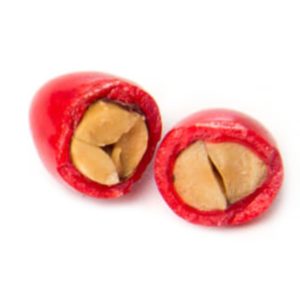 are to fill your mouth with wonderful sweetness. Starting with a peanut base, these goodies get coated in a flavored shell, giving them a vanilla note and a crunch. 
These peanut candies were invented in 1942 in Chicago, but quickly popularized due to the unique flavor and appearance. Despite being made of a peanut base, the candy coating is colored red to resemble a bean; thus living up to the name of baked beans. 
Nutritional Information
Each serving is 30g, which is about 1.06oz. Per serving there is only 130 calories. Boston Baked Beans come with a bit of nutrition, however, so they are more than just a sweet treat! They contain:
2g of protein

5mg of calcium

53mg of potassium
Getting some daily vitamins is just an added bonus!
Double Dipped Peanuts
What better combination than chocolate and peanuts? If that happens to be your favorite blend of flavors, you are sure to enjoy these Double Dipped Peanuts. Not only are they dipped in chocolate, but they are dipped twice! The peanuts provide the salty to the sweet of the milk chocolate, making these hit every craving all at once. 
Both parents and kids will enjoy this sweet take on a classic candy. Double the chocolate means double the happiness!
Nutritional Information
These peanut treats come to a total of 30g per serving, and 220 calories. Peanuts themselves have vitamins and nutrients. Thus, you get to enjoy the benefits of peanuts while enjoying the taste. 
Each serving will give you 3g of protein, some vitamin D, 4% of your daily calcium, and 10% of your daily iron. With that many nutrients, these are surely guilt-free.
French Burnt Peanut
Despite the name, these candies are definitely not actually burnt.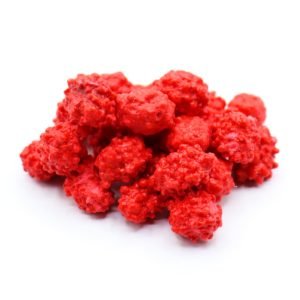 French Burnt Peanuts are simply candied! They are made by taking roasted peanuts and coating them with a candy shell using a special process for the texture. This process is repeated until the proper size is reached. Then they are bagged up, and sent out for everyone to enjoy! 
Hoard these for yourself, or share with people you love to spread the nostalgic crunchy greatness. Regardless, these candies used to be scooped and sold in candy shops all around! 
Nutritional Information
There are 40g of these peanuts per serving. As well as 190 calories, and a low 8g of total fat. Along with the low calorie count, and total fat, a serving will provide you with:
4g of protein

2% of your daily iron
Roasted and Salted Peanuts
Whether you have a preference for roasted peanuts with the skin, or roasted peanuts without the skin, both are great options! Both of these goodies are roasted and salted to perfection, leaving them simple and tasty!
There are many unique ways you can enjoy peanuts without just eating them plain! Try adding some to:
Salads

Cakes

Muffins

Pancakes

Yogurt and granola

Trail Mix

Roasted vegetables
There are endless ways you can utilize peanuts! They are a staple for anyone who enjoys a good crunch in any dish. 
Nutritional Information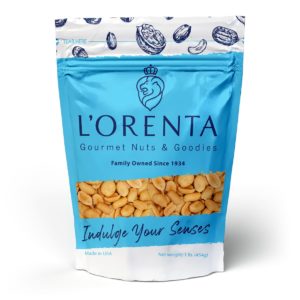 Plain peanuts are a fantastic healthy snack choice, or a super simple way to add nutrients to any meal you decide to add them to. They are an excellent source of protein, fiber, and calcium. All of these nutrients come with additional health benefits!
Adding peanuts into your daily diet will help you maintain a healthy heart, and avoid blood clots and the risk of heart attacks or strokes. Peanuts can even help you live longer! 
These are just 5 Goodies to Celebrate National Peanut Lover's Day, but there are dozens of ways you can celebrate! Use these as a start, and enjoy the fantastic taste and enjoy the health benefits that will tag along.