What is chamoy and where has it been all my life?
If you've never heard of chamoy, you're missing out on a savory, salty, sweet, and spicy condiment that enhances the flavors of any dish you add it to. Chamoy is a spiced pickled sour fruit that comes in the form of a dried fruit topping, candy or sauce. Not only is it delicious, but some say that Chamoy encapsulates the flavors of Mexico with its salty-sweet spiciness! Made from lime juice, salt, and chilies mixed with either apricots, plums or mangos. Here are 5 delicious Chamoy candy products from L'Orenta Nuts. 
Despite chamoy's important place in Mexican cuisine, it's actually an Asian- Mexican fusion food.  Chamoy may have came from the Japanese food umeboshi, a type of pickled ume fruit, ume being a type of small, tart plum or apricot; or it might have developed from the Chinese dish see mui, which is Cantonese for a salted and dried apricot snack. Asian people had been migrating to Mexico since the 1590s, and chamoy evolved and developed into the staple spice blend and sauce valued by the people of Mexico today. 
How is Chamoy used?
The most common use for chamoy is to flavor fresh fruits and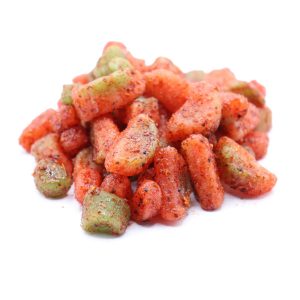 vegetables. Often it's drizzled over slices of mango, pineapple, jicama, watermelon, and avocado. A favorite snack in Mexico is coating a whole apple in Chamoy sauce.
Chamoyada is a dessert that features shaved ice or sorbet with chunks of fruit and chamoy sauce. 
Chamoy can also  be used to bring a sweet spice to savory dishes as well and often it's put on nachos, tacos, roasted vegetables, steak, and chili. The Mexican street food staple tostilocos uses chamoy to spice up a mixture of peanuts, jicama, cucumber, lime, and cueritos, or dried pig skin. 
It is the fruit component that sets chamoy apart from other chili and lime-based condiments.  It adds a deep sweetness that sauces and spice powders alone do not have.
Chamoy Candies
L'Orenta Chamoy candies are soft and fresh. Made in small batches to ensure high quality. 
Curious about trying some chamoy candies?  L'Orenta Gourmet Nuts and Goodies has a  variety of Chamoy candies for you!
We begin with Chamoy 12 Flavor Gummy Bears, just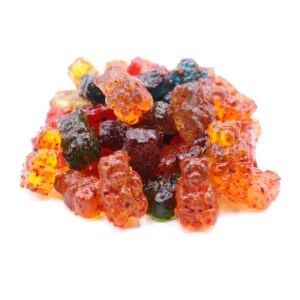 bursting with flavor!  We coat our soft gummy bears with a unique mixture of Chamoy, Tajin and other spices. Our unique way of making this delicious candy will make your taste,buds dance of joy!  These are soft, mouthwatering and fresh.
Fresh and Soft
Our next selection, Chamoy Sour Patch Kids, is full of sweet and sour flavor. We coat sour patch kids gummy candy with our own unique mixture of Chamoy, Tajin and other spices. This creates the ultimate sweet and sour candy experience. 
You can try our Tropical Mix of Chamoy Gushers which will cause a mouth watering explosion! These Chamoy gushers are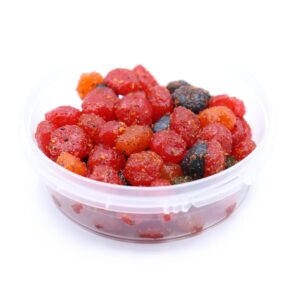 popping with flavor. The tropical flavors included are kiwi lime (green), strawberry kiwi (red), tangerine (orange) and blueberry grape (blue). 
One of our best sellers is Chamoy Cherry Sours or cherry bombs. These are  sweet, spicy and tangy. We cover cherry sours with our proprietary blend of Tajin, Chamoy and spices to create the most delicious Mexican candy. This is a fan favorite and one of our best sellers.
You can't miss enjoying our Chamoy Gummy Worms. This fruity mix of assorted gummy worms is sure to give your taste buds an explosion of flavors!