5 Chamoy Candy Products | L'Orenta Nuts
What is Chamoy?
Chamoy is a Mexican-originated candy sauce. This delicious recipe combines spicy, sweet, sour, and spicy flavors all together. It is made of dried fruit, chili, lime juice, and some other ingredients that mix up to form the phenomenal 'chilito'. Its usual consistency ranges from liquid to paste-like. Although it is much more common to find it in a more liquid state, the paste-like has been growing in popularity since it usually is a bit sweeter. Thus, it matches better with some specific fruit, for example, 'Manzana enchilada' (spicy apple). Below you find 5 Chamoy Candy Products that we carry at L'Orenta Nuts. 
L'Orenta's chamoy recipe combines the best quality ingredients resulting in a mildly spicy 'golosina'.
Where does Chamoy Come From?
The most known theory on the origin of this Mexican salsa involves some Chinese influence. This is due to its similarity with Asian candy made of dried salty, sour plums, and berries. 
For sure you are well aware of the love for hot and spicy food the Mexican culture has. As a surprise to no one, Mexico's main change to the original versions of chamoy is the addition of chili.
What to Eat with Chamoy?
People eat all kinds of things with chamoy. From drinks to snacks, fruit, and even some ice-cream-like desserts called 'Chamoyadas'. Most of the food that goes well with chamoy is sweet and/or a bit sour. However, the most popular way to consume chamoy by far is with candies.

Keep reading to find 5 chamoy candy products that will have your mouth watering. 
These gummy bears have the perfect amount of sweetness.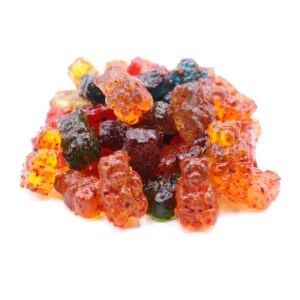 Coated with L'orena's chamoy and some other sweet 'chilito', this 'dulce enchilado' hits a perfect note in the taste regard. 
The gummy bears come in 12 different flavors. They are soft and chewy. The moist, savory bites come in small batches for maximum freshness. 
The traditional Sour Patch Kids made better. Unlike the regular Sour Patch candy, L'orenta's chamoy sauce ups the regular sour taste to a brand new level of flavor. These sweets are one of the top choices for children of all ages. 
This candy is a bit drier than the previously mentioned Chamoy Gummy Bears but still fresh and chewy. 
These Gushers come in a tropical mix of flavors that include: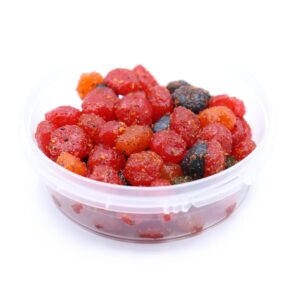 strawberry kiwi, kiwi lime, blueberry grape, and tangerine. These flavorful gushers are small bites with a citrusy and spicy taste. 
Chamoy Gushers are soft and chewy. They are the sourest of this list. If you are more into the lime, tropical fruit kind of candy, this is the best choice for you. 
Also known as chamoy cherry bombs, this candy with the delicious L'orenta's chamoy and spicy condiments mix results in an absolute favorite of the masses. 
These are not as dry as some of the other options. Unlike the Sour Patch Kids or Gummy Bears, these are sweeter. However, the cherry sweetness does not dominate the flavor. It is the perfect balance between sweetness and a touch of spicy sour. 
Sharing a resemblance to the flavor of the Chamoy Gummy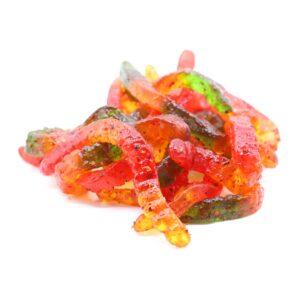 Bears, they have some small differences. These Gummy Worms are larger and more varied in flavors. Each of these contains a mix of fruity, tangy flavors. 
Conclusion
These 5 delicious candy chamoy products are all made in America. Every one of these contains L'orena's chamoy recipe, which is full of flavor and fresh. This American-made candy is completely dairy-free. 
Packaged in a small cup holding around 6.5 oz, this snack keeps its freshness perfectly. 
You can get from 1 to up to 20 cups of gummy bears. 
If you are looking for some great 'dulces picosos' with the special combination of chamoy, tajin, and its natural sweetness, look no more. These candies will get all of your taste buds moving. 
I hope you found this blog post helpful to chose the best chamoy candy for you!