5 Bulk Gummy Candies | L'Orenta Nuts
Gummy candies are one of the favorite candies of all kids (and lots of adults too). Tasty, smooth, with different levels of sweetness and so many colors to choose from … Gummy candies are good to have during birthday parties, gathering with friends, or just watching your favorite show. Here are 5 bulk gummy candies that are great for candy bars, candy buffets, weddings or any other event. 
What about the historical journey of gummy candies? 
Originally created in Germany in the 1920s by Hans Reigal, gummy candy manufacturing started in America with Haribo in 1982. Back in the day, their biggest competitor was Trolli, which was another gummy company, specialized in gummy worms.
As a result of the huge success of the gummy bears, other companies started to develop similar products and the gummy bears led to the creation of other types of gummy candy by other companies.
Gelatin has been used in the kitchen for hundreds of years. The substance gives gummy candy its original elasticity and allows it to last a long time. Gels or thick solutions are formed when gelatin is placed in water. Due to the thermoreversible nature of these gels (they get thinner when heated), the gummy candies melt in the mouth, which of course is one of the main reasons why we love them so much).
Due to the fact that gummies candy also contains sweeteners, colors, and flavorings, nowadays, you can find gummy candy in a variety of shapes, colors, and tastes! Within all the rainbow colors, you can select from bears, fish, snakes, fruits, fingers, worms, drops, rings, and more. 
Almost half of the gelatin made today is used to make gummy candies!
Want to hear some fun facts about gummy candy? 
With unique recipes, you can turn them into cookies or even aliens! The candy can also be used as a topping on cakes and to create original candy houses.
According to HARIBO, if you lined up all the gummy bears made in a year head to toe, it would encircle the earth four times! 
Did you know that we specialize in bulk gummy candy? 
We have been working hard for several years to provide you with the best bulk bags of gummy candy because we want you to be prepared for everything. 
All of this is towards our unique goal: provide our customers with the best product at the best price. We prepare bulks of the favorite products, we update our processes to keep the gummies fresh and tasty, and we setup the best prices. 
When you have a large family, organize regular events, or train kids for an activity, buying bulk gummy candies will be the best choice for you! 
Some of our favorite bulk gummy candies
Coca Cola Bottles
Are they really in need of an introduction? Gummy candies in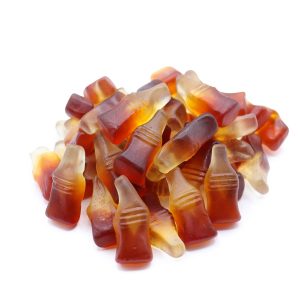 the shape of Coca Cola bottles were a huge success for the famous brand. There are two flavors available: strawberry (the colored ones) and pineapple (the clear ones). They are not only delicious, but they also make great table decorations or cake decorations.
Light blue watermelon gummy bears
Since their creation in 1922, gummy bears have been a hit! They are so beloved that we keep creating new recipes with different flavors. With this set, you get the watermelon gummy bears, which are delicious and look so cute in a light blue color. 
Orange gummy bears 
Everyone in the family loves the original gummy bears. We chose an orange flavor that is both delicious to eat and pretty to look at! Enjoy mixing them with the other classic flavors. The red ones taste like strawberry, the green ones like apple and the yellow ones are lemon-flavored.
Sour twin cherries 
How about some sand treats? You'll love our sour twin cherries!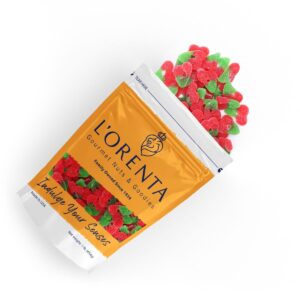 This fat-free sour treat is bursting with cherry flavor. Enjoy them in moderation, but know they are gluten, dairy, wheat, and soy free.    
Sugar free gummies 
If you want to enjoy gummy candies without the sugar, know that we have a sugar-free recipe. The gummies have a flavorful taste without any added sugar. This allows you to enjoy yourself guilt-free.  
How to store my bulk candy gummies?
If you live in a hot and humid climate, always choose the fridge or the freezer to preserve them from melting or drying out. Do not worry about putting them in the freezer; this will not affect their quality. It can actually help them last for up to a year. You should always store them in an airtight container or heavy-duty freezer bag, regardless of where you store them. We recommend using them within 12 months for best results. A little extra tip: label and date your bag for reference.