5 Bulk Candies For Your Next Events | L'Orenta Nuts
Planning any important event and a big party can be overwhelming, challenging, and demanding. From finding the best event venue to coordinating decorations, and even putting together special entertainment for guests can lead to fatigue. Another crucial part of the event that gives a lot of stress is the candy buffets. However, choosing the right candies should be stress-free. In this article, we discuss 5 bulk candles for your next events. 
Before we discuss these delicious bulk candies, let's look at why buying bulk candies for your events is the best decision.
Bulk Buying And Bulk Sizing 
Bulk buying means buying goods in large quantities. If you have a big event or any important party and you want to add candy buffets, it is crucial you buy your candy in bulk sizes. Also, stores can resell bulk sized candy and make considerable profit.
Our bulk sizing comes in ten pounds and 25 pounds. They come loose in a box. So, you can easily add them to your bags, containers, bins, etc. Buying in bulk sizes offers numerous benefits. 
At the top of the benefits is saving money. The cost of each candy will be significantly reduced when you buy in bulk. This means you are getting more value for your money. Also, you will save more money in the long run. Buying candies in smaller quantities is expensive. You will be spending a lot of money on the candies and the numerous delivery fees you'd have to pay. 
Another notable benefit is buying candies in bulk sizes saves time. For example, instead of repeatedly ordering a special candy numerous times and waiting for delivery, you can buy in bulk and save time. This will allow you to focus on other aspects of your event planning. 
Besides being ideal for events, retail traders can buy our bulk sizes and resell. They will also enjoy the same benefits.  
Our 5 Bulk Candies For Your Next Events 
Pineapple Gummy Bears
Our pineapple gummy bears are the first on the list of the 5 bulk candies for your next event you will love. These gummy bears are incredibly soft, chewy, and delicious. They have a pineapple flavor perfect for numerous events, including barbecues parties, summer parties, and beach days. Your guests won't get enough of these delightful gummy bears. But, don't worry. They come in two different bulk sizes, which are 10lb and 25lb. Click here to get the Pineapple Gummy Bears in bulk sizes.
Sour Gummy Poppers 
These sour gummy poppers are the perfect candy for birthdays,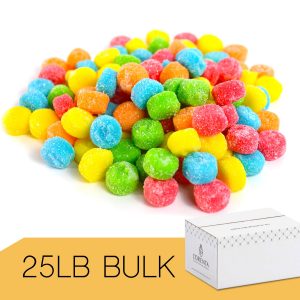 especially kids. Sour candies are incredibly popular among kids. The reason is simple. Kids love to savor the tart and sweet combination of sour candies. These gummy poppers are no different. Your kid and friends will fall in love with our sour gummy poppers even before the first bite. These delicious and attractive multicolored candies will add extra fun to your birthday parties. Get our Sour Gummy Poppers here. 
Five Natural Flavor Gummy Bears 
These unique gummy bears go with every event and party. You can add them to your guests' goody bags or gift baskets. They come in an assortment of delicious natural flavors, which are watermelon, cherry, orange, lemon, and green apple.  They are also sugar and fat-free, making them ideal for both young and old alike. Click here to get our Five Natural Flavor Gummy Bears in different bulk sizes. 
Boston Baked Beans(Jumbo)
Without a doubt, Boston baked beans are very popular. However,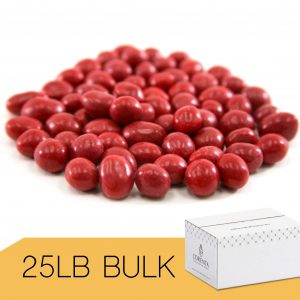 our Boston baked beans are unique in taste and size. These delicious baked beans are a great addition to your candy tables. They also come in Jumbo sizes, ensuring you can savor and enjoy the sweet and crunchy coated peanuts. Your guests will keep requesting these treats. It is advisable to get the 25lb size if you want them to go round. Get our Boston Baked Beans here. 
Butter Toffee Almonds 
These delicious butter toffee almonds are incredibly rich in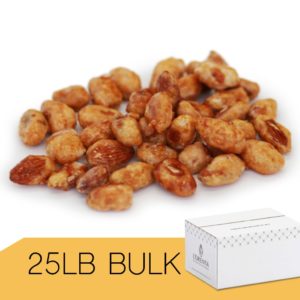 flavors. They combine fresh, dry, and roasted almonds with rich and delightful toffee flavors. These unique combinations of flavors will keep your guests hooked at first bite. Not only are these butter toffee almonds bursting with delicious flavors, but they also offer numerous health benefits too. Get our Butter Toffee Almonds in different bulk sizes here. 
Final Thoughts 
You don't need to bother about your candy selections anymore; add these 5 bulk candies for your next events. Your guest will fall in love with them at first bite. You will also save time and money buying these candies in bulk sizes. With these candies on your candy tables, your next event is a success.