4 Tasty Bridal Shower Party Favors | L'Orenta Nuts
Celebrating a bride's upcoming marriage is beyond exciting. Everyone gets to gather together, share gifts and advice, and enjoy some great treats. This tradition is special because it is a chance for everyone to show their appreciation for the bride, and for her to share some love back with party favors! 
Party favors are often used as a way for the bride (or party thrower) to show their gratitude for everyone that arrived. They by no means need to be something large and extravagant; which is why we suggest treats! An edible gift is definitely the best kind of gift. Besides, it is something everyone will love!
Here are 4 Bridal Shower Party Favor ideas!
Jordan Almonds
These sweet Jordan Almonds taste just as great as they look! The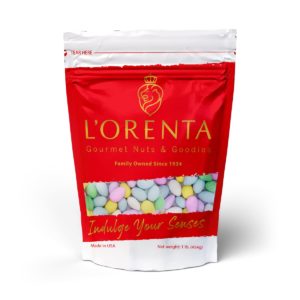 colorful candy shell is guaranteed to fit any theme, and bring some color to the party. They are dairy free, and a great source of protein and calcium.
While these make a fantastic gift to send home with your guests, they have dozens of uses! Dump a bag into a large bowl for everyone to enjoy at the party, or tuck a list of recipe ideas using them in each goodie bag. Some great ideas are:
Brownies

Ice cream

Almond bark
Jordan almonds have an extensive history of being a traditional gift for wedding guests! 
Greek, French, and Italian weddings were known for handing these out for their beloved guests. There is no shame in borrowing traditions. Especially food related ones!
Almond Coffee Bean
The third product in our list of 4 bridal shower party favors is the Almond Coffee Bean. Purchasing this set means you get dark chocolate espresso beans, white chocolate coconut almonds, and a set of stroopwafels (chocolate, vanilla, and caramel). This treat is a great choice because it comes with options! Everyone you give this to gets to explore many new flavors, making it a memorable gift.
Along with the fantastic taste of all these goodies, they come loaded with vitamins and minerals that will benefit your guests long after consumption. Coffee beans themself come with an abundance of antioxidants, and are energy boosters! Almonds bring protein, iron, and vitamins to the table. 
This is the perfect treat to satisfy the craving for snacks that are sweet and crunchy.
Milk and White Chocolate Gummy Bears
No treat list is complete without some tasty gummies! These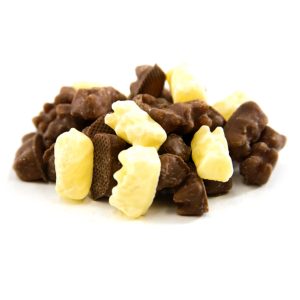 Milk and White Chocolate Gummy Bears feature pineapple gummy bears that are coated in milk and white chocolate. They are peanut free, and visually adorable. Black and white themes would fit these great. Though, the neutral colors would fit in with any theme chosen.
Each serving is only 100 calories, with 2g of fat. They are extremely guilt free! In addition to the fantastic low calorie count, they come with:
2g of protein

16mg of calcium

27mg of potassium
Everyone will enjoy these, and any leftovers are all yours!
Milk Chocolate Blueberries
Can you think of anything better than dried blueberries dipped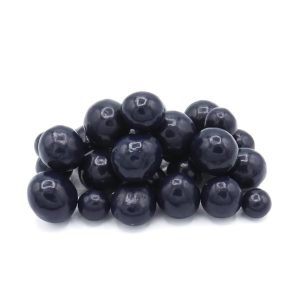 in chocolate? Neither can we, which is why we suggest Milk Chocolate Blueberries for a unique and yummy party favor.
Firstly, dried blueberries are coated in sweet milk chocolate. Secondly, they are given another coat in a fruity flavored white chocolate mix. Lastly, after they dry they are polished, so they look smooth and deliciously shiny! 
 A touch of blue in any theme is great.
Not to mention with the endless benefits of blueberries, this is the gift that just keeps giving.
Use this post to get 4 bridal shower party favors to treat yourself and your guests! Most importantly, celebrate the upcoming marriage!