4 On The Go Snacks | L'Orenta Nuts
Has there ever been a time when you needed fast, easy, and portable food? For example, maybe you're at home and don't feel like making dinner or aren't sure what to make. Or perhaps you're out near your local laundromat or on the go and want to get something that isn't as awkward as a meal but will still give you some sustenance while still being convenient. Here are 4 on the go snacks that are great to take with you!
Well, this list is for those times.
but first, let's discuss why snacks are the best on the go food
Why are snacks the best portable food?
Snacks are the best portable foods because they are easy to carry and don't require any preparation. They are convenient and help keep the body active throughout the day. 
Packing snacks is a great way to avoid spending on unhealthy fast food when you feel hungry. 
Here are some snacks that you can carry whenever you go out:
Jelly beans
The jelly bean is the perfect on-the-go snack. There's no prep required, and it's easy to slip a pack into your bag or pocket.
 L'Orenta's Jelly Bellys ultimate Tropical jelly bean combo will
transport you to a tropical paradise! You'll be spoiled for choice with delicious and exotic flavors to choose from, including Crushed Pineapple, Pina Colada, Strawberry Daiquiri, Island Punch, and Coconut. In addition, Jelly Belly's jelly beans are fat-free and all-natural, making them ideal for munching on a gorgeous summer day or adding to a birthday party feast.
This sour selection jelly beans packed snack will satisfy taste buds. This is the ideal snack to provide at birthday celebrations, and your guests will love the bright colors and tastes! Excellent for on-the-go!
Banana chips
Banana chips, high in potassium, are a nutrient-dense treat for both children and adults. You'll want to keep a supply in your kitchen cabinet because they're great for adding to salads, dried fruit mixes, salads, or just munching on them throughout the day.
Banana chips have grown in popularity as a snack. Toss a handful with granola or yogurt for a quick and delicious breakfast or snack. They are light, easy to pack, provide a rapid source of calories and simple carbohydrates, and are a good alternative while traveling, trekking, or recharging after strenuous exercise. L'Orenta banana chips make it simple to stock up on this delicious dried fruit.
Gummy bears
The best snack to take on the go is something small and light,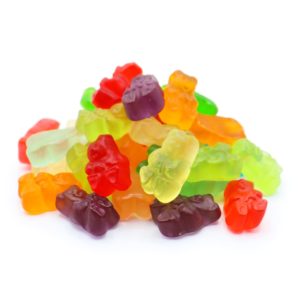 like gummy bears. Gummy bears are small, easy to carry, and delicious. They won't leave any mess behind if you spill them, and they won't take up too much room in your bag. Plus, they come in all sorts of flavors, so there's sure to be one for every person in your group!
Gummy bears are among the most popular candies, so treat yourself to L'Orenta's 12 Flavor Gummy Bears for a delightful experience that is guaranteed to please your sweet craving. These are no ordinary gummy bears – they're 100% fat-free, so you can enjoy these lovely and fruity sweets without feeling guilty. They're perfect for birthday celebrations, cake decorations, or just as a pick-me-up during the day.
Roasted & Salted Almonds
The best on-the-go snack is almonds. Almonds contain vitamin E and other antioxidants, which help prevent cancer and heart disease. They also have plenty of magnesium, a mineral shown to help with sleep and stress.
Open a package of L'Orenta Roasted and Salted Almonds — they're the perfect snack to wow your visitors! This tasty snack is an excellent source of protein, jam-packed with vitamins, minerals, and all-natural goodness, and is meticulously roasted and sprinkled with just the proper amount of salt. These heart-healthy roasted nuts are 100% natural and non-GMO and will please even the most discerning palate – just one handful a day will provide enough benefits to boost your health!
This crispy roasted and salted almond snack will brighten your taste buds and please your senses with each packed nibble. This is the ideal snack to provide at birthday celebrations, and your guests will love the bright colors and tastes!
Final Thoughts
These 4 on the go snacks are convenient, delicious, and stress-free gifts. They are ideal for all ages, and the best part about these snacks is that they don't require preparation or packing while traveling or working.
These snacks are convenient and easy to take with you. They are resealable, which prevents spills, making it easy to leave the house on the run and not worry about a mess. These snacks are packaged in plastic cups. Plastic cups are recyclable but should be reused as much as possible.