4 Must-Play Games with Jelly Belly | L'Orenta Nuts
Jelly Belly jelly beans are not just for kids and their parties! Here are 4 Must Play Games with Jelly Belly. Read on to decide what your imagination can add for you and your friends to have some fun. Jelly bean jeepers, you can even try playing via Zoom!
Jelly Bean Drinking Games
Okay, the drinking can be whatever beverages you choose. The point is to have a couple of games ready to go whether your get together is planned or spontaneous. Better order up some L'Orenta Jelly Belly Jelly Beans right now so they're handy!
Jelly Bean Bingo 
Yup, your party pals can win some cash, drink an adult beverage, snack on some jelly beans and other L'Orenta goodies, and have a few laughs. This game works for groups small or large, quiet or rowdy. 
Goodies, Supplies, & Instructions
Buy a bunch of

Jelly Belly 49 Flavor

jelly beans as they've got something for everyone!

Order up your

Bingo cards

from this wide selection. You'll even find some in jelly bean colors!

Play Bingo just as you did when you were a kid or at a local hall. All you need to do is come up with a set of drinking rules. Here are some ideas:

A player takes a sip after they place their first bean.

They get another drink again after the next 2 beans. 

Then they can drink more when they score.

Bingo breaks are allowed: You call for a pause in the action so anyone who wants can swizzle.

Yup, you'll have to keep a close eye on everyone. It's up to you if those who are out of line have to forfeit a round, or add to the cash pot of winnings!
Although this is a drinking game for those 21 and older, it can be adapted, without booze, for a younger crowd or those who choose to abstain. 
Shoot Hoops with Dr. Pepper
Vanilla Dr. Pepper is one flavor of beans that's sure to please while shooting hoops. Added to that, it doesn't take much preparation. It's the cleanup that can get a little messy! You'll see why as you read on. 
Goodies, Supplies, & Instructions
Purchase small, hollow rubber balls and a roll of duct tape.

Partly fill each ball with the Dr. Pepper jelly beans or any flavor you prefer. Then again, you might like

Licorice

or

Sizzling Cinnamon

for a bit of variety.

Order a whole bunch of the Jelly Belly jelly beans as some will literally bite the dust.

Give players the goal of making points by saving the balls from smashing onto your court or garage setup.

Yup, someone sets up the shot.

The winners are the ones who are the best at catching…even the throws that miss the hoop!
St. Patty's Day Jelly Bean Shamrock
There's something to love about St. Patty's Day. In fact, you and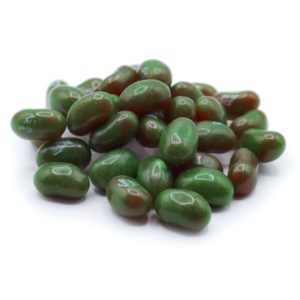 your friends can celebrate the Shamrock any time you wish! That means you'll want a stash of green jelly beans on hand for when the spirit moves. By gosh and glory be, that could be 'most anytime!
Goodies, Supplies, & Instructions
The key ingredient here, aside from a bunch of Jelly Belly goodies, is good-spirited adults who aren't afeard of getting a wee bit silly.

St. Pat would suggest you get 5 pounds of the following for up to 6 guests. Your Shamrock artists will design edible creations with bright

Jelly Belly Green Apple

, the darker green

Jelly Belly Watermelon

, and yellow/white accents of

Buttered Popcorn

.

Gather some sturdy paper plates in a color that goes well with your shamrock designs.

Give each person a variety of jelly bean colors. Yup, they'll get to gobble them up or take them home when all is said and done.

Plus you'll want to have a hefty jug of green craft beer on hand, and another chillin'. 

For this adult

Drinking Game

each player:

Takes a drink after placing every X number of jelly beans on the plate

Follows other rules your establishment holds dear

Drinks more when their design is done

Takes part in selecting the perkiest shamrock in the bunch 

Raises a toast to everyone's good cheer!
This can be a game for your family or drinking buddies. Either way, please munch and drink responsibly.
Hold a L'Orenta Jelly Bean Jamboree!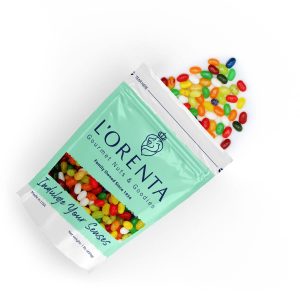 We're leaving the best for last! Here's one more idea for enjoying our yummy Jelly Belly jelly bean varieties with family and friends. Your jamboree might be a junior-sized event such as a neighborhhood block party. Or it might be an all-out bash to celebrate something special, like a town's centennial. Regardless, L'Orenta is front and center. 
Goodies, Supplies, & Instructions
Pick a theme. L'Orenta is located in San Antonio Texas, so anything to do with cowboys fits. Since we also sell gourmet products, a bit of upscale flare works too! 

It goes without saying that Jelly Belly jelly beans are the feature of the Jamboree. That means guests will be asked to:

Keep jiving while diving for more jelly beans, including

Jelly Belly Cocktail jelly beans

. That's a good plan if you're able to have a dunk tank!

Join in fair-style games like Jelly Bean target practice. You can sew up your own bean bags, or order some online. Another approach is to double up on plastic bags to see how long they last.

Invite jamboree goers to submit samples of their most clever Jelly Bean recipes. Oh my, who will get to do the judging? 

Invite a group of middle school art students to judge an array of art submissions. 

Award jelly bean one-pound bag prizes for the kids who win various events. The

Jelly Belly Sour Assortment

is a good choice as it's loaded with color and pucker power. 

Adult amboree winners receive tickets they can turn in for their favorite beverage at the Beer & Wine Tent Event. That can be a special feature that raises funds for a local organization.
There you have it! 4 Must Play Games with Jelly Belly found right here at 
L'Orenta Gourmet Nuts & Goodies