4 Tasty Bridal Shower Party Favors | L'Orenta Nuts
Bridal Showers are a common celebration traditionally thrown for the bride the day before she marries. It has become a tradition for the bride to give their guests a thank you treat for attending. Here are 4 tasty bridal shower party favors:
 Why is it called a bridal shower? In the late Victorian era in America, guests at a shower would literally shower the bride with little gifts. Party favors themselves are from the Middle Ages. The nobility would give little gifts to all the attendees of certain events.  The two traditions meshed into the bridal shower party favors that we give away today.
We want to be there for you on your big pre-wedding day. We have 4 tasty bridal shower party favors candy recommendations that will make the perfect sweet treat on your girl-filled day.
Our 4 top picks as bridal shower party favors are:
–   Jelly Belly Beans in your color
Let's spend a little time discussing why these are our top picks. 
Heart Gummy Candies
There's nothing like a little heart when it comes to a cute satchel of candy as a party favor. Our Sanded Hearts Gummy Candy is a slightly sour mixture of white and red hearts dusted with sanded sugar.
Sanded sugar are larger than average sugar crystals. They are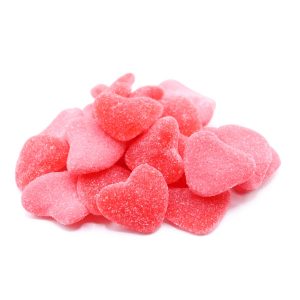 known for their shine and add a big punch of sweetness. They look almost like chunky salt but rest assured, they're sweet sugar. These gummies aren't sour enough to leave you puckering. They do have a tang to them that makes them more interesting than your usual fruit snack.
In Europe, the heart shape has been a symbol of love since the Middle Ages and has been a symbol of fidelity in other ancient cultures. Suggesting that there's love and a sense of fidelity for yourself and your partner as you enter a new phase in your life is a great thing to center your party favors around.   
Jelly Belly Beans as Bridal Favors
Buy a bean in your wedding theme colors or match the flavor with your favorite cocktail at the bar. We have a huge selection of Jelly Belly beans and we're confident one of our choices will go perfectly with your party napkins. They won't melt when thrown into a purse or a pocket, so they're easy to carry around the whole night as a sweet snack.
Jelly Belly has been building its empire since the 1800s, and today they're a wildly popular brand because they come in lots of oddly specific flavors for any thought process. Anyone's palate can be satisfied by these little beans, and we carry a huge variety of them.
Red Lips Gummy Candies
A flirty treat, this red lips gummy candy is a blend of marshmallow and cherry flavor with a burst of jelly in the middle. Their red color makes them just racy enough for even the most modest of showers, and the jelly filling is reminiscent of childhood fruit snacks and will bring a pop of that child-like joy to your celebration.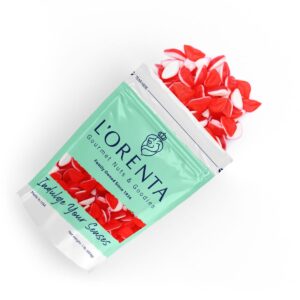 Kisses are most likely the first sign of true affection that you shared with your future husband and acknowledging that special bond with your female entourage is charming and sweet; just like these candies.
Jordan Almonds
Almonds have been given as party favors since the 19th century, and they were created by the Romans for distribution at births and weddings; this tradition continues today. A sugar-coated almond polished to perfection, these pastel Jordan almonds are an ancient favorite. If your bridal shower is a more formal event, this choice is the perfect go-to because it's subtle and classic.
 If you're looking for a little meaning to your Jordan almonds, Italians believe that the bitter almond against the sweet shell is a hope for the new couple. The bitter almond symbolizes the hope that their marriage sweetens up any bitterness from their previous life.
Bridal Candy Wind Down
How do you bag up these treats for your party? Get clear cellophane bags, put in a handful of goodies, and tie it with a curly ribbon. We even suggest mixing the heart gummies with the red lips, and the Jelly Belly beans with some Jordan almonds. Add them as centerpieces to your table to tie the theme through your décor in a subtle and sweet way.
 Whatever you pick, your day is about you. We hope that our 4 tasty bridal shower party favors can be meaningful to you.