10 Staff Favorite Sour Candies | L'Orenta Nuts
There is nothing quite like the lip pursing pour of a good sour candy. Since childhood, our staff has searched for the perfect sugary-sour treat. That's why we have so many sour candy options available! Our staff loves to snack on these sour candies just as much as they love to recommend their favorites to others. Without further adieu, here are our 10 Staff Favorite Sour Candies
Sour Wild Strawberries
These cute little strawberries may seem sweet, but don't let them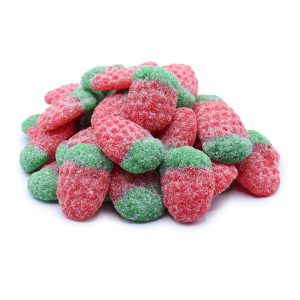 fool you. Our sour wild strawberries are super sweet on the inside and extremely tart on the outside. Since these gummies are wheat, soy, peanut, and gluten free, they are perfect for sharing. Our staff loves to eat these right out of the bag, but they also make great mixers. Garnish your favorite soda with a few wild strawberries for an extra tart pop of flavor!
Gummy Sour Pineapples
In the winter months, our staff starts to crave the tropical flavors of summer. To satisfy the winter blues, we tear open a bag of gummy sour pineapples. Our sour pineapples offer a tart punch chased by the bright, juicy flavor of pineapple that we all love. These gummies are very vibrant, so they make perfect companions for beach themed parties. Our staff suggests serving our gummy sour pineapples atop a beach of ground graham crackers for a luau-inspired spread.
Sour Flowers
While our sour flowers come in neon red, yellow, and green, they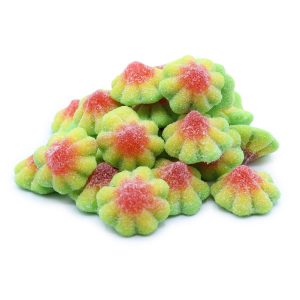 are actually tutti-frutti flavored! Modeled after beautiful spring flowers, our sour flowers are a beautiful addition to any party. Our staff loves to give these sour flowers in iridescent cellophane bags as gifts. These gummy flowers are also the perfect size for bulk bins and candy bars. They are a bit larger than a traditional gummy, so enjoy in moderation!
Sour Green Apples
Not all of our staff are into wild flavor combinations! In fact, many of them love the natural flavor of our sour green apples! Our sour green apple gummies have a sour, realistically flavored inside coated by a super sour sugary outside. These taste really nice when paired with our sour strawberries, so don't hesitate to mix and match. Our staff suggests using our sour green apples to make gift bags for educators! 
Gummy Sour Mix
It's pretty hard for our staff to settle on which sour treat they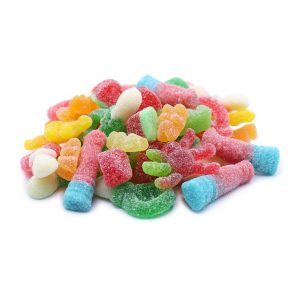 want when we have so many to choose from. So why not have them all? Variety is the spice of life, as they say! Our gummy sour mix has a gummy for everyone to love. There are fizzy sour candies for strawberry lovers, super fruity spiders, extra sour bears, neon watermelon slices, and tutti frutti bottles. Some of our staff insist that our sour mix tastes best when you eat one flavor at a time. We think a mixed handful tastes just as delicious and twice as sour.
Sour Triple Bears
Love the classic shape of gummy bears but want more flavor? Our sour triple bears are the perfect solution. These tri-colored bears are made up of three different flavors, so each bite packs a huge punch. Not only are they deliciously fruity, but they are also lightly coated in our lip-puckering sour sugar. We suggest that you use our sour triple bears as cupcake toppers for baby showers or as people for gingerbread houses. Their uses are as endless as their flavor!
Chamoy Skittle Gummies
You won't find these delicious chamoy skittle gummies anywhere else! We make these chamoy gummies in small batches to ensure the highest quality flavor. Our staff loves that these gummies come in cups to keep them ooey gooey and super fresh. The gummies are extra full of fruit flavor that pair beautifully with the acidic spiciness of the chamoy. Bring these gummies with you on your next picnic or potluck for everyone to try. You won't find a better blend of Chamoy and skittle gummies this side of the border!
Sour Twin Cherries
We know you've been hoping for a fat free way to get your sour candy fix, and we have you covered! Our sour twin cherries are totally fat free and packed full of rich cherry flavor. Free of many common allergens and dusted with our special sour sugar, these cherries are best eaten by the handful. Our staff suggests giving these sweet and sour gummies to children as a safe, fat free treat. They also make great birthday party favors and sundae toppers.
Cherry Sours
Some of our staff just can't get into the super soft gummy craze, and we're okay with that! Our cherry sours are a more traditional gummy candy with a crunchy outer shell. The inside of the candy is composed of a gummy that is bursting with cherry flavor. The gummy is enrobed in a sour shell for that extra special crunch. Since these gummies have a hard outer shell, you never have to worry about them melting into a giant glob in your bag. These also make cute sundae toppers!
Pink Grapefruit Sours
For those who like their sour flavors paired with something naturally tart, our pink grapefruit sours are a winner. Our pink grapefruit sours are another hard candy coated gummy that offers a sour punch with a sweet crunch. These gummies are a vibrant pink and make a perfect accent for pink-themed parties. They would also make a great pinata or balloon filler for gender reveals!
While these are our 10 Staff Favorite Sour Candies Nuts, there are a plethora of other sour options to choose from! We suggest that you mix and match with our one pound bags for optimum variety. Remember, whether you like a traditional sour gummy or gummies slathered in chamoy, we have the perfect treat for you!