10 Staff Favorite Gummy Candies | L'Orenta Nuts
Many people love gummy candies. However, the history and origin of gummy candies may surprise you. They are available to purchase in candy stores, supermarkets, and convenience stores. The main ingredients are sugar, gelatin, and pectin. At L'Orenta we sell hundreds of products but here are 10 Staff Favorite Gummy Candies. 
Origins of Gummy Candy
Gummy Candy is a popular sweet treat that's been around for a long time. It was accidentally invented in the early 1900s by a German candy maker Hans Riegel. Riegel was from Bonn, Germany, and he created his candy company in 1920 called Haribo, which is an acronym for Hans Riegel Bonn.
Haribo's first product was the "dancing bear," one of the first forms of gummy Candy and came out around 1922. Around this time, other forms of gummy Candy were also created, including fruit jelly rings and two-color gummi bears.
Other companies followed suit in creating their versions of gummy Candy. For example, Trolli came out with its version of gummy worms in 1981, while Welch's made its version of fruit snacks in the 1980s.
Ingredients in Gummy Candy
Gummy Candy is one of the most popular types of Candy globally. Adults and children alike enjoy it. Its popularity is that it has a high sugar content and is easy to chew. There are a lot of different gummy candies available. Still, the ones that are universally loved are made out of gelatin and other ingredients like corn syrup, sugar, starch, flavoring agents, and food coloring.
Gelatin comes from animal skin and bones. It is used as an emulsifier in many food products like marshmallows, yogurt, ice cream, and gummy candies. The animal sources used for gelatin can be cattle, pigs, or fish. Gelatin has a lot of health benefits like improved joint function and skin elasticity, better sleep quality, and stronger hair and fingernails. However, vegans do not consume gelatin because it is derived from animals.
Corn syrup is made out of cornstarch through hydrolysis using enzymes or acids. It contains a lot of glucose molecules which give it a sweet taste. The glucose molecules also help prevent crystallization which means that the candies will remain soft for a long time without being chewy.
Why are gummy candies so popular?
Gummy Candy is a favorite treat for many. Whether you prefer them as gummy bears, worms, rings, or other forms, they are famous worldwide. For one, they're soft and chewy. Unlike hard Candy, they're easy on the teeth. They also taste great and don't cost much to make or buy. Gummy candies come in many shapes, sizes, and flavors, adding to their appeal. They're also available at most convenience stores and supermarkets, making them widely accessible.
Gummies are popular because they don't melt like chocolate does when it gets hot outside or if you've been working hard all day long! You can also bring them with you wherever you go without worrying about them melting everywhere because, unlike other candy types, gummies won't quickly get stuck in your teeth as much either, so they're great for people with braces too!
Best gummy candies
Lorentanuts.com has the best gummy candies around. So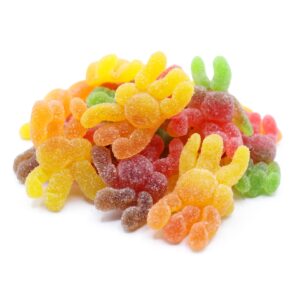 whether you're looking for something like hairy spiders or apple rings, Candy Assorted Mini Fish – Bulk, or a treat for yourself like gummy pumpkins, we have what you're looking for. And the extensive selection of bulk Candy means you can get enough to make sure that nobody goes home hungry! Some of the delicious gummy candies are listed below.
Gummy Cherry Rings
Gummy rings are a delicious treat that all ages can enjoy. These fat-free sweet gummy cherry rings are sure to be the cherished Candy of your next occasion, and you won't be able to stop after just one!
Gummy Eyeballs
Not only are these gummy candy eyeballs creepy but tasty, they make the perfect Halloween candy for any Halloween party or zombie-themed party! They are soft with a nice bite to them and make a great addition to a Halloween buffet display!
Gummy Butterflies, Assorted Flavors – Bulk
Give fat-free bulk Gummy Butterflies in varied flavors a spread of your wings. This gummy candy is tasty, but it also makes a fantastic complement to wedding showers, birthday celebrations, and summer gatherings.
Gummy Strawberry-Banana Rings – Bulk
Strawberry and banana make the perfect flavor combination, and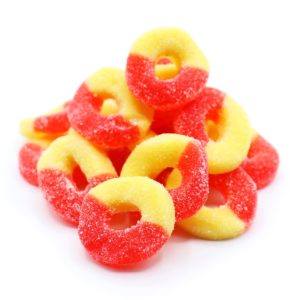 when you add them to fat-free gummy Candy, it's even better! L'Orenta's Gummy Strawberry-Banana Rings are the sweet snack you've dreamed of.
This gummy candy is bursting full of flavors. Stock up on this delicious treat for your pantry. It makes a great addition to any party or event! These yummy snacks brighten your day.
Final Thoughts
Gummy Candy is a tasty treat for everyone with different treats for every taste. So whether you're looking for fruity, chocolatey, or just soft and chewy, there's something out there that will allow you to indulge in some yummy goodness. The bulk sizes are great for candy bins, candy buffets or other events that require bulk sizes.