10 Staff Favorite Chamoy Candies
Do you agree that sweets and childhood go so well together? When you were a kid, there was nothing like going out trick-or-treating. We were all thrilled to pick a goodie chamoy from a candy bowl.  Chamoy is a salty pickled sour fruit made with dried fruit, sugar, and sauce. At L'Orenta, we have introduced 10 staff favorite chamoy candies that you may enjoy anywhere. In this post, we will go through the usage of L'Orenta Chamoy sweets and provide more in-depth information on these delicious candies.
What Exactly Are Chamoy Candies?
Chamoy is a condiment consisting of dried chiles, lime juice, and fruit. It has a sauce-like texture. Chamoy sauce is a Mexican condiment prepared with components that reflect the palate. It consists of sweet dried apricots, spicy chile de árbol, salty Tajin spice, and sour hibiscus flowers. 
Dulces enchilados, or Chamoy gummy strawberries, make a delectable sweet and sour candy. Chamoy will saturate your taste senses with flavor. Chamoy has a salty, sweet, sour, and spicy texture. It has a peculiar acidic and sweet flavor when spread over confectionery.
Our delicious coating of tajin, spices and tangy Chamoy assembles the premium gummy peach rings. Our innovative way of producing this delectable sweet will thrill your taste senses. Smooth, delightful, and delicious are the words that come to mind when you think of them.
How Does It Taste? 
Chamoy tastes like an Asian sweet and sour sauce on its own, but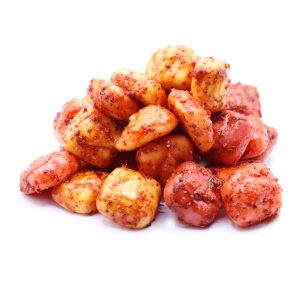 with more heat and a deeper tang. Light fruits and vegetables, cheeses, and bean-based foods go well with their delicate sweet-and-spicy character. It is spicy but not burning, and the sweetness of the fruit helps to temper the heat. When consuming chamoy in candy form, the sweet flavor becomes more prominent, and the dish contains some more salt.
The Tajin, Chamoy, and other spices get wrapped in the secret ideal combination of crispy, tangy, and crunchy nerd gummy clusters. A mouthwatering adventure inside, it is sweet and chewy. These tasty Chamoy rainbow belts will tempt your taste buds. But beware: they will bite back! The surface gets coated with the appropriate amount of sugar, spices, and tangy chamoy.
Storage
Most chamoy sauces and powders are shelf-stable. So you can keep them for three months in a cold pantry after opening them. You can preserve the cooked chamoy in the refrigerator for three to four weeks.
Where can you get Chamoy?
Chamoy is available in bottles as a liquid sauce and in powdered form as a spice mix. You can find all the Chamoy items in the Mexican cuisine department of most supermarkets. Chamoy is also available to buy online. So, you can get yourself a pack of Chamoy Candies from L'Orenta right now!
Staff Favorite Chamoy Candies
L'Orenta has all the Chamoy Candies in trick-or-treat sizes in each wrapped, multi-serve package. You can have them in the following forms –
A trick or treat during Halloween parties or get-togethers

As a present 

 A delightful appetizer

As a surprise lunchbox
You can satisfy your taste buds with our unique method of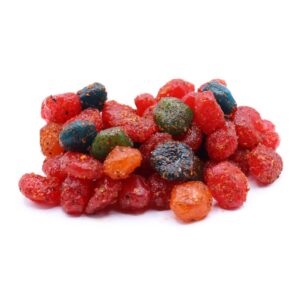 manufacturing this delightful sweet. These candies are smooth, mouthwatering, and delicious. To make the most exquisite sour Mexican candy, we cover these candies with our exclusive blend of chamoy, Tajin, and other spices. We have listed our top ten staff favorites among Chamoy candies below:
We create them in small batches to assure the highest possible quality, taste, softness, flavor, and consistency. Besides, the flavor is not overwhelming. The texture is not dry at all. Cherry, orange, lemon, and strawberry flavors abound in these candies. Jolly Rancher candies from Chamoy come in a range of tastes. The flavors include blue raspberry, green apple, cherry, grape, and watermelon.
The Chamoy Cherry Sours, often known as cherry bombs, are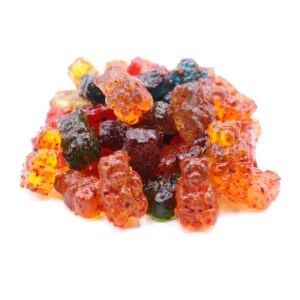 acidic, sweet, and spicy. To make the most exquisite Mexican candy, we cover cherry sours with our combination of Tajin, Chamoy, and spices. The Cherry Bombs are a popular choice among our customers and one of our best-selling items.
Another fan favorite is Chamoy watermelon slices, also known as Dulces Enchilados. While producing this candy, we also use our unique blend of chamoy, Tajin, and other spices to coat watermelon slices. It results in the ultimate sweet and sour candy flavor.
So there you have it: 10 Staff Favorite Chamoy Candies from L'OrentaNuts.com sweets. Our Chamoy candies have a delicious sour and sweet flavor. To add a flavor to your day, you can try these delightful candies and gummies. We are confident that you will not want to share! But you should do it!