10 Pink Candies For Your Next Event | L'Orenta Nuts
Everything looks prettier in pink, right? Although pink was once a color believed to only be for women, it has become more popular in recent years. With food blogs popularizing pink himalayan salts and vibrant acai bowls, it's no surprise that the demand for pink has increased tenfold! With so many shades and flavors to choose from, a guide to everything pink could be a lifesaver for party planners! We have your best interests at heart, so we have created a guide to Pink Candies For Your Next Event. You may be asking how we curated a pink list for you to peruse. Recently we added a brand new feature to our site called "candy by color." Instead of searching for keywords or browsing at random, you can now search by color alone. If you can't get enough of the color pink after using our guide, you can find more perfectly pink candies in our candy by color section.
Valentine's Day Parties
Whether you're celebrating with your significant other or a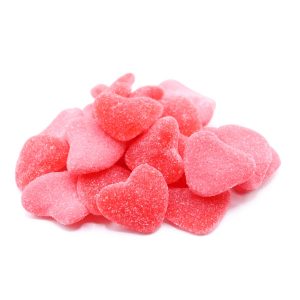 group of friends, Valentine's Day isn't the same without pink! As you're decorating your space with flowers and hearts, you may be wondering what kinds of candies best compliment your theme. There are a lot of ways to approach Valentine's Day themes, but our favorite is a classic one: hearts!
While boxes of chocolate are more traditional, why not create a candy-tasting buffet for your sweetheart? Select small, colorful glass jars to fill with candies. We recommend our delicious gummy sanded hearts and cinnamon bubble gum jelly bean mix to start with. Use additional jars to fill with flowers or glass beads. If you are looking for something a little more playful and substantial, add in sugar cookies to decorate! Our candies look absolutely gorgeous atop white frosting.
Afternoon Tea Parties
They're classy, they're elegant, and they're pretty in pink: let's talk about afternoon tea parties. Tea parties are perfect for a girl's day out, birthday party, or bridal shower. With the right teapot, porcelain, and confections, you can solidify your position as the perfect host. Grab your favorite bag of earl gray or rose hip tea and let's get started.
One would think that tea is the star of a tea party, but it's really the accompaniments. Along with your freshly baked scones and sandwiches, there is certainly room for themed candy. To help cut the sweetness of desserts, consider having a small dish of our pink grapefruit sours. Not only are they delightfully tart, but they're also a lovely pink color. If you are looking for the perfect candy to go with your blue porcelain, our blueberry bubblegum jelly bean mix is an excellent choice.
Quinceañeras
Is there anything more beautiful than a spring quinceañera? A quinceañera is a party that creates lasting memories, so memorable treats are a must! We think that spring is reminiscent of flowers and leaves, so green and pink candies are the way to go!
To recreate the iconic flowers of spring, line a large table with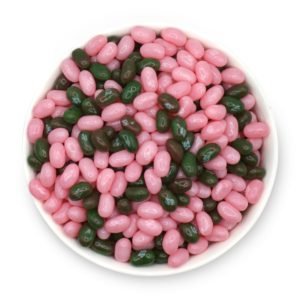 freshly picked or artificial flowers. Then, arrange bowls in the shapes of flower petals and stems. Fill the bowls with pink candies for the flowers and green candies for the stems. We recommend our green apple bubble gum jelly bean mix and watermelon bubble gum jelly bean mix for a nice variety of color. Fluffy cotton candy and colorful wafers can also make pretty additions to the spread!
Wine Tasting Parties
Do you hear that? It sounds like wine o'clock! While most wine tasting parties consist of charcuterie boards and soft jazz, you may be looking for a way to switch things up. To add a more delicate touch to a pink-theme wine tasting party, think outside the classics. Pick up your favorite pink wine (we suggest dry wines with fruity notes!) and get ready to coordinate. 
Instead of having a traditional charcuterie tray, try creating one with chocolates and other candies. We would start off with our Sparkling Rose Cordials arranged in delicate tasting bowls. Fan pieces of dark chocolates around the bowls to create pretty geometric patterns and fill in the gaps with our candy cane almonds and edible glitter. You're sure to have a picture-worthy spread that friends will be talking about for years to come!
There is so much to love about our new  candy by color feature! Our Pink Candy For Your Next Event Guide | L'Orenta Nuts is just the tip of the iceberg. Whether you are planning a party for winter blues or a red hot summer, we can provide the perfect shade of candy for any event.