Gummy candy is a special candy with sweeteners, gelatin, coloring, and delicious flavor. It is one of the most flexible confection products ever made. Its nature allows it to be molded into thousands of shapes. It has its origin in Germany in the 1900s. Gummy candy also became popular in the United States in the 1960s. Today, the gummy candy is a delicious treat that both young and old love. At LorentaNuts.com, we have added 10 new L'Orenta gummy treats to enjoy. Check out these delicious gummy candies. 
1. Gummy Apple Rings 
The delicious, chewy, and delightful gummy apple rings are fast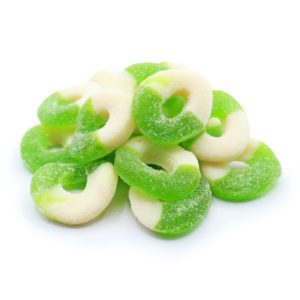 becoming a favorite candy among customers. The rings come in a single hoop shape with curved sides and an open middle. Each ring has a color combination of white and green. It also has a coating of alluring sugar that will tickle your tastebuds. These gummy apple rings are busting with a unique flavor. Without a doubt, you won't be able to stop at a single bite. Get the Gummy Apple Rings here. 
2. Gummy Butterflies
These gummy butterflies come in a variety of flavors and vibrant colors. These flavors include strawberry, orange, grape, green apple, cherry, and blue raspberry. If you are looking for candy with the perfect combinations of flavors, these gummy butterflies meet the mark. Also, the variety of the sour and sweet flavors makes these gummy butterflies a top choice. Click here to get our Gummy Butterflies. 
3. Gummy Candy, Assorted Mini Fish
This delicious candy is another excellent pick out of our 10 new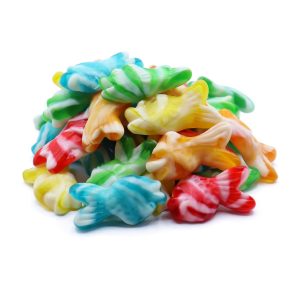 gummy treats to enjoy. They are delicious, soft, and chewy. These gummy mini fishes also come in vibrant colors, including green, orange, red, etc. They are also bursting with an assortment of flavors that will excite your palates. A bite is all you need to get hooked to this fantastic candy. Click here to get the Gummy Candy, Assorted Mini Fish. 
4. Gummy Cherry Rings 
These gummy cherry rings come with the signature soft and chewy texture of gummy candies. They also have a juicy and sweet cherry flavor that will take your tastebuds to heaven and back. When you get these delicious gummy cherry rings, you are sure to finish them in one sitting. They are also a great addition to patriotic-themed parties. Get the Gummy Cherry Rings here. 
5. Gummy Eyeballs 
If you want to add an extra touch to your candy selection this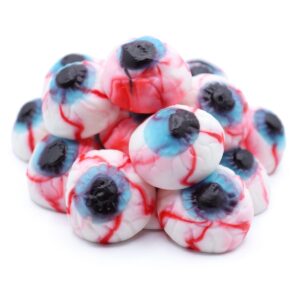 coming Halloween, these gummy eyeballs are a perfect choice. Not only are they creepy, but they are also delicious. These gummy eyeballs have a gummy and foamy texture that makes them excellent for parties. They also have a combination of flavors that will tickle your palates. Click here to get the Gummy Eyeballs. 
6. Gummy Hairy Spiders 
These gummy hairy spiders are delicious gummy treats with spider shapes. They also have an assortment of fruit flavors. The unique combination of the sweet and sour flavors also gives these hairy spiders the perfect candy taste. A single bite is all it takes to be addicted to this delicious candy. These hairy spiders are also great for Halloween buffets and Zombie parties. Get the delightful Gummy Hairy Spiders here. 
7. Gummy Pumpkins 
These delicious gummy pumpkins are another excellent addition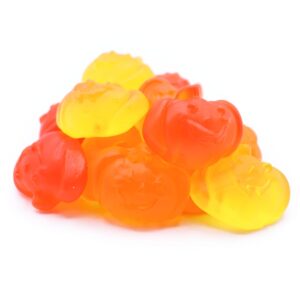 to Halloween celebrations. They are also incredibly soft, chewy, and sweet. They also come in vibrant colors, including orange, yellow and red. These gummy pumpkins are bursting with an assortment of flavors that will excite your taste buds. You can also enjoy this fantastic gummy candy on Thanksgiving and random days. Get the Gummy Pumpkins here. 
8. Gummy Red Fish 
These Swedish red fish gummies are soft and sweet. They have a deep red color that makes them attractive. They are also perfect for decorating buffets, party bowls, and cakes. These red fish gummies have a unique flavor that you will love at first bite. You can also gift your kids after a hard day at school.  They are also gluten and fat-free. This makes them perfect for kids. Get the sweet gummy red fish here. 
9. Gummy Strawberry-Banana Rings
The perfect combination of these banana and strawberry candy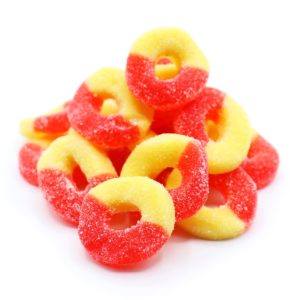 will give you a visual treat even before taking the first bite. These two delicious flavors also provide a unique taste that will excite your palate. This delightful candy also has a sugar covering that gives it an attractive look and extra flavor. You won't get enough of this sweet gummy. Get the Gummy Strawberry-Banana Rings here. 
10. Gummy Watermelon Rings 
Suppose you are looking for a new and exciting gummy candy to add to your candy table, these gummy watermelon rings. Bursting full of watermelon flavor, these delicious gummy watermelon rings are a perfect treat to try out today. You can also use these soft and chewy gummy watermelon rings for your events, including pool parties. Click here to get the Gummy Watermelon Rings. 
You can sort through these highlighted 10 new gummy treats to enjoy. They can be added to your celebrations, including Halloween, trick or treat, parties, etc. You can also eat it anytime you feel like it. Whatever you use these delicious gummy candies for, they will fit with their flavors, vibrant colors, shape, and delightful taste.