10 Bulk Products For Your Next Event | L'Orenta Nuts
Choosing the perfect food for an event is a crucial part of making it successful. Exactly for this reason we have selected the best 10 bulk products for your next event for you to choose from. This will save you a lot of money and time without compromising the quality of your food. 
What is bulk sizing? 
Are you aware of what the term bulk means? 
Whenever you make a bulk purchase, your item will come in a certain quantity (10 pounds and 25 pounds), but you will receive it loose in a box. Then you can put them into other containers (bags, bins, bowls) later. Large families or businesses can benefit from bulking.  
We have been supplying you with the best candies, nuts, and dried fruits for more than 80 years. Whether you're planning a corporate event or a family reunion, you'll always find what you're looking for.  
What are the benefits of bulk? 
You can save money and time by purchasing in bulk. In fact, the more you buy, the greater the savings will be. In bulk purchases, you will receive a large box of your item, which you will then arrange into the desired size and shape.  
Reselling in bulk is also a good option for stores. Retailers can control how much they package themselves. 
If you have more than one child, then you will appreciate the possibility of sorting the jelly beans according to their preferences.
Can I buy bulk products for my events? 
Are you required to plan a team building event at work? There's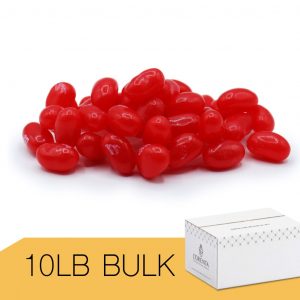 nothing like sharing a bowl of Very Cherry jelly beans to bring a team together. For two decades, Very Cherry was the most popular flavor of Jelly Belly beans, until 1998, when Buttered Popcorn overtook it. In 2003, it returned to the top with almost 8 million beans consumed.  
You can get a bulk of our slizzing cinnamon jelly beans  for the office lunch as a way to thank your colleagues. These delicious gluten-free, dairy-free, and wheat-free ingredients have a hint of spice.  
In order to organize a perfect kids' birthday party, you need a theme, a colorful and creative decoration, and the best candy. Your guests will go crazy over the sour jelly beans! This bulk includes a combination of zingy yet mouth-wateringly sweet flavors, such as Sour Apple and Cherry.  
Are your friends coming over for a movie night? The beer is fresh in the fridge, there's popcorn on the kitchen counter, but something's missing to snack on the couch… Why don't you get our large supply of toasted marshmallow jelly beans? It tastes just like a roasted marshmallow over a fire, but there's no sticky mess to deal with. Grab a giant bowl if you want to serve it to anyone!
We created the perfect Keto mix bulk for our outdoor lovers!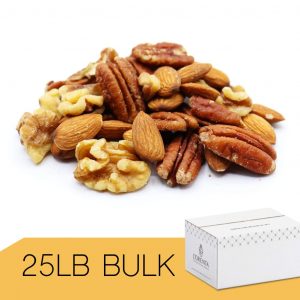 This package contains natural pecan halves, whole natural almonds, and walnut chandler halves and pieces. By using these ingredients, you will give your immune system a huge boost with plant-protein, vitamins, healthy fats, and antioxidants. Put a handful in your backpack and head out hiking in the mountains, biking through the countryside, or taking your car on a road trip.  
If you are looking for the same health benefits but eat a snack with a twist of originality, try our Happy Heart raw mix with natural hazelnut filberts, natural Brazil nuts, whole natural almonds and walnut chandler pieces.
With spring just around the corner, it is time to plan a picnic in the park. Don't forget to include Lola's crunch in your meal basket! It contains premium roasted and salted almonds, crunchy peanuts, toasted corn nuts, wasabi peas and cajun sticks! Perfect for snacking or adding to salads! 
Do you want to bring nutrient-dense snacks to your kid's soccer game? As a result, we filled our Fruit favorites bulk with diced pineapples, pears, and papaya chunks. It's the best way to give them fiber and antioxidants. With its mix of classic and exotic fruits, it is not only delicious, but also original.  
It would be a great idea to have a bowl of Fruity four bulk for your game night with your friends! Our company is proud to offer this made in the USA peanut-free and wheat-free snack product. This colorful bite is perfect for sharing with your friends or family to boost your immune system with antioxidants, vitamin C and fibers. 
Finally, if you are searching for a fruit dessert other than the usual for your wedding reception or a brunch, you should try our Fruity Goodness mix! Serve this tasty combination of golden and seedless raisins, diced apples, papaya chunks, and dried strawberries to your guests. It's not only good for your body, but also for your mind.
How do I store my bulk products? 
Keep bulk items cool and dry, away from direct heat and sunlight. It is the best way to preserve your bulk products for your next event.