Since the earliest of times people have been found enjoying and sharing sweet treats! Though we have evolved to modern times with countless new candies and treats to try, some of the old time candies from your past are still great! Why not take a trip down memory lane, enjoy some nostalgia, and visit some old favorites that you'll still love!
Salt Water Taffy
Salt Water Taffy has been around since the 19th century, and it has stood against the test of time! Originating from New Jersey, this candy is now enjoyed internationally by anyone who enjoys a soft and sweet treat. This particular taffy is gluten free, and peanut free, opening the gates for almost anyone to be able to enjoy.
This taffy is created by combining all of the ingredients, cooling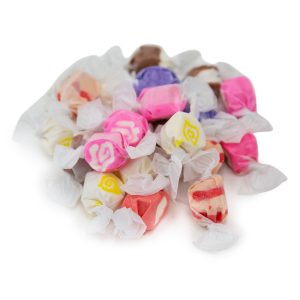 it, and then pulling it by either hand or a large hook! Pulling is essential to taffy, as it is what gives it the light and airy taste. (no wonder it's so soft!) From there it gets cut into bite-sized pieces!
Enjoy it by itself, or use it to create a number of unique recipes such as:
Cookies

Coffee

Melt it down and use it for candied apples

Smash it up and put it on pie or cake
Give it a try and enjoy the blast to the past!
Lemon Drops
This classic hard candy was invented in 1806  by Salem Gibraltar. They started as medicinal lozenges, used to help soothe sore throats. Thankfully, they evolved from a sweet medicine to the sweet Lemon Drops we know and love today. Both sweet, and sour, and so brightly colored, they are irresistible! 
Lemon drops are perfect for any occasion, and they make the perfect party favors! Some good examples of events you can feature these at are:
Bridal showers

Weddings

Baby showers

Birthdays
Get ahold of some of these for yourself, and enjoy as nostalgia takes over, and your lips begin to pucker!
Cola Bottles Gummy Candy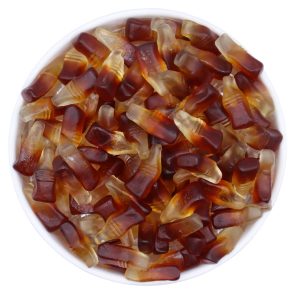 If you are looking to feel like a kid again, or just treat your kids, Cola bottles are the way to go! Gummies have been around for centuries, but these specific gummies hold a special place in the hearts of many.
Use these in any event to stand out and make everyone take a trip down memory lane. Try featuring them at your next:
Barbeque

Office party

Pool party

Family game night
Place these front and center in a candy buffet, or even add them to some Cola itself for a fun touch. Either way, everyone will be thanking you for bringing these to an event. Most of all, you'll be thanking yourself when the flavor fills your mouth and sweetens up your day.
Assorted Fruit Slices
Not only are these adorable, making the perfect edible decoration, but they are an old time classic! Sweet and sour, dusted in sugar, Assorted Fruit Slices are as memorable as they are tasty. This treat is guilt-free, too, considering one serving size is only 140 calories; not to mention one serving also has 2g of protein!
Stock up on these for parties, or get togethers, and have fun trying to guess the flavors with your friends and loved ones! These also make the perfect snack for any summertime event like:
Boating

Movie nights

Picnics
You will be the favorite showing up with these, and we apologize if there are no leftovers to take back home with you. Just make sure you enjoy them while you have them!
Jawbreakers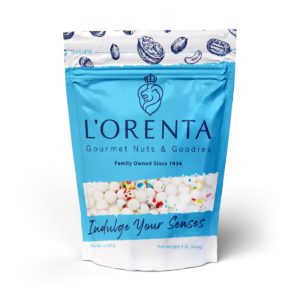 These huge, multi-layer, Jawbreakers are guaranteed to bring back some memories. They are a challenge to finish, but are incredibly fun to have considering how long they last! Made famous by the Ferrera Pan Candy Company, found in Illinois, Jawbreakers are an international treat that brings fun and nostalgia wherever they go. 
The type of pan used to create this sugary candy is essential; the candy making pans are spherical kettles, huge in size. They rotate constantly until the sugar is ready to ensure it doesn't burn. Whatever you do, just don't bite them! Instead we suggest:
Turning it into a contest! See who can uncover the most layers in a minute

Melt them down into smaller candies

(with help) Break them down into smaller pieces to eat easier
Jawbreakers are the perfect party favor or gift for anyone- even yourself! Take a trip down memory lane and spend a week working down this giant ball of sugar and enjoy every second of it!
Old time candies have been around forever, but they have stuck around for how classically good they are! We know you'll still enjoy them now, so give it a shot and you be the judge!