The holidays are one of the best times of the year because friends and family reunite. As you prepare for the holidays, remember that the best treats don't need to be made by you from scratch. Here are 5 Holiday snacks to satisfy your sweet tooth.
5 holiday snacks to satisfy your sweet tooth are:
Mint Cookie Bites
Gummy Snow Flurries
Reindeer Corn
Yogurt Covered Pretzels
Reindeer Trail Mix
Mint Cookie Bites
Mint cookie bites are a staple of any spread at the holidays, but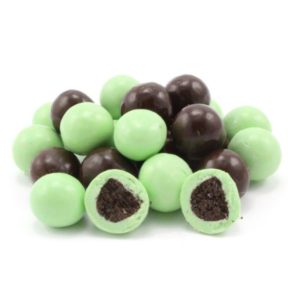 these mint cookie bites can give you an easy out on more baking time in the kitchen. They come with a chocolate mint coating around a chocolate cookie, and they taste like the real thing in mini.
They're also a great addition to goody bags because they won't melt as they make the journey home with your guests. They'd also be great for a candy dish since they won't go stale as quickly as gummies or pretzels.
Gummy Snow Flurries To Satisfy your Sweet Tooth
If you're into blue instead of the traditional reds and greens, these gummy snow flurries will perfectly accentuate your decorations. They'll also accentuate silver or gold Christmas accents well. They'd be a great addition to the outside of a gingerbread house to help convey the wintry conditions outside.
One of the best things about the holiday season is seeing the first snow flurries as winter comes in. There's nothing that says winter quite like the quietness that comes with a snowy evening. For those that don't have snow, it's the fleeting longing to see it once before the cool temperatures let up.
Reindeer Corn
You can count on these corns being the center of a love/hate controversy just like its sister, the traditional candy corn. Our candy corns are dressed for Christmas with festive stripes of green, red, and white.
Did you know you can use reindeer candy in recipes in place of nuts or chocolate chips? They make a great gooey substitute for some of your favorites without turning into a runny mess. This soft, chewy, and classic treat deserves a place at your holiday table, or for those that line to mash the three major holidays together, they make the perfect cross-over for the entire hallowthanksmas season.
Yogurt Covered Pretzels
Vanilla yogurt coats salty pretzels, and the color will match the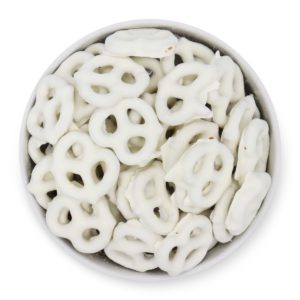 snow we imagine when we wish for a White Christmas. These yogurt-covered pretzels also make a festive present when wrapped in printed cellophane, and per capita, that kind of party favor will be within even the smallest of budgets.
Yogurt is also less guilt-inducing than an indulgence in a chocolate substitute, so you can snack a little easier knowing you picked a better option.
Reindeer Trail Mix
For those that want nutritious snacks for the holidays, our reindeer trail mix packs a festive treat with a selection of superfoods.  This trail mix contains salted almonds and cashews, raisins, pumpkin seeds, and sunflower seeds. It packs a punch when it comes to a healthy diet because it contains vitamins, minerals, antioxidants, and fats that our body needs to run at maximum octane.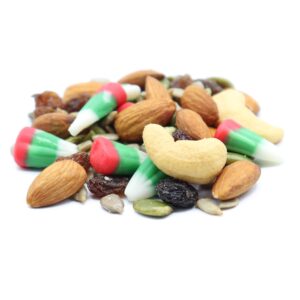 Trail mix is good for you because it contains a lot of protein sources like seeds and nuts. The way this mixture of food affects your body ranges from good heart health to better cellular repair capabilities.
Even the candy plays a purpose. Athletes tend to eat trail mix because it's nutrient-dense, and the candy helps to quickly bring their blood sugar up after a lot of exertion. If you suffer from problems relating to fluctuating blood sugar, this snack mix could be the holiday solution you've been looking for.
A Final Jingle Before You're on Your Way
The holidays are busy enough. Use our 5 holiday snacks to satisfy your sweet tooth. We offer many holiday products but the ones discussed above are a great start!