What's Halloween if there are no spooky treats? So, for this Halloween, we have 5 Classic Halloween Treat Ideas for you to try. The best part? They are all devilishly delicious and easy to create.
Why is Halloween So Popular?
Have you ever wondered how Halloween became so popular and why it is so spooky? Halloween is a Celtic festival of Samhain celebrated by lighting bonfires and dressing up in costumes to ward off evil spirits. It marks the transition from summer to winter and is thought to be when the veil between the living and the dead is thinnest.
If you've ever celebrated Halloween, you'll know that the entire season requires meticulous planning, from costume ideas to party themes and holiday treats. Halloween is always exciting, and one aspect that we all enjoy is the spooky treats. 
What's the Big Deal About Halloween Treats?
Did you know that the phrase "trick or treat" came from people giving treats to children to avoid being pranked? People who didn't want the neighborhood kids playing silly pranks on them started giving the kids treats, and the tradition just stuck.
Over time tricks and treating became more about having fun making spooky treats and competing to see who could make the most deliverable treats rather than preventing children from playing pranks. Here are some deliciously spooky Halloween treats to try:
Caramel Corn Candy
It's a three-colored candy treat in the shape of corn. Caramel Corn Candy was a homemade treat until 1899 when Goelitz Confectionery Co commercially produced it. It contains sugar, corn syrup, confectioner's glaze, salt, egg white, gelatin, coconut oil, flavors, wax, honey, and colors. 
You could have a lot of fun with corn candy. Shop for adorable Caramel Corn Candy here.
Gummy Eyeballs
If you're looking for treats that make people's eyes pop in the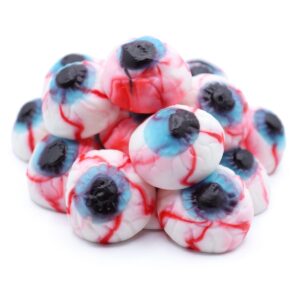 scariest way, this is for you. It's the perfect mix of creepy and intriguing in a snack; it looks like real-life eyeballs dripping with blood. But, contrary to what you think, it's not plucked out of the body of a live creature. Instead, it's made from corn syrup, sugar syrup, wax, flavors, and oils. Stun everyone with the creepiest gummy eyeballs this Halloween.
Gummy Spiders
Halloween and Spiders are inseparable; it's difficult to imagine a Halloween party without spiders or, at the very least, spider webs. The Gummy Spiders treat is a sweet and sour combination that you can't get enough of, just like every other gummy candy. It contains critic acid and turmeric and the usual candy ingredients. Entertain your trick and treaters this Halloween with multicolored gummy spiders.
Gummy Halloween Sour
These gummy treats come in unusual shapes, such as bats, coffins, spiders, etc. They are deliciously sour-sweet and come in various bright and dark colors. Its ingredients are readily available, so you could make them at home if you have the patience. It contains simple ingredients like sugar, corn syrup, turmeric acid, pectin, citric acid, colors, and flavors. But if you're not ready to watch endless tutorial videos to recreate this yummy treat, here's where you can get them at the finest quality.
Gummy Pumpkin
Did you know that the tradition of carving pumpkins for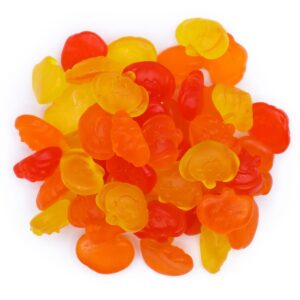 Halloween was from a scary Irish folklore? It's a  scary tale about a cunning guy that tricked the devil twice. He ended up roaming the earth and living in spooky root vegetables that scare off the devil. 
So, as a result, most Celtic people began carving scary pumpkins to keep evil spirits out of their homes. In addition, Halloween is a time when many evil spirits are hovering around; it only makes sense to carve a lot of scary pumpkins to protect themselves during this season.
Today, we carve scary pumpkins to recreate horror movies or add to the Halloween decor. So, aside from lighting up spooky pumpkins as Halloween ornaments this year, why not add them to the trick and treats menu? Shop for the best Gummy Pumpkin here.
Final Thoughts
There are a lot of interesting facts about Halloween, from horrifying folklore to attempts to banish it, but this celebration has survived a lot. It also brings with it plenty of inventive traditions like spooky treats, ornaments, and costumes. 
Unfortunately, it's also a holiday that requires a lot of preparation, especially for the costumes and treats. So, avoid chaotic last-minute planning this Halloween with these delicious 5 Halloween Treat Ideas.