What Is The Most Sour Candy In The World | L'Orenta Nuts
Sour candies have become the favorite snack for many people for several reasons. Some like them for the vibrancy it brings to their mouth, making them come alive. Others like them for their energy-boosting ability, various shapes, and several other properties which make them desirable to many. In this article, the famous question of "What is the most sour candy in the world" will be answered, as well as the candies known for being extraordinarily sour and what makes sour candy sour. You can only get these answers when you continue reading this article.
What Makes Sour Candy Sour?
Sour candies have some qualities that make them sour, and without them, the candy cannot assume a sour taste. The primary reason sour candies taste sour is the acids they possess. They contain core acids such as malic acid, tartaric acid, citric acid, ascorbic acid, and fumaric acid.
These acids are in vegetables and fruits worldwide. They are used to make many sour candies and are the reason for the excitement you feel in your mouth when you taste these sour candies.
The quantity of these core acids, and a few more, determine the level of acidity in the sour candy. Some are highly sour because they contain a high amount of these core acids, while some have less sourness because of the small amount of the core acids used.
Top 10 Extremely Sour Candies
Here is a list of the top 10 highly sour candies;
1. Sour Wild Strawberries
Have a taste of this highly sour candy with no wheat, soy, peanut,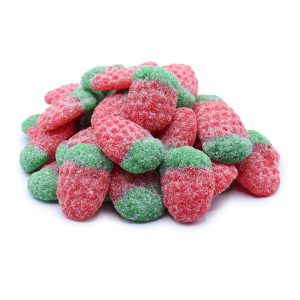 gluten, dairy, and trans fat. Its high level of sourness is one of the primary reasons it is a staff favorite. These Sour Wild Strawberries gummies candy is tangy, sweet, chewy, soft, and contain strawberry. They also have a tart, sour coating.
Its attractive green and red colors make them a good choice for a green and red-themed party or to use in making candy bars. The size for one product is about 1″ x 1.5″ large, while each weighs 6 grams. Make your order here.
2.  Gummy, Sour Pineapples
Whenever you need a sour candy with an exquisite taste, you can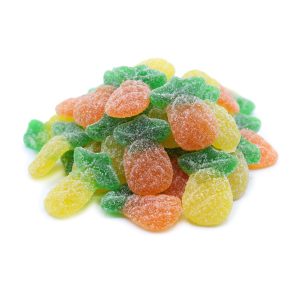 rely on this L'Orenta Gummy Sour Pineapples to give you what you desire. They have no wheat, soy, peanut, gluten, dairy, or trans fat with a highly sour taste; little wonder it is a staff favorite.
They are chewy and have a sweet taste which mainly contains juicy pineapple and a sour sugar coating. They are made in the shape of pineapples with colors like orange, yellow, and green, making them a good snack for a party with those colors as the theme. The weight of each gummy is about 6 grams.
Get this sour candy as it comes in 2 sizes – 1 lb. and 5 lb. sizes, and the bulk sizes are 10 and 28 pounds. They come in bulk sizes because they help you save more when you buy them in bulk quantity.  Get a taste of them by ordering here.
3.  Sour Flowers
A taste of this wheat-free, soy-free, peanut-free, gluten-free,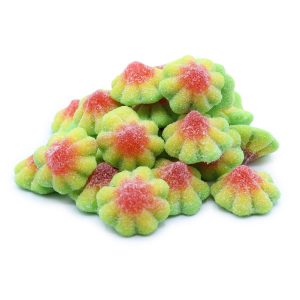 dairy-free, trans-fat-free sour candy will give your mouth pure excitement. It is a staff favorite candy with flour and sugar in a cone shape. It is in bright colors like yellow, red, and green, and its taste is just like the Tutti flavor. Their colors make them perfect for parties with such colors as the theme.
You can use this gummy candy to make candy bars or bulk bins. Each candy weighs about 6 grams. They come in sizes 1 lb. and 5 lb., while the bulk sizes are 10 pounds and 28 pounds. Have a taste today by making your order here. Delivery is fast and reliable.
4.  Gummy, Sour Green Apples
If you need to know what is the sourest candy in the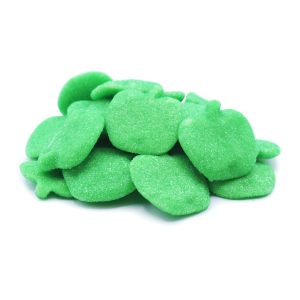 world, this is another excellent example. Every bite of this candy comes with a sour taste that has earned it the title of the staff favorite. This sour candy does not contain wheat or soy, peanut, gluten, and dairy. They have a superb taste with a sour sugar coating to give your mouth a rich sour taste.
It is a top-selling candy that is green in color, which means they are a pass for a green-themed party or event. They are in the shape of an apple and are sold in different sizes and in bulk to help you save more. Each of the candies weighs about 12.8 grams. Order here and begin enjoying the wonders of this sour candy.
5. Gummy, Sour Mix
Each candy has no wheat, soy, peanut, gluten, dairy, or trans-fat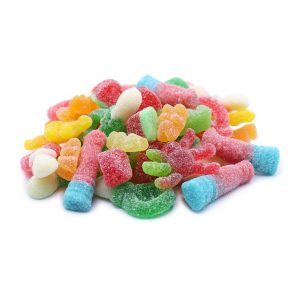 with a high sour taste. It contains a mix that includes watermelon slices, sour gummy bears, sour pacifiers, sour spooky spiders, and sour soda pop bottles. It is a perfect blend of vibrant colors and flavors with different shapes like the spider, bottle, etc.
They are in two sizes – 1 lb. and 5 lb. In bulk sizes like 10 and 28 pounds. Order your pack today here.
6. Sour Triple Bears
They are wheat-free, soy-free, peanut-free, gluten-free, dairy-free,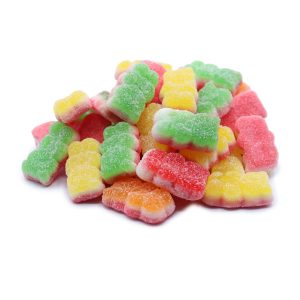 and trans-fat. They are highly sour in taste and sweet with bright colors, perfect for brilliant-colored parties. With different colors and flavors, they are suitable for decorating cupcakes, serving guests during a baby shower, or other special events. Each weighs about 6 grams, and they are available in two sizes – 1 lb. and 5 lb. Order in small or bulk quantities here.
7.  Chamoy, Skittle Gummies
It is the perfect dairy-free and peanut-free snack with a mix of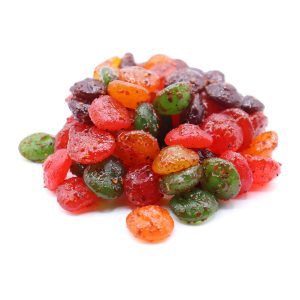 orange, lemon, strawberry, grape, and green apple. They are bursting with rich flavors made in small batch quantities for good maintenance of their excellent taste, rich flavor, high quality, and softness.
This sour candy is sold in variants like 1 cup, 5 cups, 10 cups, and 20 cups. Each cup weighs about 6.5 oz. Save more money by ordering Chamoy, a Skittle Gummies in bulk. You can also order them in smaller quantities here.
8.  Sour Twin Cherries
They are wheat-free, soy-free, peanut-free, fat-free, dairy-free,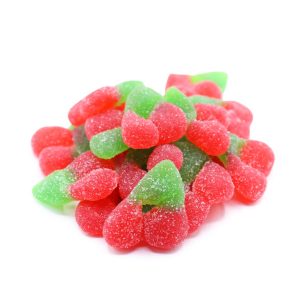 and gluten-free with a sour taste. These twin cherries are tasty and rich in flavors perfect for birthday parties and several other events.
You can enjoy this sweet candy anytime you take a bite because they are perfectly made. They come in different sizes like 1 lb., 5 lb., 10 lb., and 25 lb. Don't deny yourself a treat like this – order here.
9.  Cherry Sours (Fruit Sours)
Have a taste of this sweet, sour candy with gluten. It has a crisp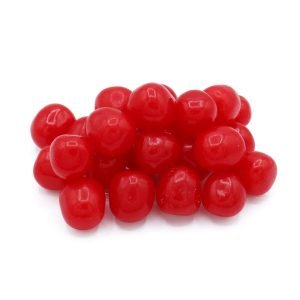 outer shell and cherry flavor. You can consider getting this sour candy when you need one with a good sour and sweet taste blend. They are available in 4 sizes – 1 pound, 5 pounds, 10 pounds, and 20 pounds but you can save more when buying them in bulk. Order yours here.
10.  Pink Grapefruit Sours (Fruit Sours)
One candy with a sweet and high sour taste is L'Orenta's Pink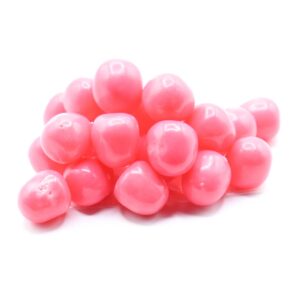 Grapefruit Sours (Fruit Sours). It is gluten-free and has a crisp outer shell flavored with a tart grapefruit flavor. Eating this candy is extremely exciting.
They come in different sizes – 1 pound, 5 pounds, 10 pounds, and 20 pounds. Buy them in bulk to save more money. Order them here and get fast delivery.
The Bottomline
The answer to the question on what is the most sour candy in the world is filled in this article as it gives 10 that can easily be gotten. They are a perfect blend of sweet and sour to make you fully enjoy them once you eventually eat them.