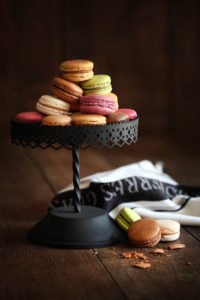 A macaron or French macaroon is a meringue-based confection that is fairly sweet. Make this delicious confection from the convenience of your own kitchen. It was originally introduced in France by the Italian chef of queen Catherine de Medici during the Renaissance. Enjoy this classic sweet treat and get creative with different colors!
Ingredients
3 egg whites
1/4 cup white sugar
1 2/3 cups confectioner's sugar
Directions
Prep 30 m / Cook 10 m / Ready In 2 h 10 m
Line a baking sheet with a silicone baking mat.
Beat egg whites in the bowl of a stand mixer fitted with a whisk attachment until whites are foamy; beat in white sugar and continue beating until egg whites are glossy, fluffy, and hold soft peaks. Sift confectioners' sugar and ground almonds in a separate bowl and quickly fold the almond mixture into the egg whites, about 30 strokes.
Spoon a small amount of batter into a plastic bag with a small corner cut off and pipe a test disk of batter, about 1 1/2 inches in diameter, onto prepared baking sheet. If the disk of batter holds a peak instead of flattening immediately, gently fold the batter a few more times and retest.
When batter is mixed enough to flatten immediately into an even disk, spoon into a pastry bag fitted with a plain round tip. Pipe the batter onto the baking sheet in rounds, leaving space between the disks. Let the piped cookies stand out at room temperature until they form a hard skin on top, about 1 hour.
Preheat oven to 285 degrees F (140 degrees C).
Bake cookies until set but not browned, about 10 minutes; let cookies cool completely before filling.
Cook's Notes:
To measure by weight, use these amounts: 100 grams egg whites 50 grams white sugar 200 grams confectioners' sugar 110 grams ground almonds
If you do not have a sifter, you can use a blender or food processor to thoroughly mix the almonds and confectioners' sugar. Just blend or pulse for thirty seconds. Remember that because the consistency of the mix is like cake batter, you're going to have to be quick about piping it onto the silicone mat. Hold the pastry bag sideways between piping so it doesn't spill.
Nutrition Facts
Per Serving: 189 calories; 2.6 g fat; 36.4 g carbohydrates; 6.9 g protein; 0 mg cholesterol; 22 mg sodium.