Raspberry Crumble And Almond Cake | L'Orenta Nuts
When raspberries crumble and almonds are combined, magic is made. They both compliment each other perfectly and bring out the best. The best news about this recipe is that it is keto-friendly. Here is a list of ingredients you will need to make this raspberry crumble and almond cake.
Ingredients 
Two teaspoons of baking powder 

Two cups of almond flour 

Four separated eggs 

Half teaspoon of salt

One-quarter cup of coconut sugar 

One-quarter cup of softened butter 

One teaspoon of vanilla extract 

One-quarter cup of raspberries 

A single egg 

Cream cheese (4Oz)

Two tablespoons of coconut sugar 
Ingredients For The Crumble 
One-quarter cup of coconut sugar 

One-quarter cup of

sliced almonds

. 

Half cup of almond flour 

Two tablespoons spoons of cubed butter 
Instructions 
Step 1 
Start by preheating the oven to about 135 degrees Celsius. 
Step 2 
Line and grease a springform. The springform should be about eight inches. Line the springform using parchment paper. 
Step 3
Mix butter and erythritol in a bowl. Mix them until it is soft. 
Step 4
Stir the almond extracts and egg yolks thoroughly. 
Step 5
Beat the almond, the almond extracts, and egg yolks, and then stir thoroughly. 
Step 6
Using another bowl, whisk the egg whites. Ensure they are whisked till they attain stiffness. The egg whites should be folded into the mixture. Put the mixture into the baking tin and smooth it out evenly.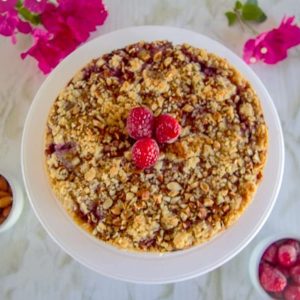 Instructions for the cream cheese layer 
Step 1 
Beat the softened cheese with erythritol. This should be done using a medium-sized bowl. 
Step 2 
Proceed to add the vanilla extract and egg, and then beat them until they are smooth. 
Step 3 
The vanilla extract and egg mixture should be spooned over the cake mixture and smoothened. Then, sprinkle the raspberries over the cream cheese mixture. 
Instructions for the Crumble Topping 
Step 1 
To make the topping, put the almond flour in a bowl and add erythritol. Proceed to beat them together until they mix well. 
Step 2
Using your hands, add the butter and mix thoroughly. This would make the mixture look like bread crumbs. Proceed to scatter the topping over the raspberries. 
Step 3 
Then, bake for about forty minutes until the top is cooked and firm. Allow to cool and then place in a refrigerator till it's firm. 
To enjoy delicious snacks and learn other unique recipes, visit lorentaNuts.com today!